Positive
Lightweight
Very easy to use
Unlimited sites from Pro plan
Good looking fonts
SEO friendly
Support
Negatives
Limited templates
Lack of features
Linked to parent theme limitations
Anyone starting a website for their business is overwhelmed at some point or another.  If it's not figuring out your domain name, it's finding a way to host your site.  The last thing you want to worry about is how to build your website from the ground up. 
Thankfully, WordPress users can turn to page builder plugins such as Beaver Builder, which provides templates and building tools for all aspects of your website.  In fact, Beaver Builder is a very popular tool for creating website "extras", such as good looking landing pages and squeeze pages.  Let's take a look at how this plugin can give your business, and your landing pages, a significant boost, and simplify the building process.
About Landing Pages
A Few Words About Landing Pages
The Concept
For new website owners, the concept of "landing pages" may be unfamiliar.  A landing page is the first page visitors will see when they link to your webpage from a banner, Google ad, or Facebook ad.  Landing pages are often designed with a particular campaign in mind to keep visitors moving down a specific sales funnel. 
For example, a Facebook ad might contain information about a specific product or service you offer. Rather than linking to the homepage of your website, a landing page can take the prospective customer directly to the product that caught their eye in the ad. The benefit is that the customer won't have to search your site endlessly for the offer that interests them; instead, it's right there! With the exciting deal right in front of the customers' eyes, it's easy to see how landing pages can be considered a valuable source of conversions.
Elements of a Landing Page
You can incorporate many things on your landing page, depending on the part it plays in your overall campaign. You might wish to include a variety of incentives, such as discounts or deals. Adding testimonials from your satisfied customers is a great way to help new visitors feel like they've come to the right place for their purchase.
In the image below, you can see one of our squeeze pages built with Beaver Builder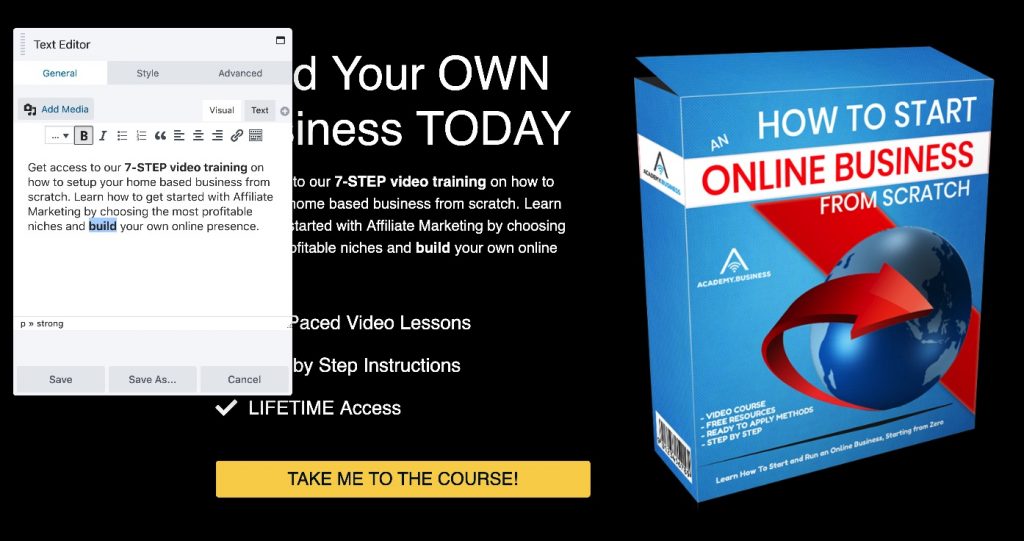 Adding a form to your landing page is beneficial, too, as those who have linked to your site from a specific ad are clearly interested in learning more about your business: why not have them sign up for your newsletter when they're most interested? A Call to Action, or CTA is another great idea for a landing page, as it can inspire visitors who are merely curious to dive further into your site.
Like all parts of your website, it's important that you make sure visitors understand why they are there, and what they need to do. While it may be tempting to use this moment of undivided attention to tell your new audience absolutely everything about your business and product, it's crucial that you not overwhelm them with too much.
Don't make them read too much copy, muddle through a complex variety of buttons or action requests, or guess what the next step in the process is.  Focus on the promotion or product from the ad that linked them to this landing page, and give them an obvious path towards conversion.
About Beaver Builder
What is Beaver Builder?
Beaver Builder is a WordPress plugin that is designed to help you build all aspects of your webpage. The templates available through this plugin are compatible with any WordPress theme, though a specific theme is available for Beaver Builder Users.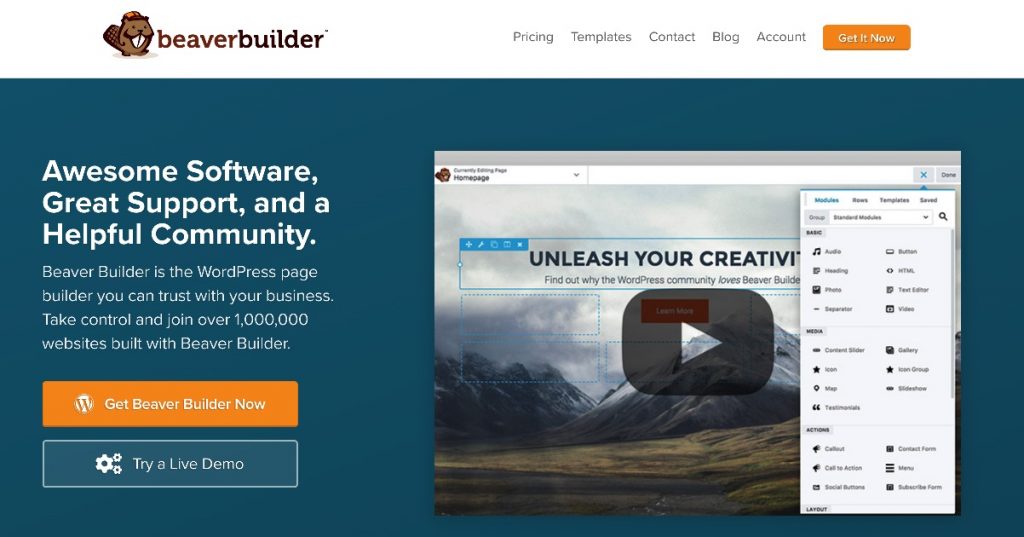 Each professionally-designed template is also 100% customizable with easy-to-use drag and drop capabilities. They're also 100% mobile compatible, allowing customers to access your site from any device.
Four levels of Beaver Builder are available:  a free Lite version, a Standard, a Pro, and an Agency service.  The Lite version has just five basic modules and templates, compared to the full Premium package that is available with the paid subscriptions, including the ability to add buttons, headings, and separators.
Pricing and Plans
How Does Beaver Builder Cost?
The Standard Beaver Builder, which costs $99 for the first year, includes use on unlimited sites, as well as a page builder plugin, the full Module & Templates package, access to the WorldPress Beaver Builder Theme, and Beaver Builder's "Word Class Support." The Pro Version costs $199 for the first year, and the Agency subscription adds multisite network settings to accommodate several professionals working from different locations on various sites.
Check all the available plans on Beaver Builder website.
Features and Benefits
Creating Landing Pages with Beaver Builder
There are many benefits to using a page builder plugin to create landing pages. The ease of use is one very obvious benefit. Beaver Builder offers many landing page templates for small businesses, law firms, gyms and fitness professionals, fashion specialists, photographers, and even a "Coming Soon" landing page for businesses drumming up interest before the official site launch.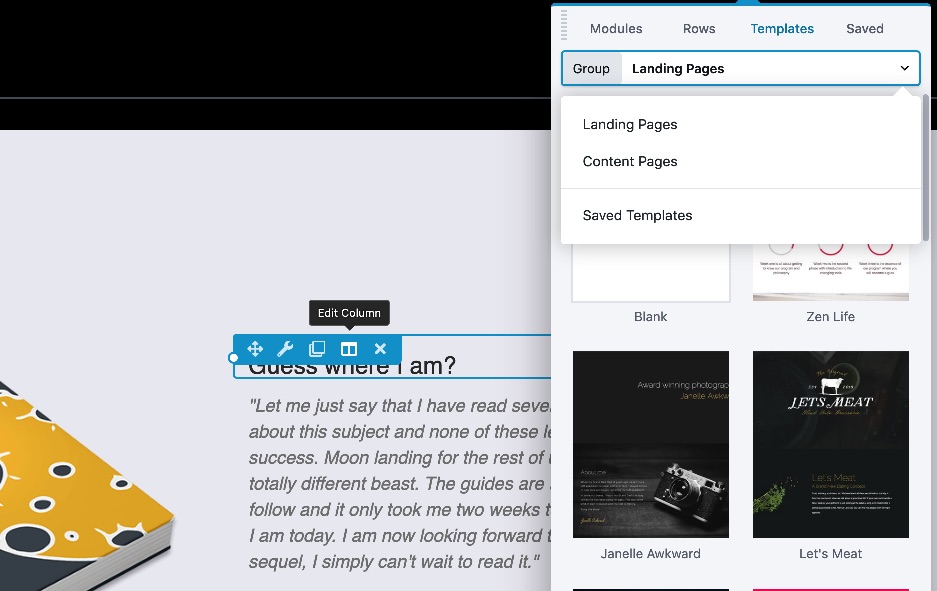 Each landing page template is designed to inspire your creativity. You can customize every aspect, including text and photos, in a fast-loading, mobile-friendly environment. Not only can you save the landing pages you create for future use and A/B testing, you can also save individual rows and columns to use in other locations on your website.
This feature is handy for keeping content consistent across multiple landing pages. For example, a particularly compelling incentive added to a landing page is worth repeating several times throughout your site. Though a new visitor might pass the first time they see this offer, they'll look for it again once they've learned more about your business.
Make it easy for them to redeem this offer by making the texts or buttons identical throughout your website.
With the ability to streamline content, it may be tempting to use Beaver Builder to create your entire website.  After all, with the WordPress Beaver Builder theme, you'll be able to easily update all elements of your website.  That means simplified A/B testing, faster facelifts, and the ability to add landing pages to your heart's content.
Conclusion and Score
Our Opinion About Beaver Builder
Creating a landing page is difficult enough. You have to consider what type of content you wish to add, based on the purpose of the page itself. With a plugin such as Beaver Builder, building and making changes to your pages is the easiest part of the process.
Simply drag and drop columns, boxes, buttons, and media boxes into the templates, and customize them with your own clear, concise, quality content.  Then let your site and landing pages do the work and wait for the conversions to roll in.
You can purchase Beaver Builder on this page.
Just Easy!
A simple and lightweight WordPress plugin for building nice blocks and pages. A good alternative to the native Gutenberg editor!
Recommended? Yes.
More Articles on This Subject
Here below, you can find a list of articles related to Beaver Builder:


Using Beaver Builder to Design Landing Pages