Are you looking for the top ClickMagick alternatives? Keep reading this article to discover our favorites. We have listed the main features, pros, cons, and pricing plans for every alternative tool.
Why Do You Need a Tracking Tool Like ClickMagick?
Ad tracking tools like ClickMagick are without a doubt one of the best Internet marketing software available today, and you will definitely require them at some point.
We shared a detailed review of ClickMagick in one of our past articles, and despite its numerous advantages, it has some downsides as well.
Weak Points of ClickMagick
Firstly, their UX may need some improvement to provide a simpler, more user-friendly dashboard. Secondly, they use a redirect engine to collect information about the traffic source before forwarding the traffic to its destination. Therefore, some features lean toward the grey or black ends of the spectrum.
Lastly, the cost of ClickMagick is quite high. Thankfully, there are excellent ClickMagick alternatives that can compete with ClickMagick features. Let's have a look at them.
What are the Best ClickMagick Alternatives?
Here below, you can find an overview of our top 4 ClickMagick alternatives.
---
1. ClickMeter
Positive
More than ten different integration options are offered
It provides real-time reporting
Users can export analytics data into Excel for more in-depth study
Negatives
Some some browser compatibility limitations
It only offers email support
ClickMeter, one of the major ClickMagick competitors, performs the same type of click-based link tracking. If you wish to split traffic among different targeted landing sites, you can use it to target where incoming visitors end up dynamically.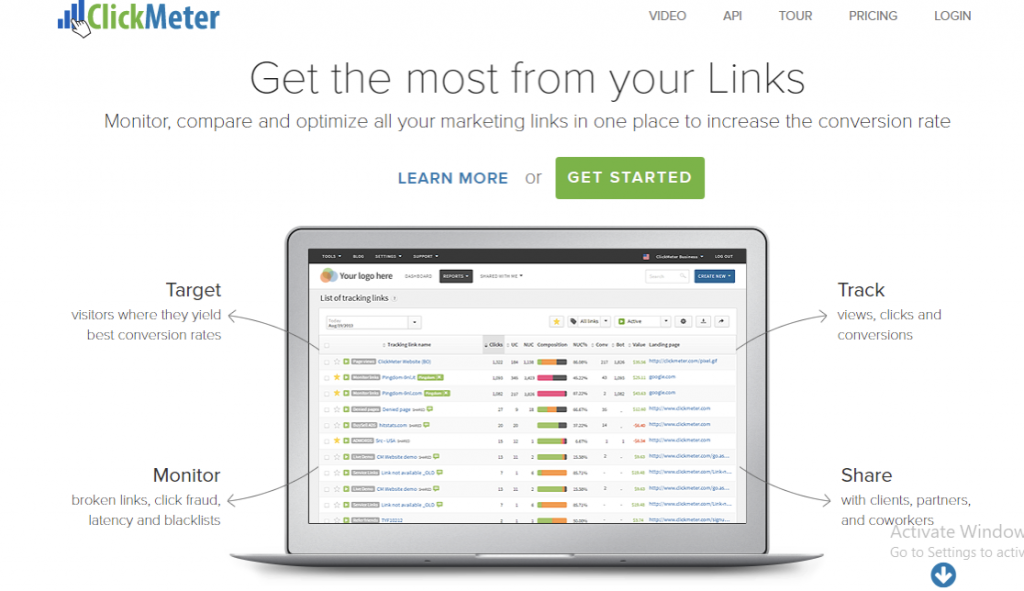 This tracking tool can track your clicks, views, and conversions. Your clicks can be monitored for broken links, high latency, click fraud, and even blacklists. Of course, you can export data or reports to send to clients, team members, or managers.
In a nutshell, ClickMeter is a fantastic alternative to ClickMagick.
Main Features
Campaign Monitoring: campaign monitoring makes it simple for affiliates and publishers to select the campaign that will be most beneficial for them and result in the highest conversion rate.
Click Fraud: like ClickMagick, the click fraud feature makes sure that only legitimate clicks are registered and monitored.
Robust Analytics Dashboard: their powerful analytics dashboard allows you to filter down into specific data and provides metrics such as source, IPs, keywords, and much more.
ClickMeter's Pricing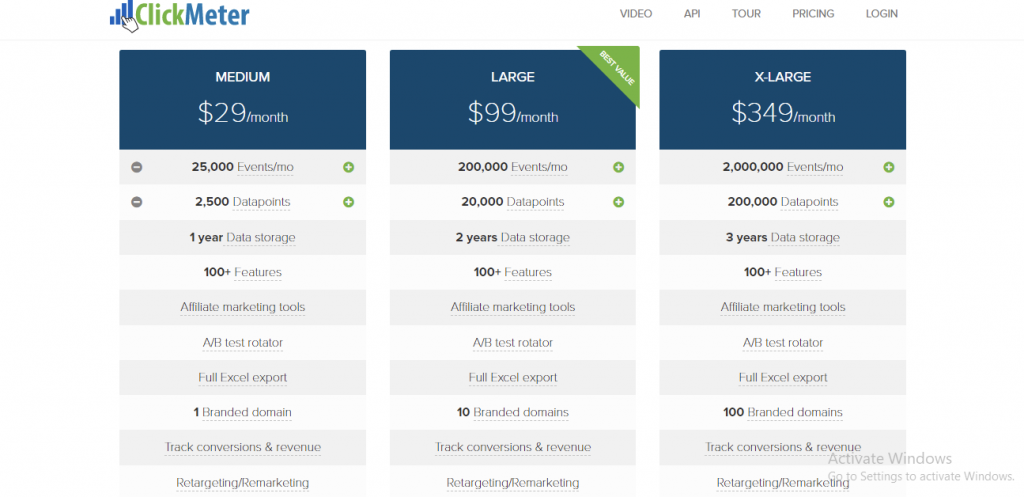 ClickMeter provides four pricing plans to its users.
Medium: The cost of this plan is $29, with 25,000 events per month.
Large: This plan costs $99, with 200,000 events per month.
X-Large: The cost of this plan is $349, with 2,000,000 events per month.
---
2. Bemob
Positive
Comprehensive tracking of ads
Fully automated platform
Wide third-party integrations
Manual bot blacklisting
Negatives
No option to create landing pages
No telephone support
Bemob tracker is a tracking tool created to offer media buyers and affiliates an all-in-one link monitoring solution. Advertisers may follow the progress of their campaigns, scale their growth, and evaluate their outcomes with Bemob.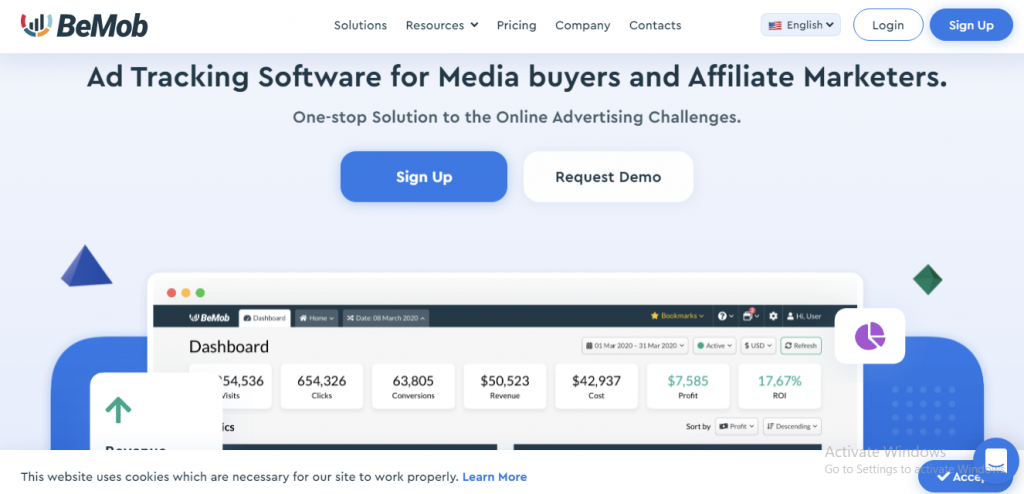 This tool guarantees the quickest redirects for users with 11 Amazon data centres spread out throughout the globe. The tracker updates data instantly, and any changes are immediately reflected in reports.
While interacting with mobile traffic, users can explore all of BeMob's functional options. Weekly updates are made to the system to boost productivity and optimize work.
Features
Fraud Protection: detects and blocks bots in order to receive only high-quality human traffic.
Easy Campaign Management: you may quickly and easily connect BeMob with any platform by using its API. You may automate day-to-day tasks and receive notifications when particular processes are completed with an all-in-one affiliate tracking dashboard.
No Traffic Loss: due to the BeMob Server Auto Scaling Architecture, you can work with any amount of traffic.
Multi-Funnel Tracking: launch and stop your campaigns without logging into your traffic source accounts.
Bemob's Pricing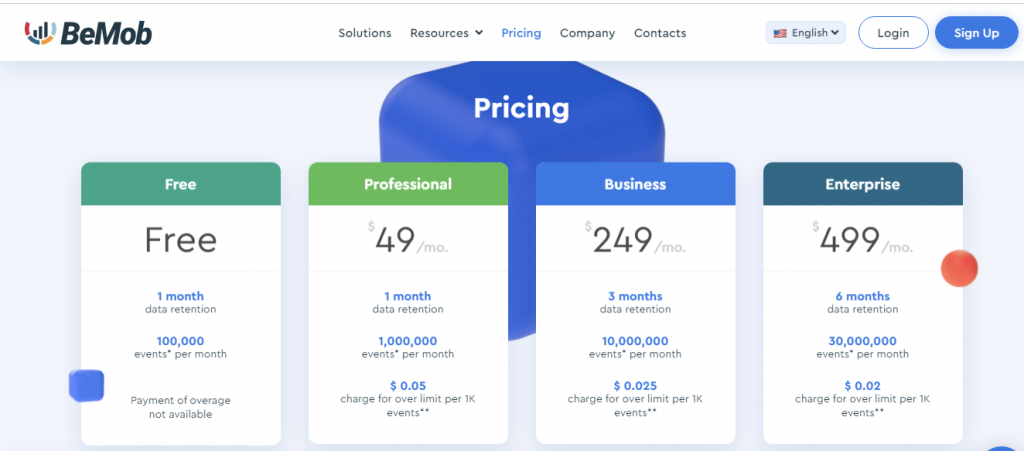 BeMob price starts at $49.0 per month. BeMob offers three different plans:
Professional for $49.00 per month.
Business for a monthly cost of $249.00
Enterprise for a monthly cost of $499.
BeMob also provides a free plan with limited features.
---
3. Voluum
Positive
Has numerous software integrations with different platforms
All plans include granular link tracking testing
Tracks the traffic sources in detail
Negatives
Pricing is not designed for individuals or teams on a tight budget
No API automation for buyers management
Learning the ins and outs of the platform can take some time
Voluum is similar to ClickMagick in many aspects. It integrates with more than 40 worldwide traffic sources, including Google Ads, Propeller, Facebook Ads, ExoClick, Taboola, Outbrain, and numerous others.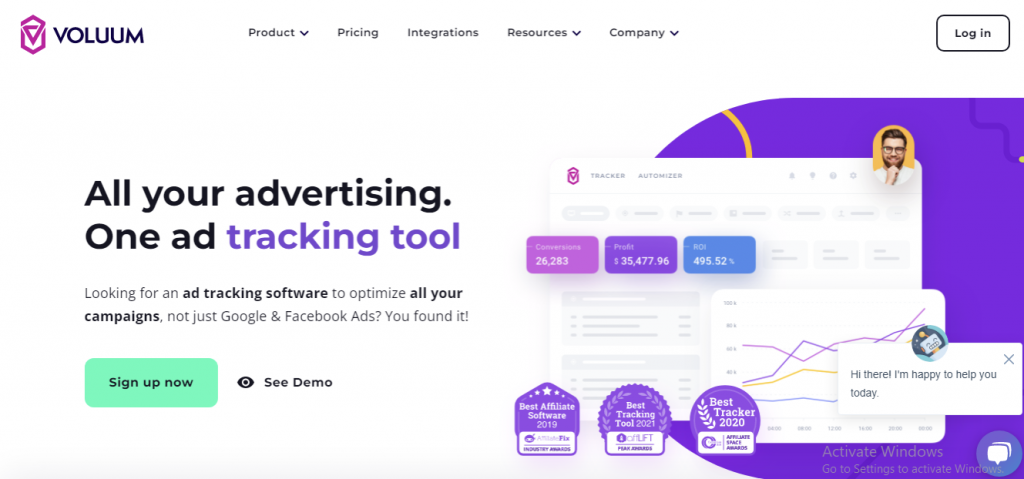 The primary selling point of this platform is the Tracker, which enables advertisers to monitor any kind of advertisement. It guarantees that you can rapidly track each visit, and click from all of your traffic sources in real-time.
Features
Affiliate Marketing Dashboard: easily track ad campaign metrics, including visits, costs, clicks, and revenues. Utilize a single platform to manage all of your affiliate conversion trackings.
Bot Filtering (IP/UA): filter out known bots from your reports. Create unique filtering rules based on user-agent values, IP addresses, or IP ranges.
Tracking of Organic Traffic: track visits that come from websites or search engines other than the Direct Tracking URL.
Landing Page Protection: block people or software from accessing your landing page if they didn't come through a campaign URL.
A/B Split Testing: determines which deals and landing pages perform the best.
Whitelists and Blacklists: make blacklists and whitelists of creatives, websites, widgets, zones, etc.
Voluum's Pricing
Voluum has different plans for individuals and businesses.
Individual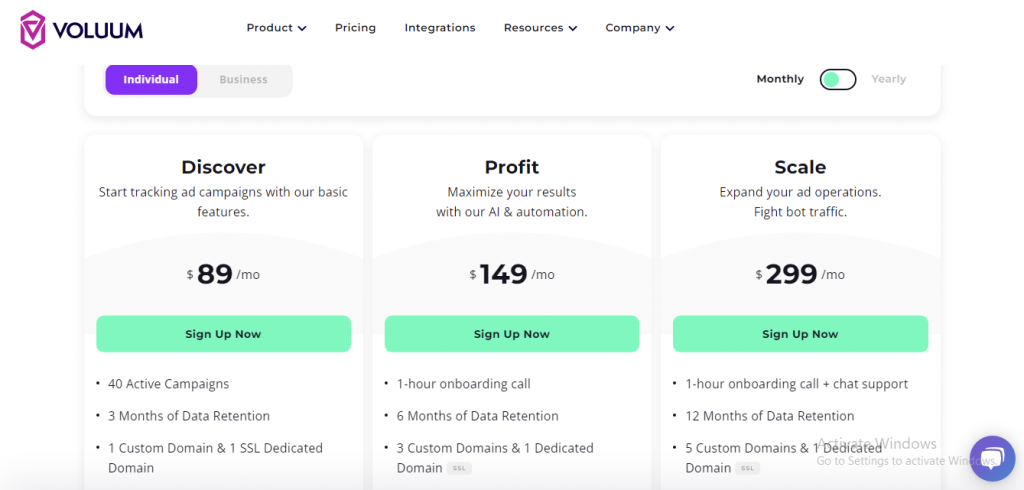 Discover: It starts at $89 per month.
Profit: Starts at $149 per month.
Scale: Starts with $299 per month.
Business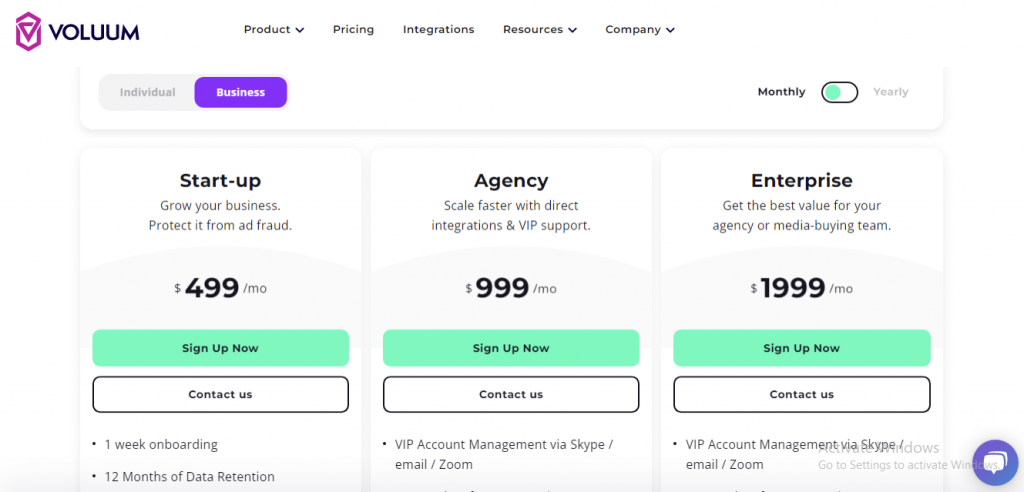 Startup: Starts with $499 per month.
Agency: Starts with $999 per month.
Enterprise: Starts with $1999 per month.
---
4. Qliker
Positive
Detailed in-depth stats
Simple link duplication process
Affordable prices
Easy to navigate
Guaranteed transparency
Qliker is another ClickMagick alternative for tracking links. It provides every feature a marketer might needs to track their ongoing campaigns. It is currently very popular among solo ads sellers.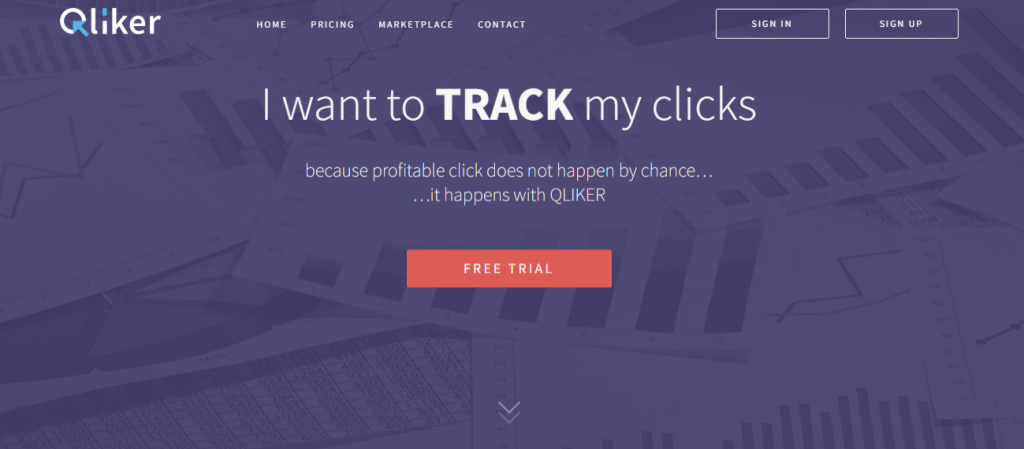 Here below, you can find the main features of Qliker.
Main Features
High Performance: with the help of cutting-edge web technologies, you may expect the highest performance while managing your clicks for quick processing.
Advanced Features: Qliker employs website tools for real-time link monitoring, notifying you of any issues discovered. If the URL is not working properly, no clicks will be forwarded to that source.
Profitability: your advertising and marketing plan may depend significantly on your statistics and data analysis knowledge. Qliker can quickly and efficiently enhance your profitability while avoiding unreliable statistics servers!
Qliker's Pricing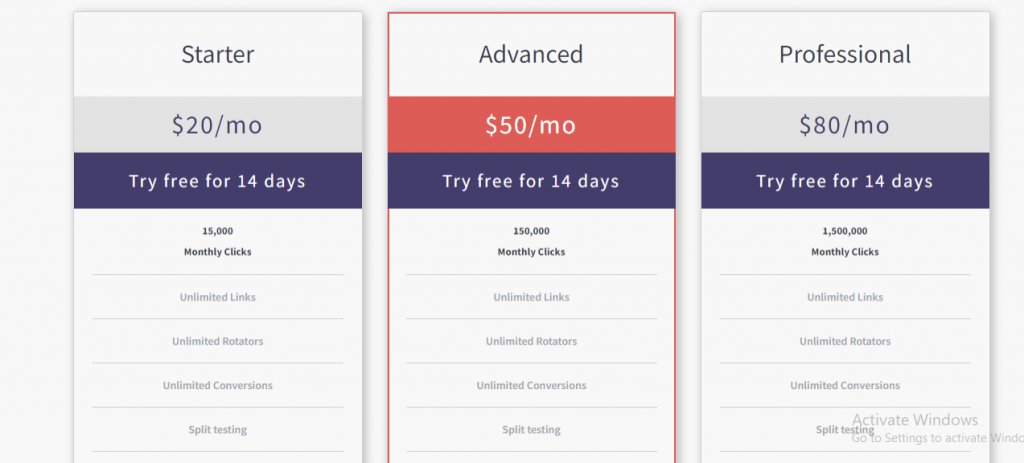 Qliker price starts at $20.0 per month. It offers three different plans:
Starter for $20.00 per month.
Advanced for a monthly cost of $50.00
Professional for a monthly cost of $80.
Qliker also provides a free trial for 14 days.
---
Final Words
To be honest, choosing the best ClickMagick alternative among the four listed above is very hard. It most likely depends on your budget and requirements.
Voluum is best for you if you need robust features and have a high budget. However, if you're looking for low-cost alternatives with greater functionality, we'd recommend Bemob or Qliker. That's it! You're all set.
Which ClickMagick alternative are you planning to use? Please let us know in the comment section below.