Are you searching for the top AI tool that writes stories and novels? We all find it difficult to come up with unique and fascinating ideas, and we all want to write novels and stories, but most of the time we don't know where to begin.
About Artificial Intelligence (AI) Writing Tools
Today we're going to talk about our top 5 AI story-generating tools that will assist you to write novels and stories in no time.
For this purpose, we have tried and reviewed some of the most powerful AI-powered tools that will assist you to produce novels and stories in no time. These tools are ideal for any fiction writer looking to get inspiration for a story from AI. Moreover, these tools will take care of the grammar and storyline for you, so you won't even need to think about those things.
So, keep reading this article if you're interested to learn how to use these AI to write your next story.
AI That Writes Stories: The Best Tools
Let's start reviewing our top selection of Artificial Intelligence writing software. We will start with the one we recommend and endorse because of its quality and features.
---
1. Jasper.ai
Positive
50+ AI templates
Can create an infinite number of project folders
Supports 20+ languages
Long-form support
Customer Support
Negatives
No free plan
It can occasionally repeat sentences.
Jasper.ai is the most well-known AI tool that writes stories. It generates stories that resemble human speech using artificial intelligence and natural language processing (NLP).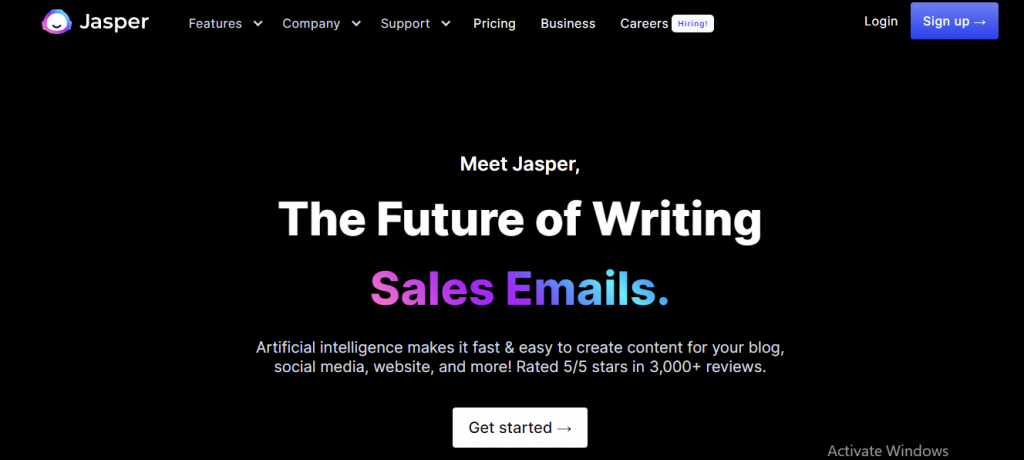 What's best? You may quickly produce engaging stories or novels with the help of Jasper's unique "Creative Story" writing template.
Grammarly support is built into Jasper.ai to help you address your grammar and spelling issues. In your story, language shouldn't be an obstacle. Jasper.ai supports around 25 different languages and dialects.
There is a more robust feature known as BossMode. This function unlocks the full potential of Jasper, enabling you to produce content five times faster and in a shorter amount of time. You can create SEO-friendly posts and use them to drive thousands of organic visitors.
Pricing
Jasper.ai has three pricing plans:
Starter plan has 20,000-word generation credits and costs $29 per month.
Boss Mode costs $59 for generating 50,00 words per month and gives you access to all features.
Business plan comes with a custom price and plan.
For a limited time only, we are able to offer a free trial for those who are interested to try Jasper out. You can unlock it either by clicking the button below or by clicking the links on the product review page.
Read the full Jasper.ai review.
---
2. Copy.AI
Positive
Uses the AI GPT-3 model
Creates stories in more than 25 languages
Provides a variety of modules to get inspiration for a story from AI
You can change the tone of your story
Access more than 90 writing tools
Various tools for content optimization
Negatives
The cost of this tool is high as compared to other tools
The usage of so many tools can become daunting
The overall quality might not be good
Another AI-powered tool that has been popular among copywriters, email marketers, bloggers, and social media marketers is called Copy.AI.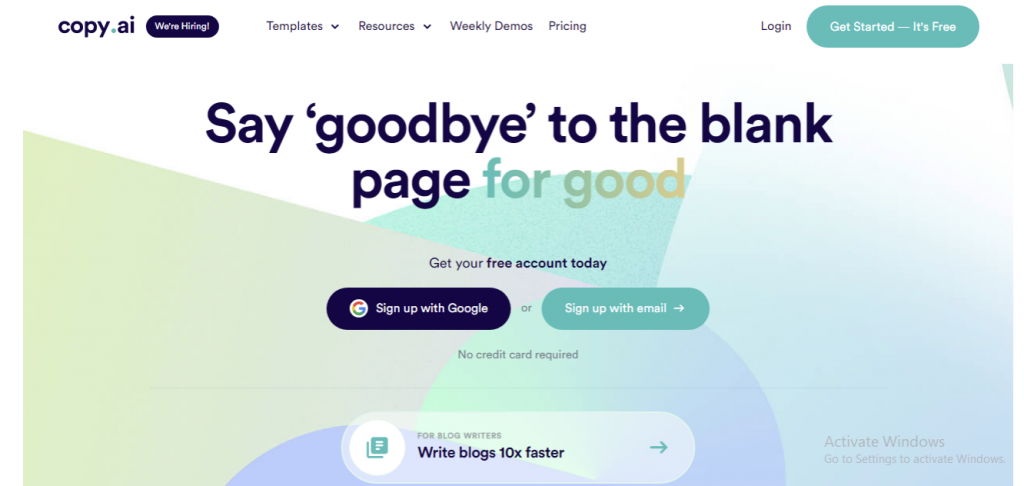 Copy.AI uses OpenAI's GPT-3 language learning model to produce stories of the greatest quality and context. This AI technology is also known for producing human-like content that requires minor modification or improvement.
Copy.AI can generate stories in various languages like other artificial intelligence story generators. It currently supports a number of the most spoken languages, including English, Italian, Spanish, German, French, and others. Additionally, this tool can generate stories and content on nearly any topic.
Pricing
At the moment of writing, Copy.ai offers two pricing plans.
Free: A free option that provides up to 2,000 free words per month to create stories.
Pro: This package starts at $49/month and gives 40k words to create stories with 5 team seats. There are further sub-tiers in this price structure:
40k words per month for $49.
100k monthly words for $99
300k words each month for $279.
300k+ words with a custom price
---
3. Rytr.me
Positive
High-Quality short-form content
Available for an affordable price as compared to other tools
Plagiarism checker
Supports 30+ languages, 30+ use cases, and 20+ tones
Negatives
Not really appropriate for creating long-form content
Rytr.me is a relatively new artificial intelligence story creation tool on the market.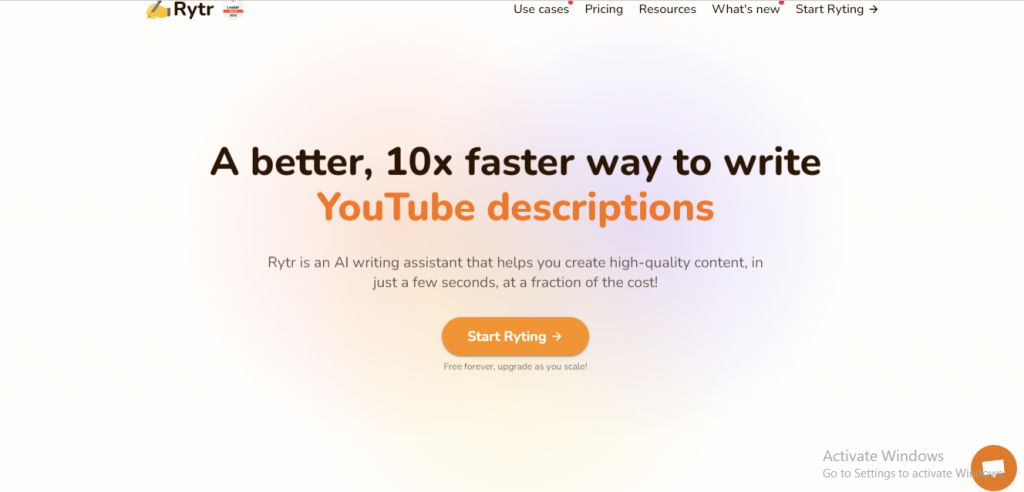 It can assist with the creation of storylines, song lyrics, testimonies and reviews, Q&As, profile bios, and a variety of other things.
It's a pretty effective tool to provide you with the best results possible when producing short-form content using the GPT-3 model and a few unique models to boost your writing production.
Rytr.me is designed primarily to give your short-form writing strong keywords, which are necessary for attracting SEO readers or breaking through writer's block.
Pricing
Rytr.me comes with three options to pick from:
Free: 0.00$/mo
Saver: $9 monthly
Unlimited: $29 per month
Even though some other AI-powered content producers might provide a wider range of resources, tools, and features, very few of them can match Rytr's cost. Overall, when considering flexibility, empowerment, and price all at once, Rytr is hard to beat.
---
4. ShortlyAI
Positive
Easy to use
Produces a wide range of content, such as imaginative stories, blog articles, and emails
Allows you to write an infinite number of words each month
Negatives
May give you incorrect information and statements
Not all writing is free of grammatical errors
The text might require a lot of proofreading
One of ShortlyAI's most incredible features is that it is ideal for people who have a lot of content to write because it produces infinite words per month. It includes templates to help you write AI-generated stories.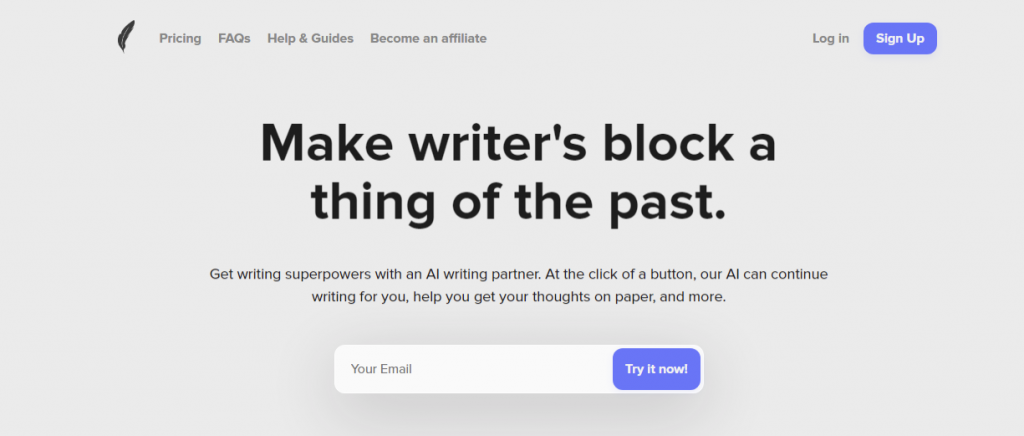 It is considered to be one of the most convenient platforms that include templates to help you get inspiration for a story from AI.
Pricing
ShortlyAI has two pricing options.
1. Monthly plan: This plan costs $79 a month and allows you to create unlimited content and helps you to write faster.
2. Annual plan: With this subscription, you can create an unlimited amount of content, and receive future updates, for a cost of $65 per month (paid annually).
---
5. DeepStory
Positive
Users can choose the cast and genre features
Free to write an unlimited number of scripts
Negatives
Only a few reference films are offered
Fewer features to specify the script
AI- produced stories don't seem to be written by humans
DeepStory is another good AI tool that writes stories. Writing, sharing, and downloading any AI-written script is simple with this software.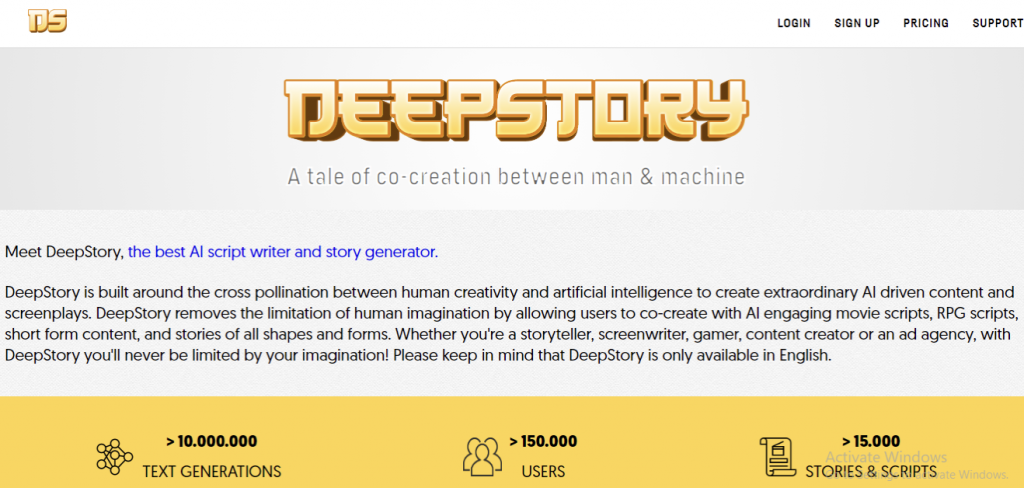 You can use more than one previous film as a template when outlining the story, setting, and characters.
You can change the genre and time restriction of the scenes to create a new, unique script. Once configured, you may press the start button, and the AI narrative generator will write a story for you.
Pricing
Free plan: Includes ten generations per day, mediocre language model, and short-form writing.
Premium: Costs €12.99/month with 10.000 words per month, superior language model, long & short-form writing, high-quality output, and great context input.
---
The AI that writes stories: Which Tool Do We Recommend?
Several tools are available for creating AI stories, but not all of them can produce content as good as that produced by a human writer. You'll undoubtedly come up with nothing if you've chosen the wrong tool for your novel and story writing projects.
That is why we spent a lot of time researching the top AI story tools and created this list, which will help you effortlessly write novels and stories without wasting your money or time on the wrong tool.
Out of all the tools, Jasper.ai and Rytr.me are the ideal writing partners for short or long-form stories and novels. These tools are popular because of their high output quality, simplicity, and effective commands.
Final Words
It's possible that AI story generators won't be capable of creating an entire story from scratch. But they will undoubtedly save you a lot of time because they can provide you with fantastic story ideas, character motivations, and more.
In order for these AI story writing tools to produce better stories or ideas, you must provide proper input depending on your stories or characters.
So, what are your thoughts on the topic of the AI that writes stories for you? Please let us know in the comments.