Positive
Generates Unique Content in a minute
AI-based: it improves with experience
50+ content templates ready to use
Over 25 languages
Different content tones for every situation
Speeds-up content production
Free Trial
Negatives
Learning how to use the tool can take some time
Some pieces of produced content may need to be adjusted or adapted
Are you a burned-out writer? Here's the secret of other copywriters out there!
Imagine this: you're a copywriter, all burned out by a mountain-pile of articles you had to do for the week's workload. Then you're assigned to do an article on the same topic you wrote about earlier that week. At this point, you're already tired and lacking inspiration; you're also afraid that while you are creative in making each article incomparable to your previous works, you just know that there's a high chance that this article will look like a copycat of your previous article.
Writing, though, is very liberating and creative, however, it can be taxing at times. No matter how much effort you put into your written works, you have a distinct style that screams you (which is proven as an invaluable asset). Problem is, you don't want your different articles to be like a processed thinkpiece that is generated from the same template. You want concise but unique takes on your topics without them sounding too much alike.
If you find this hypothetical scenario all too familiar, then good news, there's a new writing companion available to help you with your writing needs.
About Jasper AI
Jasper AI: Your New Online Writing Companion
Jasper AI is a tool that not only eases your writing burden but also gives you new perspectives and ideas on how to approach your topics, giving your readers a fresh take while still sounding like your work.
With the help of Jasper AI technology, you can ensure that you will continuously create top-notch content at par with industry standards in a few clicks here and there. Say goodbye to bearing stress with lack of motivation, writer's block, or even sounding redundant in your content. Jasper AI will bring out your A-game when it comes to content writing, every time.
How does Jasper AI work, exactly?
The third generation of Generative Pre-Trained Transformer, known as GPT-3, is the secret behind Jasper AI's success. GPT-3 in a nutshell is a neural network machine learning model that has been trained with internet data to predict the next word given a sequence of words (a.k.a natural language processing or NLP).
GPT-3, developed by OpenAI, requires input text to produce a large number of relevant and sophisticated machine-generated content. The GPT-3's deep learning neural network is an example of artificial intelligence that uses approximately 175 billion machine learning variables.
GPT-3 is much easier to program than previous versions and, as a result, it generates text-based content via AI with greater accuracy than any previous model. GPT-3 is convincing enough to be regarded as human-written, suggesting that it outperforms any preceding version in terms of generating text-based material through AI. Jasper.AI then takes this technology and makes it available to content writers in a user-friendly interface.
To use Jasper, simply type or paste your text into the web app. The more you input, the better results you'll get from the tool. After that, you can choose which task you want Jasper to do for you.
Jasper.AI will then analyze your text and offer suggestions on how to improve it. The tool will also provide you with a list of resources that you can use to further enhance your writing.
Problems Solved by Jasper AI
Lacking the motivation to write? We see you!
As writers, content creators, brand ambassadors, or bloggers, we often find ourselves in each other's shoes; we share the same stressors when it comes to writing content and we cannot stress this enough: we get you.
It is the lack of inspiration and motivation that often leads content creators to become impervious to deadlines and additional stressors due to the piling workloads. You are already stressing over one topic right now – what more if you add up the stress of your other pending write-ups, right?
Unleash your creativity
Nevertheless, multiple dissertations and studies have found the main causes and solutions for writer's block. A study by the University of Florida found out that meeting physiological and motivational needs are essential in jolting the composition process, which will therefore start the creative process too. However, even when met, there is just a degree of association between different parts of the writing and creative process that can hinder and even derail you from doing your best in writing.
But even if you have constant writing habits and are following a timetable to manage your time with your different write-ups, you will still eventually find yourself burned out and doing what you can just to make ends meet – and trust us, we do not blame you.
Taking action is needed, and sometimes, help is just within a click's reach. So if it's your passion to write and create meaningful content in hopes for others to see its value and inspire action in itself, you must find the courage to spark action in yourself first. Sometimes, in order to ignite this action, you need help, and help is what we offer you.
Create long-standing, unique, and top-notch content in no time
You can use the Jasper AI copywriting tool to assist you with a variety of jobs like producing long-form blog articles, social media posts, high-converting advertising, engaging emails, landing & sales page content, snappy headlines, product descriptions, video scripts, and more.
Fix your lack of Inspiration
Jasper AI will help you out during long nights of cramming witty content, especially on days when you are feeling uninspired, demotivated, or even when you are simply running out of things to include in your writeup. When your sparkle is feeling a bit dull, Jasper will help you get your sparkle back.
The good thing about Jasper is it includes you in the process. It does not let you just copy a template and hope for the best, but rather it helps you build on these templates so you can add your own take and brainstorm along the way. Creativity begets creativity with Jasper AI.
Create killer content in one minute
Furthermore, Jasper AI also helps out in saving you precious time. Even at times when you're in a creative high, workloads will still be piling up, which can overwhelm and complicate your focus. Jasper AI has templates that you can work around so that you will be able to shell out industry-standard content in half the time you use with other copywriting platforms you use.
Become authoritative in your Niche
Roughly 10% of all the content you see online for the past year – whether it be through Google or through a specific brand – is created with the help of Jasper AI. In short, Jasper AI knows your niche better than you yourself. Jasper AI is "self-learning"; its database is extensively updated to broaden its understanding of niche targets.
Jasper AI's main goal is to crank up your creative process, even when you lack profound knowledge of this niche topic and its target demographic. In these instances, Jasper will help you appear more confident and masterful in how you handle any type of content. So if you are feeling some sort of "writing anxiety" over a topic you are not an expert on, let Jasper translate your newfound knowledge into ecstatic confidence. All you need is to know the topic you are to write about, and Jasper AI will help you fill in the gaps.
What's More?
In addition, Jasper will also make sure that the content you will create will be up to par with the big dogs in the industry. Jasper is programmed to help you write as if you are already writing for a high-end, multi-billion dollar company. It is designed to create content with varying tones of voice depending on your own input so rest assured it can produce content that is still aligned with your brand voice.
What's even better about Jasper is that it's plagiarism-proof, too! You can double-check the text on Copyscape although make sure that there are no repetitive phrases or sentences throughout the text. Your input is crucial as to how the AI will interpret and expound the information.
Today, as we speak, Jasper is actually used by big household names such as HarperCollins, IBM, Airbnb, and even Google itself – so you know you are using a platform approved by industry juggernauts.
Features
Jasper AI Main Features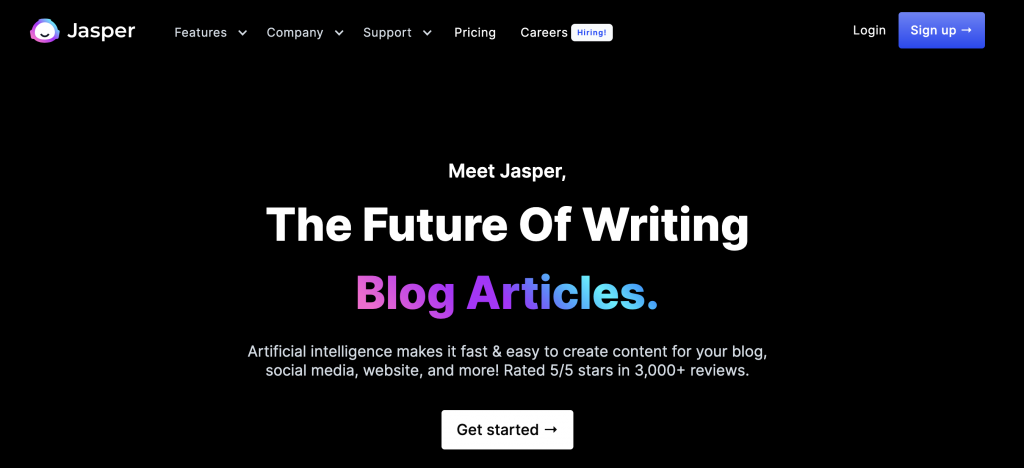 Jasper AI expedites your creative and composition process and converts your polished work into a voice that booms loud along with industry giants. The following are the notable game-changing features of Jasper AI:
Jasper AI Skills
Jasper AI includes a number of content templates, known as skills for various forms of writing. Blog articles, ebooks, CVs, and other materials fall under this category. You may select one or combine many to swiftly build your paper.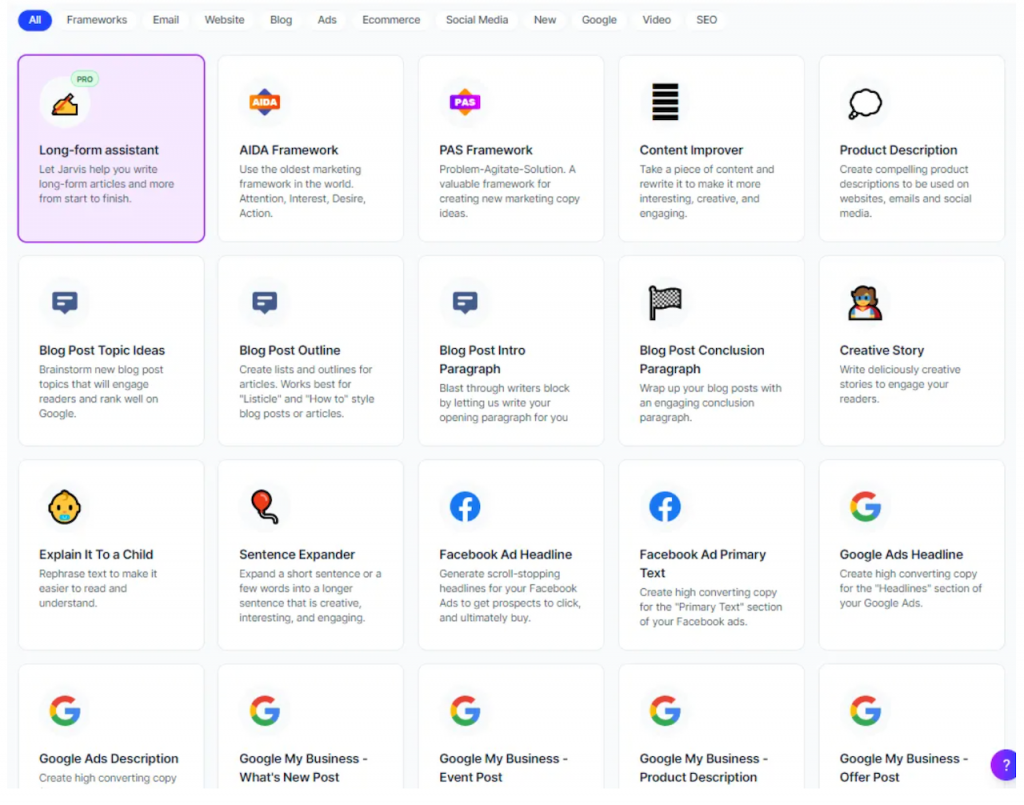 Some of the templates available on Jasper include:
Blog Posts
AIDA Framework
PAS Framework
SEO Product Page
Facebook Ad Headline/Primary Text
Google Ads Headline/Primary Text
Amazon Product Descriptions
Photo Post Captions
Video Scripts/Titles
Review Responder
SEO Website Copies
Company/Personal Bios
Real Estate Listing
Quora Answers
Personalized Cold Emails
Jasper AI Recipes
One of the most useful elements of Jasper AI is the ability to create recipes.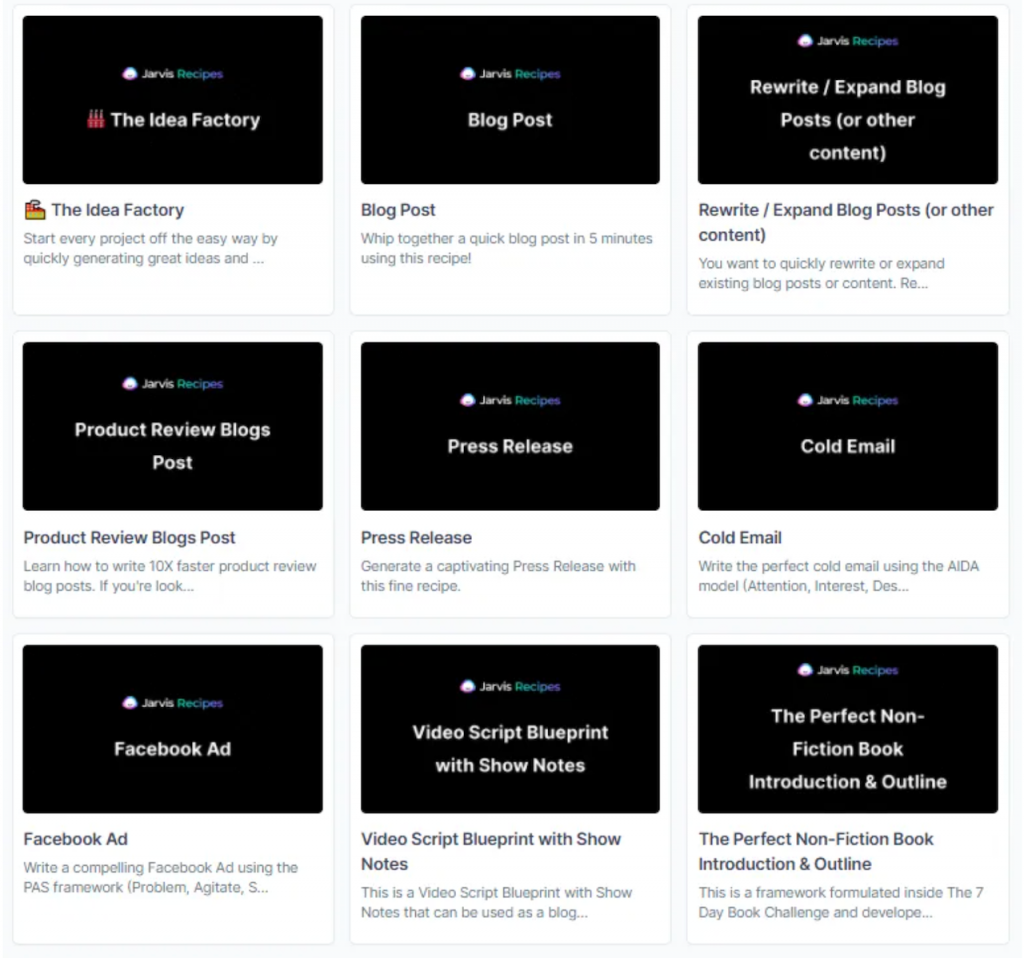 Recipes are a set of pre-built workflows comprising Jasper.ai instructions, allowing you to produce content using easy, repeatable methods. You may also store your own recipes as well as those shared by other users for subsequent use, all without any technological knowledge.
Plagiarism Checker
You may use Jasper to check your paper for plagiarism against a database of over eight billion websites. Jasper consistently produces original material. It also features a sophisticated algorithm that evaluates sentences word by word to detect similarities between texts. Since Jasper has read most of the public internet, he knows pretty much everything!
The content created by Jasper does not use one single source's information; instead, it is constructed from a variety of sources, which is why it is word-by-word unique and plagiarism-free which is why it can actually aid you in providing content that will be at par with industry standards, so you do not have to worry about sounding like a novice even in niche topics that are quite unfamiliar to you.
SEO (Search Engine Optimization) Style
Writing in SEO mode on Jasper AI allows you to control how your content will appear on search engines. The SEO feature takes into account the keywords you input and produces text that is rich in these keywords while still sounding natural.
You can also control the keyword density, or how often the keywords appear in relation to the rest of the text. A higher density means that your content will be more likely to appear higher in search engine results pages (SERPs), while a lower density will make your text sound more natural.s
The Jasper AI Power Mode
It is a premium upgrade that allows you to include photographs and videos in your publication. It also lets you add links and embed codes, which might be useful for marketing.
Plans and Pricing
How Much Does Jasper AI Cost?
You can profit from our special offer to get a free trial of Jasper AI by following this link.
The Jasper AI pricing is simple and straightforward and offers 2 paid plans:
The Starter Plan, starting at $29 per month
The Boss Mode, starting at $59 per month
What is included in the Jasper AI Boss Mode Plan?
Jasper Boss Mode is the AI platform's premium content writing offering. It is available in the highest pricing plan and offers a subscription-based service that gives users access to all of Jasper's features, including templates, recipes, plagiarism checking, SEO style, and Power Mode.
With Boss Mode, you can also perform commands such as "write a conclusion" or "rewrite this sentence," which can be helpful when you're stuck. Boss Mode also includes a thesaurus, grammar checker, and style guide to help you improve your writing.
Let's see together some of the most important features included in the Boss Mode.
Tone of Voice
You may instruct Jasper AI to use a certain tone of voice. Whether it be "witty" or "serious" or even the tone of voice of a prolific writer, Jasper AI can emulate that for you.
Jasper AI Advanced Editor
This is where you enter your document's text. To make it seem exactly how you want, you may use any formatting, such as lists and quotes. Furthermore, Jasper AI also includes over 70 different typefaces to get you inspired and at ease whenever you are writing.
Jasper AI and Surfer SEO Integration
Jasper AI is heavily improving its software and user interface all the time. One of the most helpful integrations that Jasper implemented is the use of Surfer SEO in its system. This embedded SEO optimization tool saves a lot of time and effort for marketing strategists by having a real-time scoring system that analyzes your content and tells you what to improve on or which keywords to add or lessen.
How To Use Jasper
Utilizing Jasper AI for your copywriting needs
Using Jasper AI can be easily overwhelming, given the comprehensive features that it offers. Unlike other platforms that may tend to be overcomplicated due to their numerous features, Jasper AI still upends the game by staying convenient and easy to use for the average copywriter.
Jasper AI is fairly simple to use: these are the steps to start using this tool.
Step 1: Select a Jasper AI Skill
First, select a suitable pre-made template for your desired skill. There are multiple pre-made templates available on the platform, catering to a specific niche or following an industry-based format.
Step 2: Explain
Next, explain to Jasper what your content is about. This is the stage wherein you will be writing the basis of the output content. All the details and information presented here are what Jasper's algorithm will be based on while following the premade template you have chosen.
Step 3: Generate
Lastly, click enter, and wait for the system to generate the output, and it is done. The final outcome will be based on the set parameters, but it can still be tweaked as you desire.
About Jasper AI Skills
Ready-made templates for every situation
Ready to create SEO-optimized and industry-marked content? Here are a few of Jasper AI's content templates (skills) to use anytime (side note, there are a lot more brand-specific templates too):
Long-form content assistant
You can use his template primarily for long-form material. You can also compose blog post titles and intro paragraphs quickly with a long-form helper. Jasper can assist you with your writing process by utilizing the AIDA framework (Attention, Interest, Desire, Action). This template is useful for a variety of tasks, such as creating appealing emails or landing sites.
PAS framework
Problem-Agitate-Solution framework is another great template for creating extremely engaging content.
Content Improver
Take a piece of material and have Jasper AI rewrite it to make it more fascinating, innovative, and engaging.
Product description
Write appealing product descriptions for use on websites, emails, and social media platforms.
Ideas for blog posts
Create fresh blog post subjects that will captivate readers and rank well on Google. Create lists and outline articles for blog posts. This feature is great for "list" and "how-to" type blog entries or articles. Conversion AI can write your blog post intro paragraph for you, which can help you overcome writer's block.
Creative Story
Write fabulously imaginative stories that keep your audience interested.
Explain-to-a-child
Rewrite the material to make it easy to read and understand for a youngster.
Sentence expander
Convert a brief sentence or a few words into a longer, innovative, fascinating, and engaging sentence.
Facebook-Specific Optimization
Create scroll-stopping headlines for your Facebook Ads to entice prospects to click and eventually buy. You can also create high-converting material for your Facebook advertisements' "Primary Text" section.
Google-Specific Optimization
Create high-converting material for your Google Ads' "Headlines" and "Description" section. Create Google My Business What's New post updates.
And eventually, create event information for your Google My Business event postings. Curate product descriptions for your Google My Business. Offer more information for your Google My Business offer postings.
Conclusion
Conclusion, Score and Free Trial Link
Let Jasper AI take care of your writing anxiety
Lack of motivation, inspiration and drive to curate content may lead to writing anxiety. Apparently, studies show that even if you've previously combatted writing demotivation, getting beaten up and burnt out by content post upon content post will linger gradually, no matter how passionate you are about writing.
The best way to avoid this common problem is to have someone (or in this case, something) do the writing for you. Make your writing experience ten times faster and more convenient by adding Jasper AI to your content marketing strategy. Not to mention, you'll be able to produce high-quality and well-researched material in a fraction of the time.
If you want less stress while still enriching your passion for writing, face your writeups head-on with Jasper AI. Experience its revolutionary take on modern writing by heading to this link to register. For those who will register, you will receive a free trial bonus of 10,000 words to try out the tool. It's on a limited-time offer only so make sure to register now!
Final Words
Writing, in itself, is a revolutionary tool already. You command people's attention and let stories flow. In turn copywriting, as a whole, has continuously evolved to better match the needs of businesses. From agencies to in-house marketers, everyone's looking for that one copywriter who can produce quality content fast.
But what if there was something that could do all of that and more? What if there was a tool that could help you create winning headlines, write product descriptions, and come up with ideas for blog posts?
Jasper AI pricing plan model is made for every pocket: it is affordable compared to other similar Artificial Intelligence tools, and it offers a free trial to test the software out.
If you're searching for an AI copywriting tool that can save you time and enhance your productivity, you can try Jasper AI. With Jasper AI, you can create high-quality content faster and easier. Register now and get a bonus of 10,000 free words to try out the tool. Writing has never been this effortless!
Your New Best Friend
Jasper is the perfect online assistant, powered by Artificial Intelligence, that will help you to get any type of content written in a few minutes.
Recommended? Yes.


Jasper AI: Review, Pricing & Free Trial Link