Positive
Ease of use
Large Library
Low-Cost
Regular Updates
Excellent Customer Support
Negatives
No Free Trial
No Offline Use
Long export process
Color limitations in the standard version
Are you looking for that extra push to take your video to the next level? Doodly may be the perfect software for you.
Doodly is a user-friendly whiteboard animation software that has the potential to be a powerful tool for creating explainer videos and other types of marketing presentations. But is Doodly truly worthwhile?
To answer that question, we'll go over Doodly in detail so that you can decide whether it is an efficient tool to help you achieve your goals.
But before we get started, let's discuss what Doodly is.
Overview of Doodly
What is Doodly and What Does it Do?
Doodly is special drag-and-drop software that is simple to use and makes it easy to generate incredible sketches for your animation. It enables users to produce videos that engage and positively impact their audience. The videos may be used for promotions, social media, special events, or simply for entertainment and sketching.
Users can use a variety of canvases, including a whiteboard, blackboard, green board, and even a glass board to produce doodle videos.
Doodly software offers simple to follow instructions that guide the user through every step of creating a video, adding photos, and even exporting images and videos from scratch. After signing up for the software, users may make their first video in only a minute.
Review of the Main Features
How Does it Work?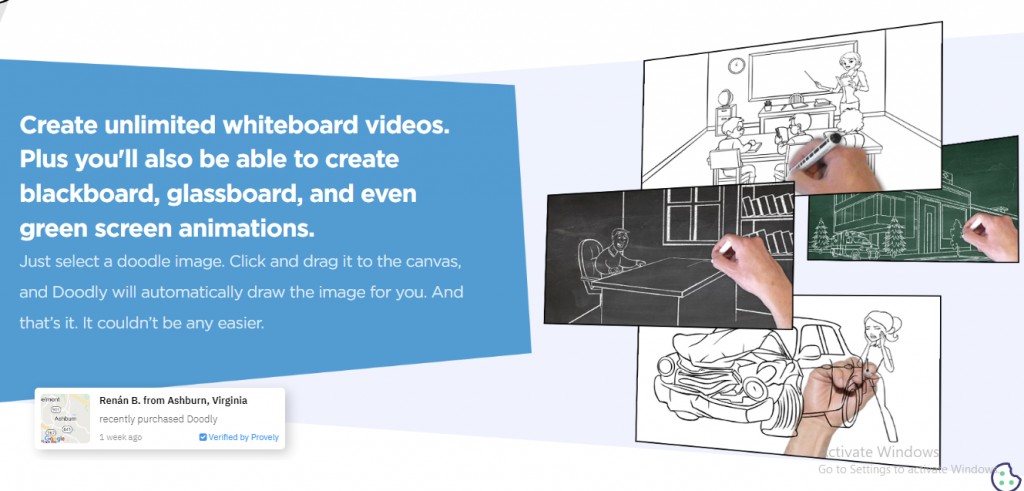 Extensive Collection of Pictures and Props
Once you signup for Doodly, you'll get 200 characters in total, each with 20 different poses.
Additionally, you will receive 20 distinct background scenes, hundreds of props, and assets covering many niches and topics. If you don't like their designs, you can just upload your own, and Doodly will draw them.
Smart Draw technology
SmartDraw technology enables users to draw any image quickly. Users can not only use hundreds of doodle images in their videos, but the software also allows you to upload your own photos, and you can add custom draw paths to any imported image.
Easy Video Editing
Since we all know how difficult it can be to edit videos, it would be wise to spend money on tools that would make your job easier. Fortunately, the Doodly video creator includes an intuitive video editor. You can modify several features, including the timeline, scene duplication, etc. The length of each stage you sketch can also be modified using the Doodly software.
Royalty Free Tracks
Doodly software allows you to add sound after creating a sketch. You get two sound slots from Doodly. One is used for voiceovers, and the other is for background music. The sounds can be edited to achieve the desired effect.
You will receive a particular number of tracks depending on your chosen plan. Three packages are available: Gold, Platinum, and Enterprise, which offer 20, 40, and 80 tracks, respectively.
There are two options for voiceovers. You can either record it separately or upload it to Doodly.
You will need a functional microphone on your smartphone in order to record the voiceover. To begin recording, simply click the + sign at the bottom right of the Settings menu and then the microphone icon.
Different Video Exporting Options
Numerous file types and resolutions are available in Doodly when exporting your finished whiteboard animation.
Video files come in MP4, OGG, WebM, and MKV formats. The majority of users only need MP4, mainly if you are posting to YouTube. The resolutions range from 360p to 1080p HD.
Pricing: Available Plans
How Much Does Doodly Cost?
Doodly doesn't have a free version or trial. However, there is a 30-days money-back guarantee, so you may request a full refund at any time if you change your mind.
Let's have a look at the pricing options below.
Standard: It costs $20 per month ( if billed annually) and $39 per month (if billed monthly). This plan includes 1,000+ prop images, more than 1,000 unique character images, 35 fonts, 20 video templates, 150 royalty-free music, etc.
Enterprise: It costs $40 per month (if billed annually) or $69 per month (if billed monthly). This plan includes nearly 3,000+ prop images, 4,000 unique character images, more than 200 royalty-free music, 84 scenes, 40 video templates, 70 fonts, and many other incredible features.
The advantage of a monthly plan is that you can cancel it whenever you want, but it costs you more than annual plans.
The advantage of yearly plans is that the rates are lower for a full year. So, if you know you will use Doodly frequently, consider signing up for an annual plan to save more money.
One-Time Payment: Doodly also provides a one-time payment offer of $67. With this lifetime offer, you can pay once and use Doodly forever by skipping the monthly and yearly billing cycles.
Opinion
Is Doodly Worth The Price?
Doodly is significantly less expensive than hiring a professional animator. It allows you to quickly create whiteboard animation videos, glass board animation videos, and blackboard animation videos. You may also make doodle videos with custom backgrounds.
Doodly also stands out from its competitors since it is easy to use, especially for new users with little to no experience. With Doodly, you can make doodle videos without knowing any coding or graphic design. All you need is a computer and an internet connection.
It is compatible with both Mac OS and Windows. The minimum requirements are Mac OSX 10.10 and Windows 7.
On the downside, Doodly doesn't have a free plan compared to its competitors. The main drawback of the Doodly standard version is that it cannot make colored doodle videos. You can only do doodle animations in black and white. You will need to spend an additional $67 to get the RAINBOW add-on to create colored videos.
Conclusion
Conclusion, Score, and Signup Link
We hope that after reading this Doodly review, you have a better understanding of the features, advantages, and disadvantages of this software and can decide if it is right for you. It's challenging to find animation software that is more user-friendly than Doodly.
Doodly has a lot to offer when compared to many of its competitors. It provides an extensive image library to use for your animation videos. It is diverse and suitable for both professional and academic purposes.
Are you thinking about purchasing Doodly? If so, please let us know in the comments if you'd like to learn more about the software.
You can sign up for Doodly by clicking this link.
Essential for Video Marketers
An excellent software for creating Doodle videos, cheaper than many competitors in the same segment.
Recommended? Yes.
More Articles on This Subject
Here below, you can find a list of articles related to Doodly and Video Marketing:

Doodly Review, Pricing and Plans