Positive
Largest domain name registrar
A team of professionals negotiates a domain name on your behalf
Wide variety of services available
You will remain anonymous during the process. The identity of the buyer will remain unknown to the domain owner
GoDaddy tools, training, and contacts boost the chances of finding and acquiring the domain owner
Negatives
The cost is high, especially the final 20% commission if a sale occurs
No refund for the initial payment
No guarantee of results
You're launching a new website. You Google the domain name to see if it's available, but someone else has already picked it up. Bummer.
This frequently occurs, especially if you have a unique name in mind.
What if the domain name you want has already been registered? What if you have a valuable domain that you want to sell instead?
GoDaddy is one of the most well-known domain brokers. You can relax while your broker agent handles all the heavy lifting with GoDaddy Domain Broker Service.
In this detailed guide, we'll go over what GoDaddy Domain Broker Service is, how it works, and why you should try it.
What is GoDaddy Domain Broker Service, and What Does it Do?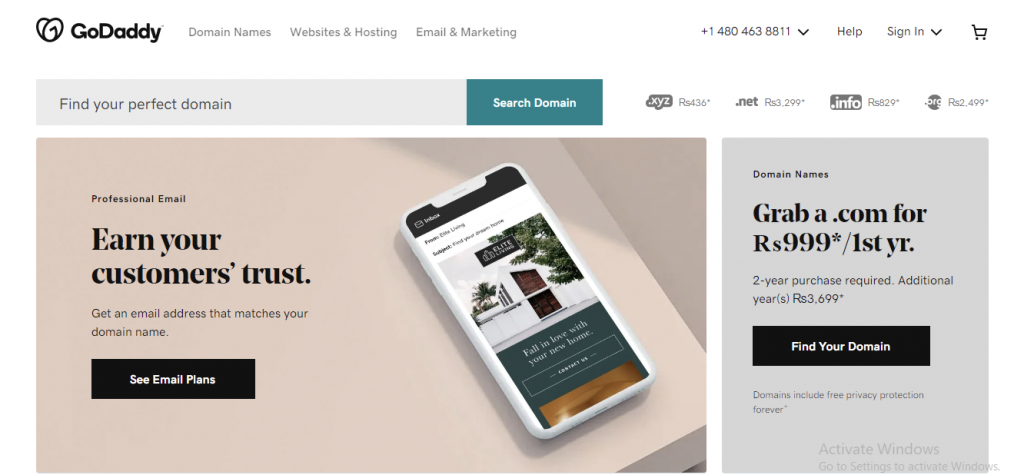 GoDaddy is one of the world's largest domain brokers. It is a paid service in which GoDaddy staff contact the owners of registered domain names on your behalf.
GoDaddy provides a range of domain broker services, including domain transfer, negotiation, as well as domain registration and appraisal. It charges a commission for its name broker service. This commission is usually 20% of the domain name's ultimate sale price. You must pay a listing fee to GoDaddy to list your domain name on their marketplace.
However, remember that using a domain broker does not guarantee that your domain name will sell.
How Does It Work? Overview of the Godaddy Domain Broker Features
1. GoDaddy Appraisal
Domain appraisal services assist buyers and sellers in determining the fair worth of a domain. GoDaddy makes it simple for both buyers and sellers to obtain quick and reliable domain appraisals. Enter the domain, and you'll see a fair price and comparable domains sold.
The appraisal service is completely free. GoDaddy uses a unique algorithm combining machine learning with more than two decades of market data. They manage over 84 million domains, making them the biggest aftermarket domain vendor in the world.
You can view a domain's estimated worth, current sale price if it is available, and examples of comparable domains and values. Additionally, GoDaddy will tell you about the domain's quality based on its extension, length, and memorability.
2. GoDaddy Domain Negotiation
Your domain broker representative diligently contacts the current domain owner using various tools and services. If they are able to contact the current owner, they will inform them that someone is interested in purchasing their domain name. They won't share any of your personal contact information.
Negotiations will begin if the current domain owner is interested in selling. Your broker agent will try their best to stay within the limits of the budget you set to get a price that both you and the seller are happy with. The current owner could make a counteroffer with a different price. If this occurs, your broker agent will contact you to discuss the counteroffer, which you can either accept or reject.
3. Sell Domain on Godaddy
With GoDaddy's List for Sale domain listing service, you may list your domains for sale. Your domain will be listed for sale on the websites of over 100 top registrars and resellers. You must downgrade your protection plan before listing the domain if Ownership Protection is activated on your domain.
Open the GoDaddy Domain Control Center and log in.
Check that Simple List View is enabled by clicking the icon next to the domain search box.
Choose List for Sale next to the domain you want to sell.
Select "Get Started."
Select Next after entering your listing price. You have the option of using your own price or their estimated price.
Select Next after checking the box to replace your existing website with a "For Sale" landing page.
To list your domain, click Publish Listings. Your GoDaddy account information will be used to set up an Afternic account for you. You can also choose Sign In and log in with your Afternic account information if you already have one.
Verify that you have submitted your domain for listing, then click Listing Manager to view your listings. To close the window, click Close.
They'll send you an email with more instructions on what to do next.
4. Domain Search
Finding a strong domain name isn't difficult, but you should consider it carefully before purchasing and registering one. Follow these steps to choose your domain name with GoDaddy.
Go to GoDaddy's Domain Search page.
Simply type the desired name into the domain search box and click Search.
Just click Continue to cart if the desired domain is available. If the requested name is not available, you can choose an alternative from the list of suggested names by selecting it before continuing to the shopping cart.
Once the domain name you want is in your cart, just follow the instructions to finish the checkout process and buy your domain name.
5. Domain Value
The methodology used by GoDaddy's domain valuation tool estimates domain values using real market sales data and proprietary machine learning. This tool provides comparable domain name sales information to set your domain name prices.
Go to the GoDaddy Domain Valuation page. Enter the domain's name in the space provided for the valuation.
Once the name has been entered, the tool will show you the valuation results and an explanation of its value based on the selling prices of similar domain names, the type of extension used, the importance of the keywords, and their popularity.
You can also download, print, and email the report for future reference. If you are looking for a domain, it will tell you if it is available and how much it costs.
You can find out the asking price and the steps for buying a domain name if an individual sells it. If the domain name is not registered, then there will be a link to purchase it on the home page for the retail price.
6. Domain Transfer
If your current domain provider isn't offering you the pricing, support, and service you want, GoDaddy can assist.
GoDaddy makes the transfer procedure as straightforward as possible so you can move on to other crucial aspects of your life.
GoDaddy's transfer procedure is automated, swift, and risk-free. Moving your domain generally takes place in the background, giving you more time to focus on your next big project.
Moreover, you are not limited to .com domains. You can select from a vast selection of domain names in many different languages and extension combos and from friendly human service wherever you are. GoDaddy monitors your domains in real-time to ensure that your websites are always up and running.
Pricing: How Much Does GoDaddy Domain Broker Service Cost?
GoDaddy charges a non-refundable initial fee of $69.99 per domain plus a 20% commission on the sale price.
Opinion: Is GoDaddy Domain Broker Service Worth The Price?
The prices and conditions associated with the GoDaddy domain service are generally considered to be on the high side.
Moreover, GoDaddy cannot guarantee the acquisition of a domain name. Still, Domain Broker Service ensures that a personal domain broker will dedicate up to 30 days to negotiate a sale with the domain name's current owner.
On the other hand, if you manage several domains, having them centralized with one supplier can make life easier. Moreover, if you are completely set on a specific domain name, GoDaddy may be the greatest approach to ensure that you get that exact domain name.
Conclusion
Coordinating and negotiating the sale of a domain can be a time-consuming and tedious process. You can sit back and relax while your broker agent handles all the heavy lifting with GoDaddy Domain Broker Service.
Using the GoDaddy name builds credibility with the potential seller. As the buyer, you'll remain anonymous. Moreover, GoDaddy's professionals are familiar with aftermarket pricing and will get you the best deal.
Hopefully, with the help of our article, you now have detailed knowledge about GoDaddy Domain Broker Service. If you have any questions, let us know in the comment section below.
More Articles on This Subject
Here below, you can find a list of articles related to GoDaddy, domain names and hosting: