Every year, eCommerce companies lose trillions of dollars due to abandoned carts. In this article, we have listed our top 5 abandoned cart email subject lines and written some tips to write these important emails yourself.
Introduction
Despite the effectiveness of your sales funnels, you're losing revenue since consumers leave your site before completing their purchases.
Last year, over 281 billion emails were sent and received on a daily basis. Statista states that amount is projected to rise to 347 billion daily emails in 2022. The subject lines of your abandoned cart emails are so important because there is so much noise to cut through.
You need exciting and compelling subject lines to ensure your audience opens your abandoned cart emails. This article will look at the top examples of abandoned cart subject lines that have resulted in conversions.
What Is An Abandoned Cart Email?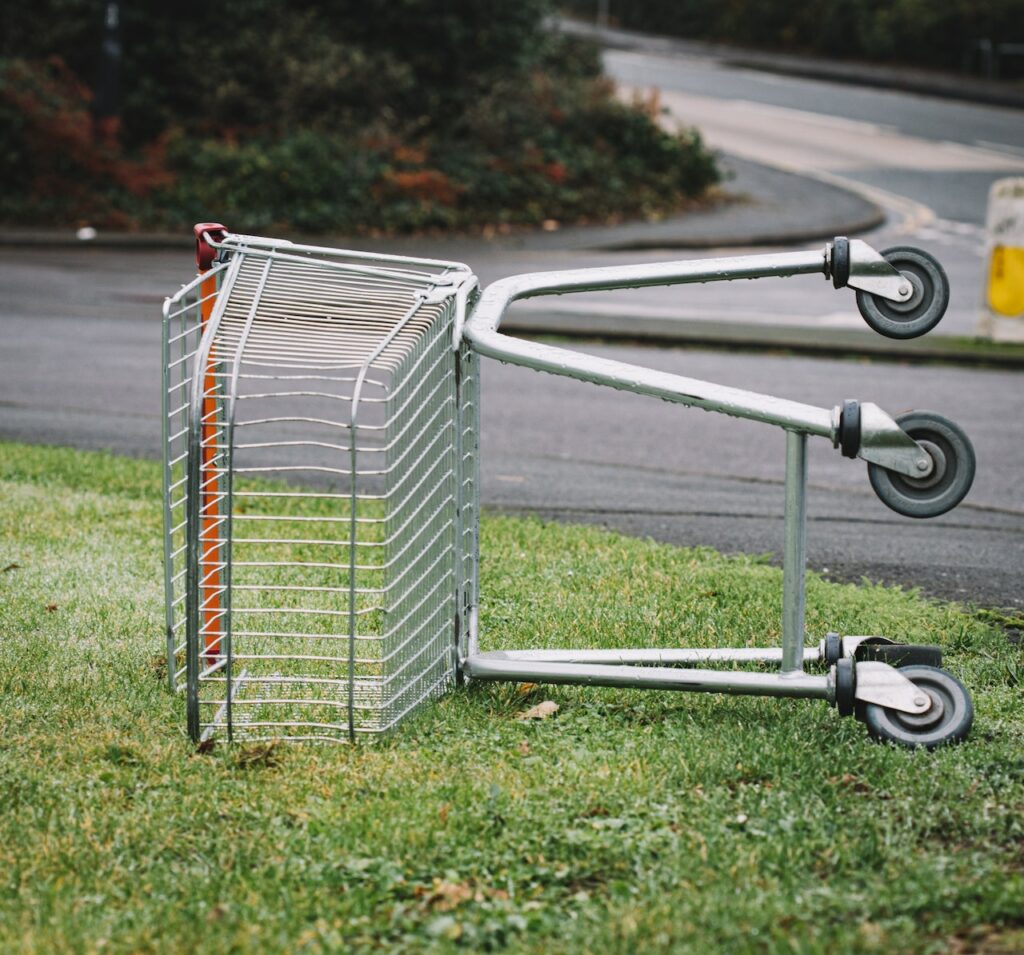 Emails that are sent to customers who abandoned their carts before checking out are known as abandoned cart emails. Over a third (29.9%) of abandoned cart email clicks result in a recovered sale, and 44.1% of abandoned cart emails are opened as per statistics on 500 of the largest businesses worldwide.
The most effective cart abandonment emails, in our experience, are those sent within the first hour of the abandonment. Setting up a campaign trigger to send an email right away once the cart is abandoned is something we strongly advise. Whatever the reasons are, you only have a very limited amount of time to convince customers to return to your store.
Why Do So Many Customers Abandon Their Shopping Carts?
Good question! What has happened to cause 77% of potential digital shoppers to abandon their online shopping carts? At the grocery store, those numbers of abandoned carts are absolutely not seen — it would rapidly turn into a chaotic obstacle course!
So what's going on? The answer to that question will significantly impact how you design effective abandoned cart emails.
Let's examine a few causes of cart abandonment by consumers:
28% because the site required the customer to create an account
21% because the checkout process was too long or complicated
50% as a result of hidden shipping prices, taxes, and fees at the checkout
18% because delivery was too slow
18% because the total costs were not displayed upfront
Now, don't ignore these factors. Your abandoned cart email strategy should be based on these factors! Are your shipping fees hidden until checkout? Do customers need to register for an account before placing an order? Do you rarely include a discount coupon code?
If this is the case and your cart abandonment rates are high, you can address these problems by improving your website's user experience or by sending personalized abandon cart emails.
Tips for Writing Converting Abandoned Email Cart Subject Lines
Follow these simple tips to write an effective abandoned cart email subject lines:
1. Simplify Your Design
Keep the focus on the items, and keep your email free of distracting or unnecessary elements. White space and simplicity are the most effective. A simple layout will help highlight the CTA button, which is an important component of your email.
2. Free Delivery
These additional costs can create difficulty throughout the checkout process and lead to abandoned carts if you don't already offer free delivery. Email subject lines are compelling for promoting free shipping and incentives to get clients to return to their carts.
We do advise saving this kind of offer for later mailings in your abandoned cart workflow, though. If you provide incentives in your first email, customers might be trained to wait for discounts rather than making full-price purchases.
3. Create FOMO-Inducing Subject Lines
Subject lines that create FOMO, or the fear of missing out, emphasize how well-liked your product is by other customers to bring customers back to your website. This is similar to subject lines that convey a feeling of urgency.
These subject lines convey to potential customers how popular your products are. When you show them that other people are interested in your products, it will be harder for them to resist, just like when you warn someone, they might miss out on an item.
To finish the sale, use phrases like "Other shoppers are eyeing the items in your cart" or "Find out what customers adore about the item in your cart," and then provide social proof.
Read also: How to Use Scarcity Marketing the Right Way
4. Make It Worthwhile.
We do not advise including a discount in the first abandoned cart email. It is the ideal follow-up email strategy.
However, offering a coupon isn't the only approach to benefit your clients. Create a list of suggestions for adding value, then include the advantages in your subject line. For instance:
Free delivery is available for [product name] only today.
Prices are dropped on your favorite products.
Still interested? 20 percent more off today, only

5 Best Abandoned Cart Email Subject Lines
So here are some of the best abandoned cart email subject lines:
1. Whisky Loot
Subject Line: We've got a gift for you.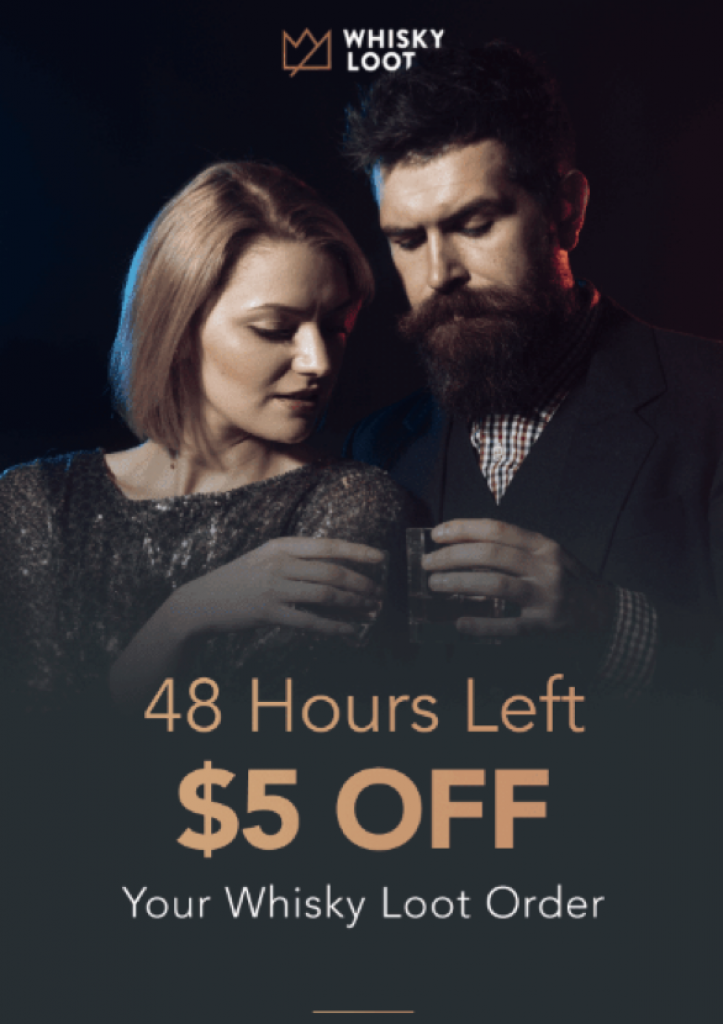 Why is this one our favorite?
The first thing is excellent images, which are essential to selling this kind of product. Second, it gives customers peace of mind that their cart is secure for the following 48 hours. Additionally, it attempts to arouse interest by including a 5% off above the fold.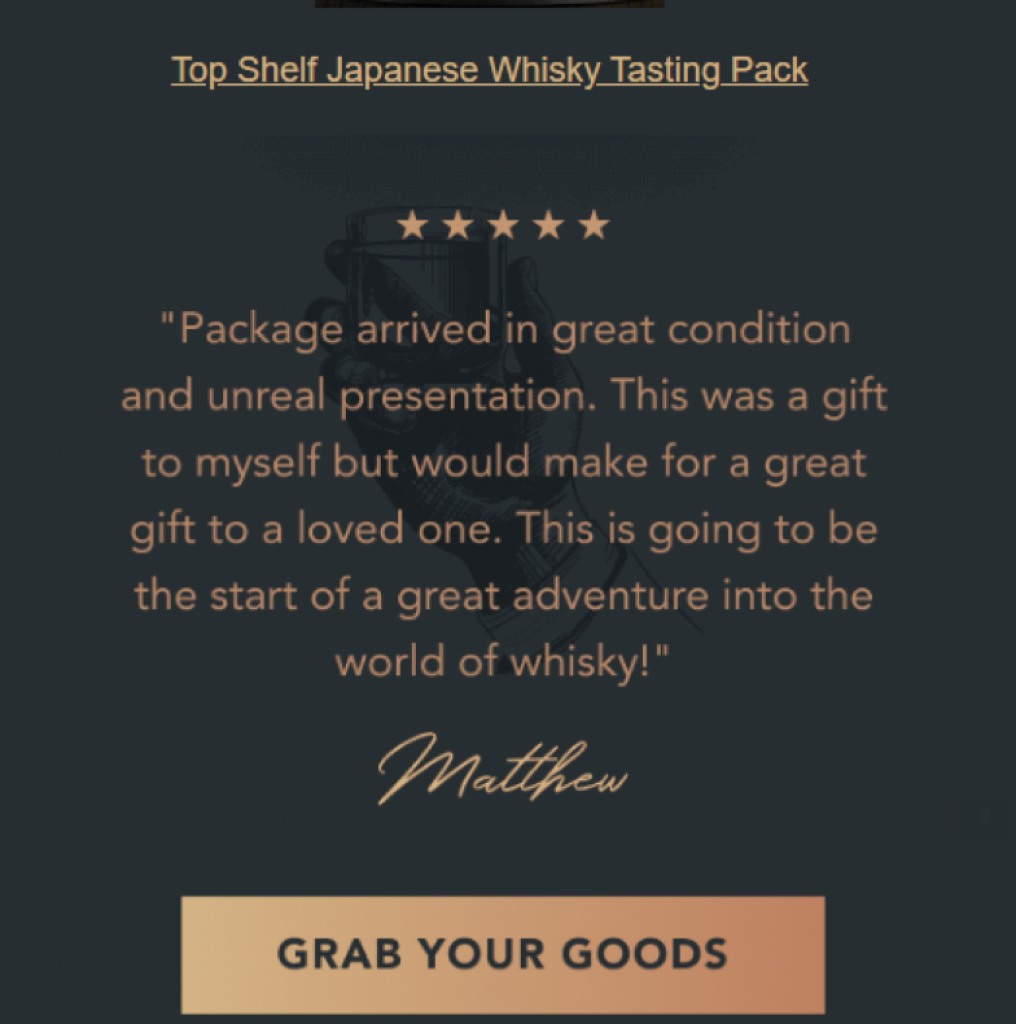 Humorous wording is used because Whisky Loot connects with its subscribers pleasantly. The email's social proof emphasizes the level of public confidence in the brand.
---
2. Food 52
Subject Line: Just for you, Take $10 off your entire cart.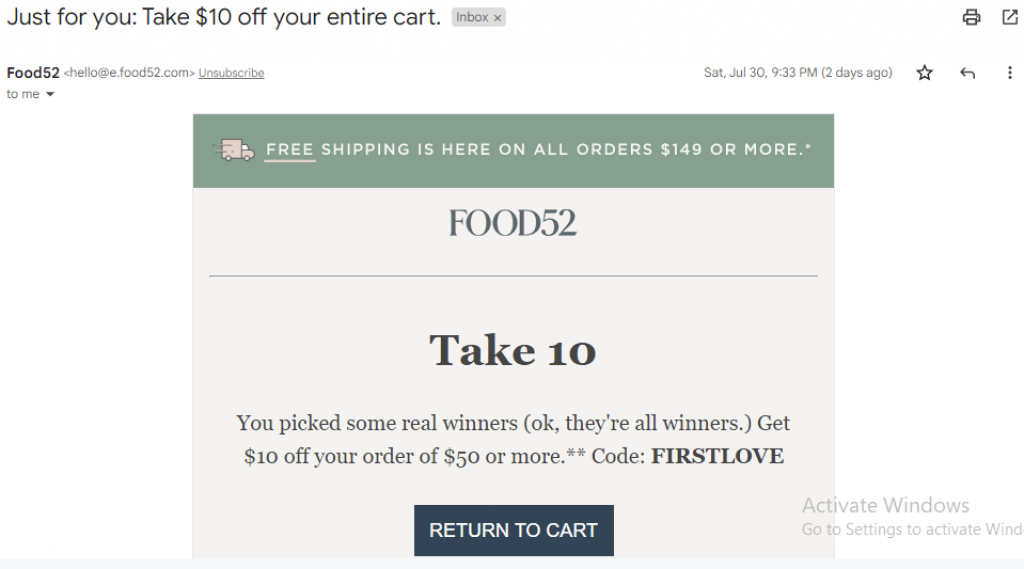 Good deal here. The subject line offers immediate savings of 10% off their buy.
Making your pitch clear is the most crucial thing to keep in mind when crafting subject lines with incentives. This is accomplished by mentioning the reward up front and going directly to the point.
To persuade interested shoppers to visit the website, they offer a code so the buyer can get 10% off on their favorite products.
In this manner, Food 52 has a chance to sell its products and also has the potential to market everything else if the buyer returns to the website.
---
3. Perigold
Subject Line: The Campania International planter is waiting for you.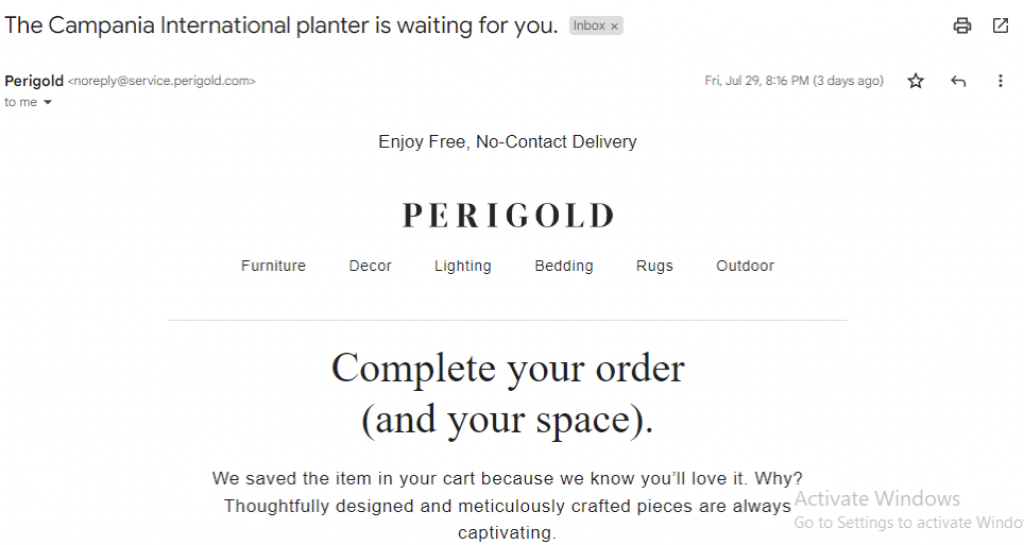 Perigold uses this subject line to show how simple it is to complete the purchase. All it takes is one tantalizing click. If the email is sent within an hour of the abandoned cart, the receiver will likely recall what it is about.
The term "Enjoy Free, No-Contact Delivery" adds a touch of personalization to the entire email. Peri Gold manages to make the email feel personalized without ever mentioning the customer's name.
---
4. Society6
Subject Line: Price Drop on Your Favorites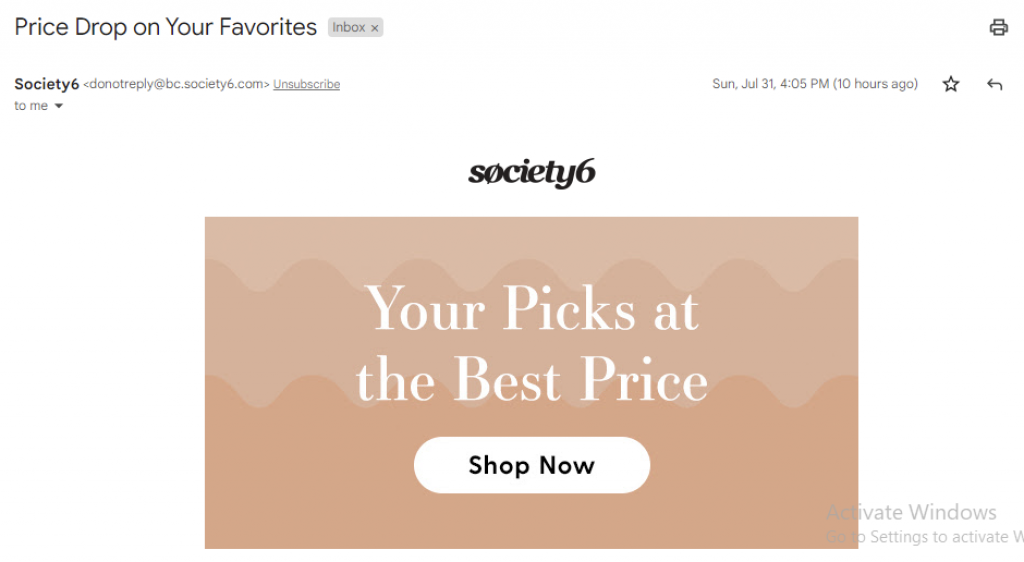 Society6 nails it with this cute email. Society6 is home to a thriving community of independent artists from all over the world, each with their own distinct style.
With this abandoned cart email, Society 6 gets it right. It's informing that a consumer can get their favorite products with dropped prices, which may entice the buyer to return. Although it is simple, it works incredibly well with this CTA button.
Even though this subject line doesn't specifically mention the shopping cart or product, it attracts customers by using humor and a warm brand personality to grab their attention.
---
5. Chubbies
Subject Line: PUT IT IN YOUR CLOSET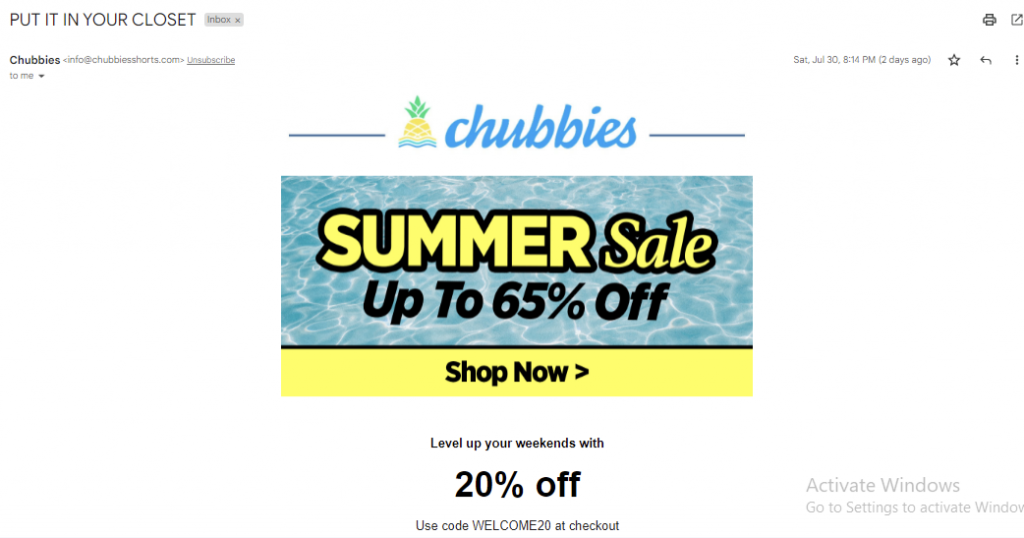 Here comes our favorite: Chubbies, a retailer of men's shorts, is known for its pleasant advertising, and they use this strategy when crafting subject lines for abandoned cart emails.
They added this cute line, "Times a wastin' for 20% off," then they used the "Save me that 20%" button. This attracts attention and maintains consistency in brand communication and experience across many touchpoints.
The only thing that could be done better is to add exactly what the client forgot; for example, including a picture of the item and a price reminder could encourage them to come back.
---
Where to Outsource your Abandoned Cart Email Subject Lines and Text
If you lack writing skills or inspiration, there are a couple of solutions that you can adopt to have your perfect abandoned cart email written in a professional way.
Method 1
The first method is to hire a freelancer and give them some specific instructions on how to build your perfect subject line and text. There are thousands of good writers around the world that are willing to help. And the good news is, that you can get started in the next few minutes. If this method interests you, just have a look at the services here below.
Method 2
There is another method you can use, and it doesn't cost a fortune. You can purchase some pre-written done-for-you emails that have been tested and selected to increase your conversion rate. You can get access to these lines immediately by clicking the button in the table here below.
GET ACCESS TO 999+ ENGAGING, AND HIGHLY PERSUASIVE EMAILS YOU CAN JUST COPY, PASTE TO YOUR AUTORESPONDER AND SEND TO YOUR SUBSCRIBERS
---
TYPE OF EMAIL:
NICHES:
| | |
| --- | --- |
| Internet marketing | Weight Loss |
| Online Biz Opp | Beauty and Skincare |
| Dating | Self-help & Personal Development |
| Finance and Cryptocurrencies | eCommerce |
Bottom Line
It's time to act now that you understand the potential causes of your consumers' cart abandonment (and how to address it). An email campaign for abandoned carts is the ideal strategy for getting your consumers back. There are better alternatives accessible, so you don't have to perform these tasks manually.
All the autoresponders available in the market, as well as other marketing automation tools like HubSpot, can automate all the boring, repetitive tasks so you can accomplish considerably more in a short amount of time. This also frees you up for other productive and important duties.
More Articles on This Subject
Here below, you can find a list of articles related to email marketing, automation, and best subject lines: