If you want to make money online as a freelancer, you've come to the right place! In this article, we will show you our top selection of Fiverr Gigs ideas: 8 ways to make money on Fiverr with little to no skill.
If you've never heard of Fiverr before, it's currently one of the most well-known online marketplaces for freelance services! If you want to learn more, you can read our full review on this page. In addition to offering almost any service imaginable, from article writing to hiring someone to make a prank video for you, Fiverr may be the simplest website for freelancers to start earning money online!
The Best Fiverr Gigs Ideas You Can Start Today
Since you can actually list up to 7 gigs on a new Fiverr account, so we hope that by using this guide, you will be able to choose these top gigs for your Fiverr profile. Again, you don't need any technical knowledge or skills for any of these.
You can get started with your business for free in the next few minutes, by clicking this link.
---
Idea #1. Create An E-Book Cover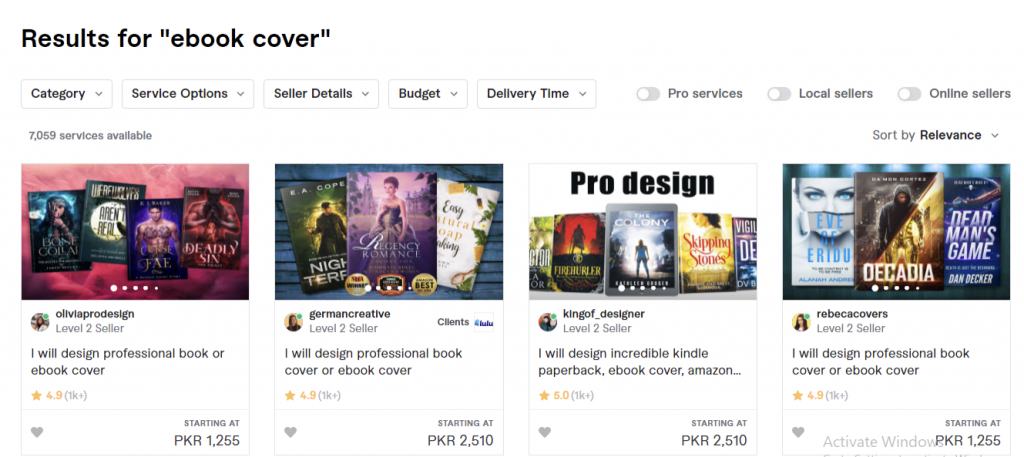 Designing an eBook cover is a simple way to make money quickly if you're just getting started on Fiverr. On the internet, self-publishing books have emerged as the newest trend (click here if you want to learn how to get started). There is a high demand for creating a digital book cover as a result. In addition to visual analysis skills, you should have some design skills. In return, you will earn a lot of money. You may be asked to create some unique templates or book covers.
Each day, thousands of books are published online to find a place in the market. An impressive cover will help your client attract readers' attention and allow you to make good money. It would be best if you mastered the art of designing an e-Book cover, and everything will fall into place.
---
Idea #2. Social Media Advertising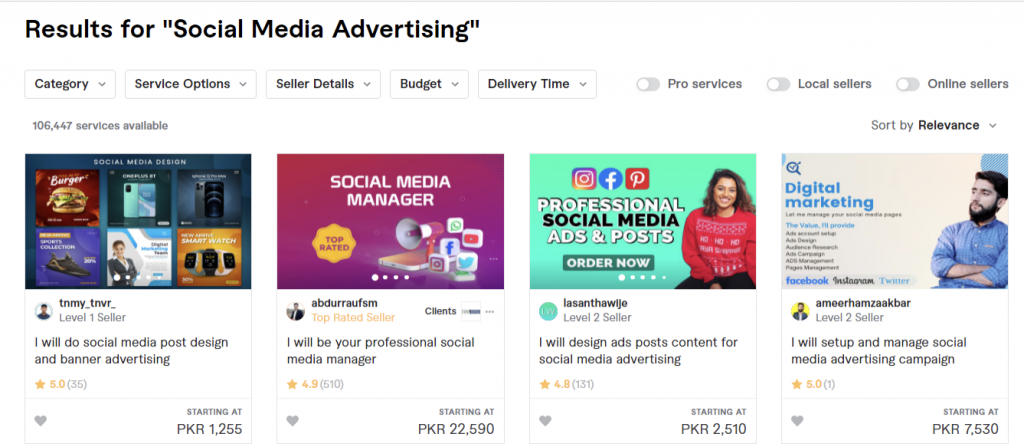 Creating and managing social media ads for clients is an option if digital marketing is your area of expertise. This is one of the most demanded gigs on Fiverr because it does not require a high level of knowledge. In fact, you can learn from online learning resources like Udemy and YouTube offer courses on social media advertising. Did you know that you can also become Google Ads certified to attract more customers?
If you have the basic skills, you can make social media pages for businesses and run advertisements on those pages. Many small businesses use such strategies to raise brand awareness and reach new customers. If you're famous on social media, you can use your following to become a viral promoter and earn money for each view of a post.
---
Idea #3. Virtual Assistant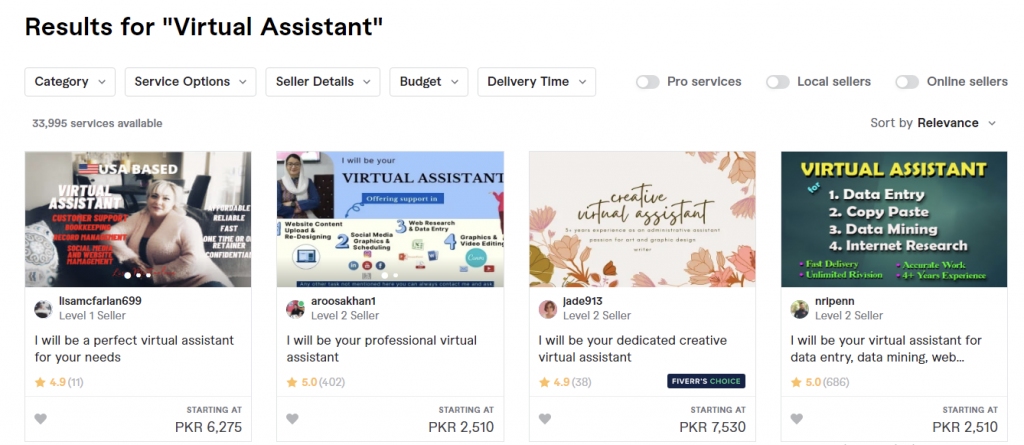 This is one of the best ways to work with people from all over the world. The good news is that such jobs are becoming increasingly popular and in demand. Many jobs fall into this category, including research, data entry, lesson planning, email creation, virtual computer repair & cleaning, etc.
A virtual assistant job is usually very simple and does not require any special skills or education. As a virtual assistant, you would have to complete quick tasks on websites where you could get paid for completing online tasks.
The price depends on the job and how much time you spend on it. You can earn $10 to $25 per hour if you work five to six hours daily. However, it depends on your experience, the amount of time you give, the type of work, and a variety of other factors.
If you want to read more about becoming a virtual assistant, have a look at the "More Articles on This Subject" at the end of this article.
---
Idea #4. Do Voice Over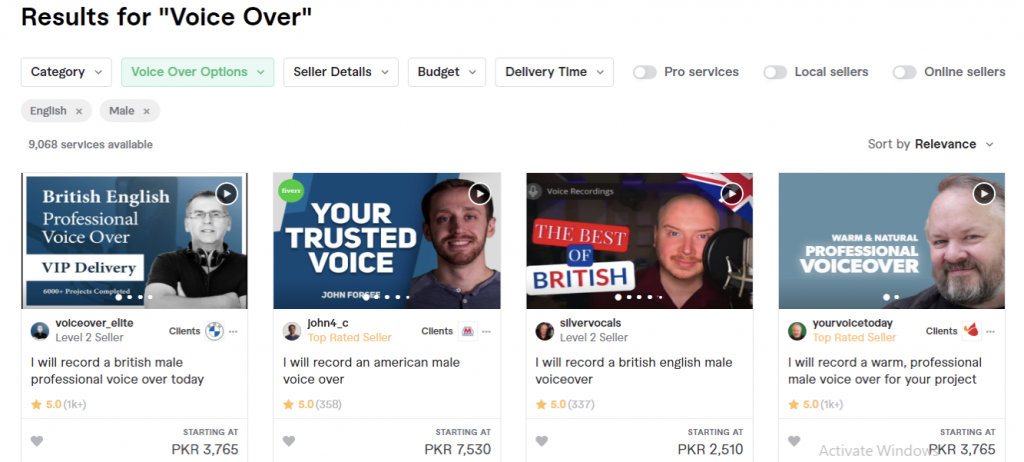 You might find work as a voice-over artist on the website if people have told you to have a great voice.
Customers frequently look for voice-overs and narrators on Fiverr for commercials, audiobooks, YouTube videos, podcasts, and other media.
The client will specify the style of voice-over they require, and they will typically give you a script. To record the voice-over, all you need is modern recording software and a microphone, both of which are widely available. You can use your computer's built-in microphone when you're just starting out. You can upgrade to using better tools as you gain experience.
Making money from this gig is pretty simple, and you could increase your earnings by adding extras like script modifications.
---
Idea #5. Data Entry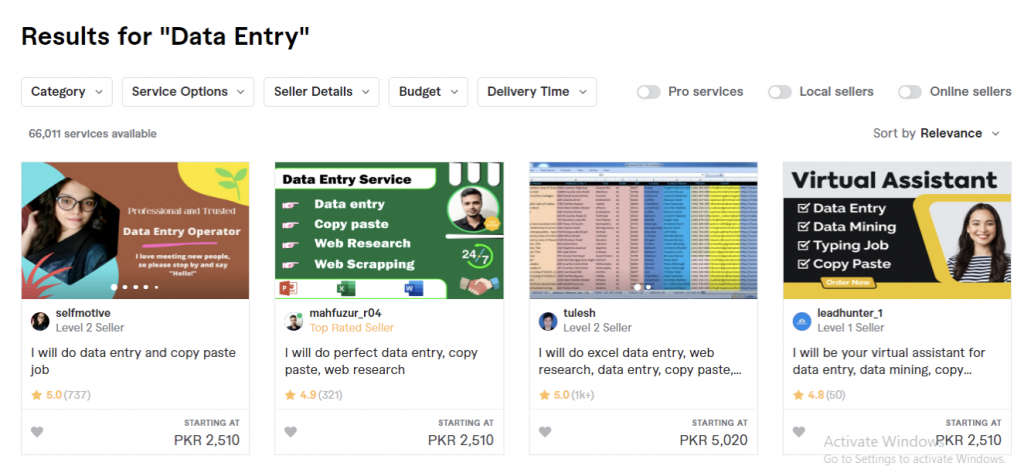 All you need for this one is a computer, programs like Microsoft Excel and Word, and the ability to type.
Companies produce enormous data and information, and there is a great need to organize it all. You can help in this situation. You can manually enter all this information for them into spreadsheets or computer programs so they can use the data they produce.
Take some free online typing tests, post your results on the gig page, and you'll stand out from the crowd. You could earn up to $15 per hour doing this on Fiverr.
---
Idea #6. Video Testimonials

One of Fiverr's highest paying and most popular gigs is video testimonials.
A testimonial is a brief evaluation of a service or good provided by a company to persuade others to try it out as well. A script or summary of what you should say in the video will be given to you.
You can make a lot of money with video testimonials if you have good public speaking skills. You only need a high-resolution camera and an appropriate location with good lighting to record your video. If your smartphone camera has good resolution, you can choose to use it instead of investing in a high-quality camcorder.
Your level of popularity on Fiverr's testimonial platform will depend on how many videos you send to your clients. You should advertise your gig with a sentence like, "I will create a two-minute video testimonial for just $5". Just like with all gigs you post on Fiverr, keep it brief and to the point.
---
Idea #7. Proofreading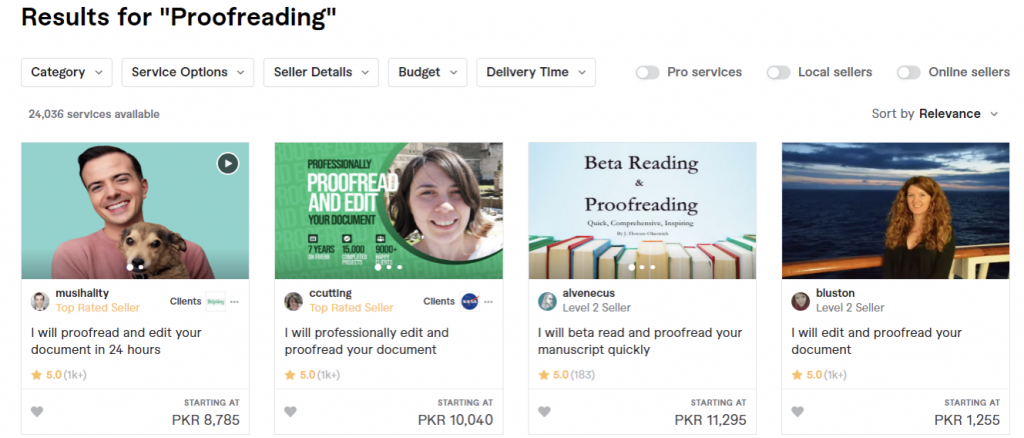 You could do this if you speak any language well and are familiar with its grammar and pronunciation. In order to effectively work as a proofreader, there is software on the market like Grammarly that can check the document for clarity and conciseness.
The proofreading process takes a lot of time and effort. But you must take it easy and wait patiently. This service can be offered for $5 to $30.
---
Idea #8. Translations

The translation service is the next thing you can do. For this service, you must have proficiency in a minimum of two languages.
You surely know your native language, right? If you also have a basic understanding of English, you can sell translation services on Fiverr. People are looking for the best translation services.
Whichever country you are from, there will undoubtedly be some individuals who wish to translate the English content into that language — most people who own a multi-language blog or have software that they want to translate into different languages.
---
Tips to Raise Your Fiverr Earnings Per Gig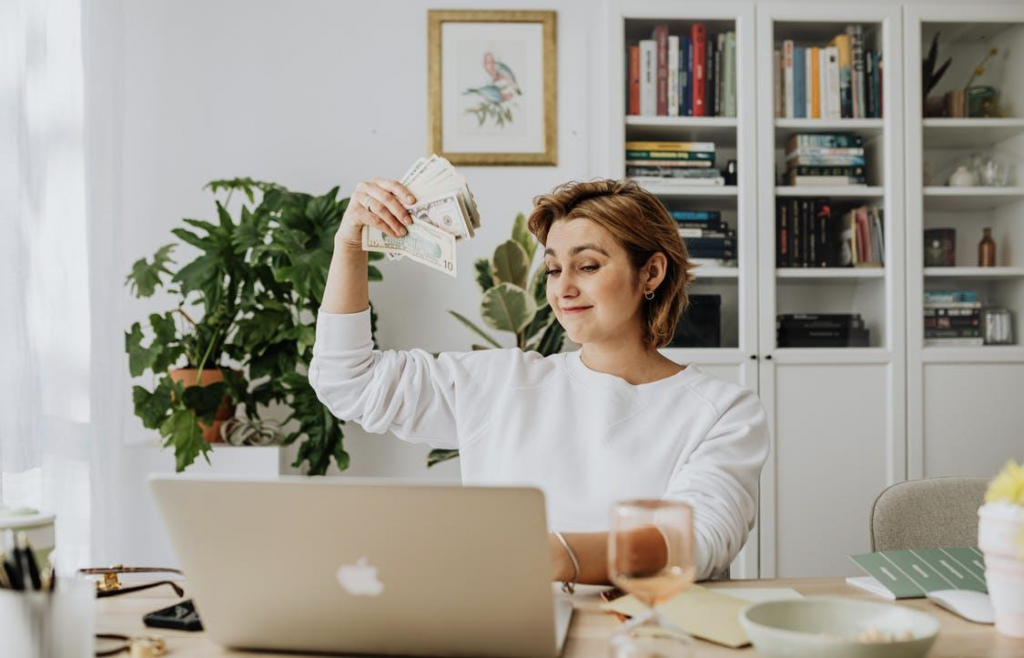 Now that we have explored the 8 most lucrative Fiverr Gigs ideas, it's time to have a look at some tips that will help you to increase your earnings per gig.
Offer Gig Extras
Remember those extra deals you saw when you were checking out on Amazon?
Most sellers on Fiverr make the majority of their income from the backend. Assume you provide Website SEO Audit reports. You can offer these extras for the gig.
Deliver a report in HTML format.
Offer your services for content analysis.
Give a report on keywords using the TF-IDF.
Make recommendations for optimizing and ranking keywords.
Offer Site visualization graphics based on inLink rank and traffic
Give a report on domain strength.
Repeatedly Promote Your Gig On Social Media
Social media may increase your sales both directly and indirectly. Promote your gig on Facebook groups, Instagram, LinkedIn, etc.
With the help of ContentStudio, you could automatically promote your Gig on LinkedIn groups, Facebook groups, Pinterest boards, and other social media sites. So you don't have to log into social media accounts each time you want to increase social media traffic.
Maintain A Better Response Time.
Before clicking the Buy button, people look at your prior service history.
Most people wouldn't likely consider purchasing the Fiverr service if they noticed that your average response rate was higher than expected. So maintaining a better response time will help you to increase your sales.
Extra Fast Delivery
People are looking for ways to save time. As a result, they favor those individuals who can complete their services as soon as possible.
Customers can pay you extra for completing their services in a single day. Some graphic designers on Fiverr charge $20 just for the extra quick feature but only $5 for the basic service.
Bottom Line: Fiverr Gigs Ideas To Start Today
Fiverr is a great place to make extra money. If you think you have what it takes to offer top-notch services, Fiverr can help you make as much money as you want by pursuing your passions from anywhere in the world. We hope these Fiverr gig ideas have inspired you to explore the platform.
More Articles on This Subject
Here below, you can find a list of articles related to Fiverr Gigs Ideas and working from home.