Let's face it: nobody will wait if your WordPress pages take an eternity to load. This indicates that you lose visitors and sales before they reach your website.
According to statistics, there is a 40% chance that users will leave and try a competitor's website if they have to wait longer than three seconds for a page to load. Nobody wants that!
In this article, you'll learn about the best WordPress speed optimization plugins. You can modify your website in many ways with the help of plugins like caching, minification, lazy loading, and others.
Consequently, you can stop losing visitors, subscribers, and customers due to slow page loading.
What Are the Best Speed Optimization Plugins to Accelerate Your WordPress?
Let's have a look at top 5 plugins to speed up your WordPress website:
---

A robust WordPress speed optimization plugin to boost loading time and improve PageSpeed score.
Positive
Reduces page load times by at least 50%
Well-designed dashboard area
Simple to use
Contains performance optimization features beyond caching, such as enhancing Core Web Vitals metrics
Negatives
It's not free, like many of the competitors
WP Rocket is a WordPress performance optimization and caching plugin for beginners that claims to "make WordPress load fast in just a few clicks".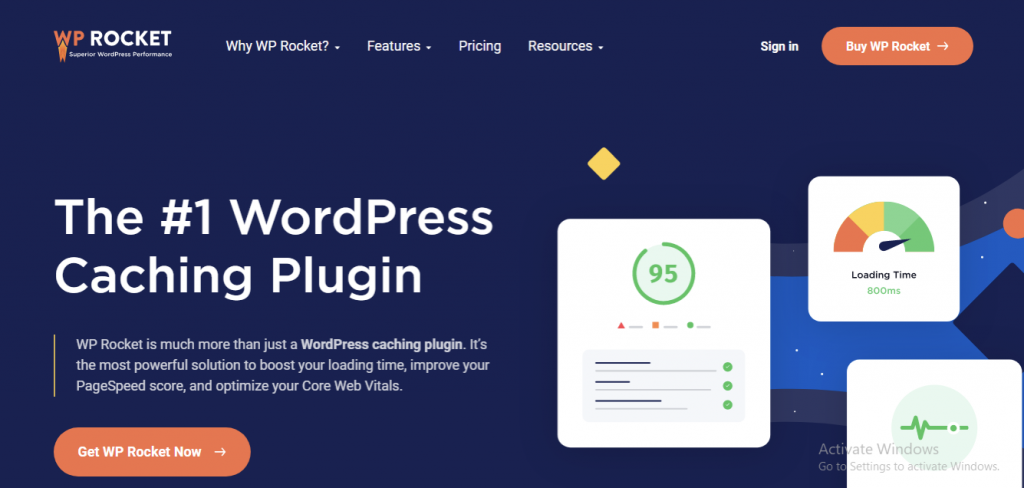 Currently used by 700K+ websites, it speeds up your website's loading by Caching web pages, JavaScript, HTML, and CSS file compression, and lazy loading of images.
It's an excellent tool for non-technical beginners to have faster websites because you can set it up in just a few clicks without needing complicated settings. Furthermore, the fact that everything is contained in a single plugin reduces compatibility problems.
Main Features
It has been created to make caching as simple as possible, so that anyone, regardless of technical ability, can begin speeding up their WordPress website.
The plugin includes an optional LazyLoading feature that delays image and video loading and displays until the user scrolls down to their position on the page.
WP Rocket works with the majority of CDNs.
It has some database optimization features, such as the capacity to remove spam comments and old post revisions, drafts, and trashed posts.
Pricing
WP Rocket comes up with the three plans:
Single: This plan costs only $49 per year for one website.
Plus: It comes up with $99 per year for up to three websites.
Infinite: Its price is $249 per year and supports unlimited websites.
If you are dissatisfied with the plugin, you can always get a refund within 14 days.
---

This speed optimization plugin provides increased web performance for your WordPress website.
Positive
Enhanced web server performance; sustained periods of high traffic
You can reduce your bandwidth usage by up to 80% by minifying your HTML, CSS, and JS files
Numerous caching options
Negatives
Pricing for larger plans
Many options are confusing, and nothing in the interface is explained very well
No options to disable scripts and optimize the database
One of the most well-known plugins among WordPress users and web designers is W-3 Total Cache. Through the effective use of CDN integration, this advanced plugin improves website performance by significantly reducing page load times. Additionally, it enhances user experience and SEO (more here). Millions of publishers worldwide trust this free plugin because of its advantages.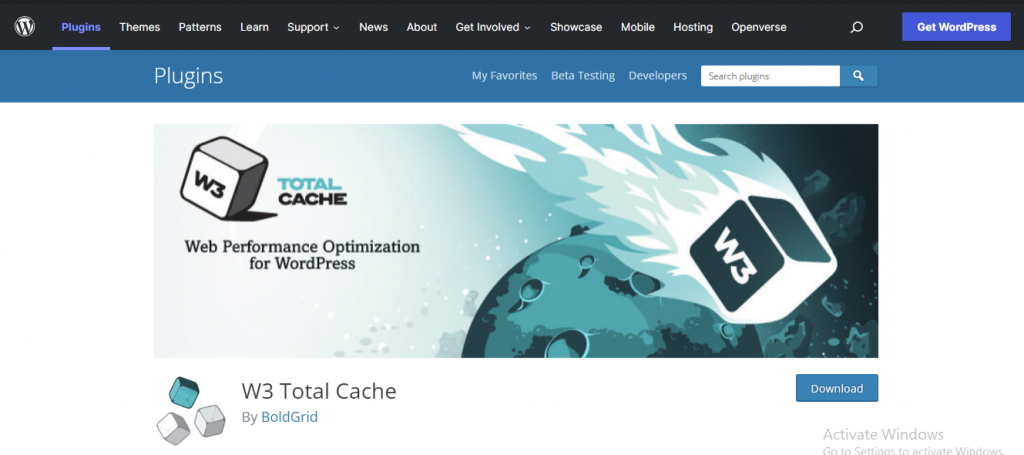 There is advanced support for Cloudflare and other CDN services. It's also important to note that removing this plugin can be challenging; doing so requires more than simply deactivating and deleting it.
There are numerous caching options, including object caching, database caching, fragment caching, and browser caching. Only one or two of those options are typically included in most other caching plugins.
Also, search engine result page rankings are enhanced, particularly for SSL-encrypted and mobile-friendly websites.
Main Features
W3 Total Cache is compatible with virtual private/dedicated servers and shared hosting.
It manages the Content Delivery Network (CDN) in a transparent manner using the Media Library, theme files, and WordPress
Support for Accelerated Mobile Pages (AMP)
Support for Secure Socket Layer (SSL/TLS)
CSS minification for inline, embedded, and third-party applications with automatic asset updates.
Defer non-critical CSS and Javascript to render pages more quickly than ever.
Delay offscreen images using Lazy Load to enhance user experience.
Pricing
A free version of W3 Total Cache is available from WordPress.org, as well as a Pro version.
There is no multi-site license discount, and unlike the majority of other plugins, the Pro version is only accessible in-app within the free plugin interface. You will still pay $99 per site if you need it for 50 sites.
Therefore, anyone who owns three sites or more will simply find the pricing to be unfriendly. You would do much better to use a plugin like WP Rocket, which costs the same as W3 Total Cache but allows you to use it on an unlimited number of websites.
---

An optimization plugin for WordPress providing caching for OpenSpeed and OpenLiteSpeed servers.
Positive
Quick database optimization with just 1 click
Precise control over cache and optimization settings
LiteSpeed or OpenLiteSpeed servers are compatible with it
ou receive a certain amount of QUIC.cloud CDN service for free
Possible to load website quickly with placeholder images of low quality
Negatives
Granular control has many options, which can be intimidating and confusing
It has some compatibility issues, especially if using the Easy Digital Downloads plugin with WooCommerce. LS Cache will not recognize the transaction pages
The cache function will not operate with Apache or Nginx
LiteSpeed Cache is a fantastic plugin for caching and optimization for platforms like WordPress, Joomla, OpenCart, Magento, Drupal, and others.
LiteSpeed Cache is an optimization plugin that does pretty much everything you would need to do to optimize your site for speed in addition to caching properly. It is so effective at optimization that using this plugin alone could raise your website's current low PageSpeed Insights score to a level comparable to that of the 1990s.
Main Features
There are several settings to adjust TTL in LiteSpeed Cache that most cache plugins do not have.
It is one of the few cache plugins that supports caching Gravatars.
This plugin indeed uses server-side caching, making it faster than those that operate at the PHP level.
There are various settings to control the public and private caches for public and private caching.
Through QUIC, UCSS eliminates unused CSS.
QUIC's HTTP/3 is authentic, unlike Cloudflare, which uses HTTP/2.
Copy outside resources to the server for local hosting.
Additionally, it offers both lossless and lossy image compression and can produce WebP versions of images.
And finally, another very useful feature is that certain JavaScript from third-party services can be localized so they can load from the local server. This accelerates page loading. For instance, it can localize Google Analytics' analytics.js file
Pricing
This plugin has two plans: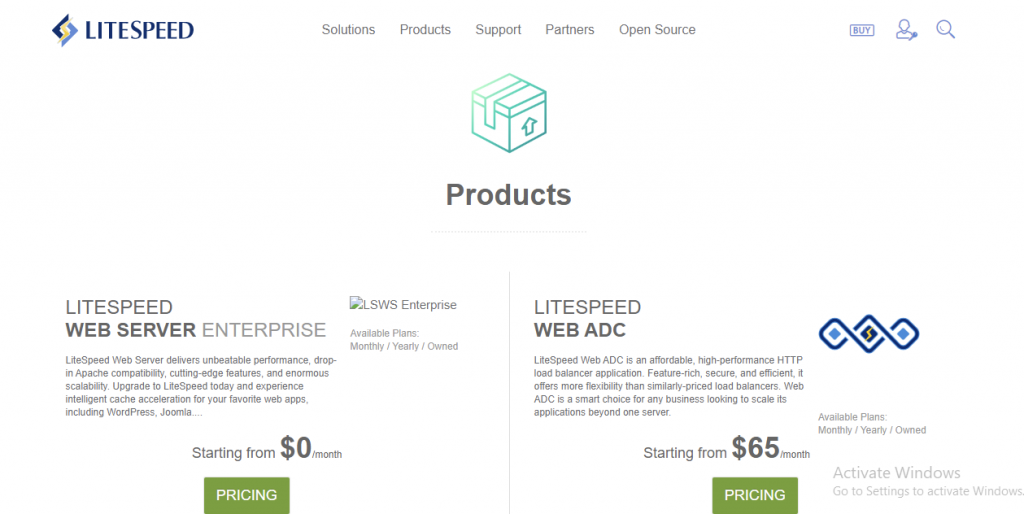 Litespeed Web Server Enterprise: It is a free plan. It delivers optimum quality, drop-in Apache compatibility, and massive scalability.
Litespeed Web ADC: It starts at $65 per month. Any company looking to scale its applications beyond one server should consider Web ADC.
---

A lightweight and configurable speed optimization plugin for WordPress, that boosts your core vitals in a few clicks.
Positive
Simple and perfect user interface
Compatible with all major WordPress themes and plugins
Delivers efficient outcomes for your websites
Support
Negatives
There are few bugs as the service is still in its early stages
This plugin is not as effective as industry leaders such as LiteSpeed Cache and WP Rocket
Lack of server-side caching
FlyingPress is a new WordPress cache and speed optimization plugin. Despite the fact that there are many alternative WordPress plugins, FlyingPress Plugin is the finest because of its simple user interface.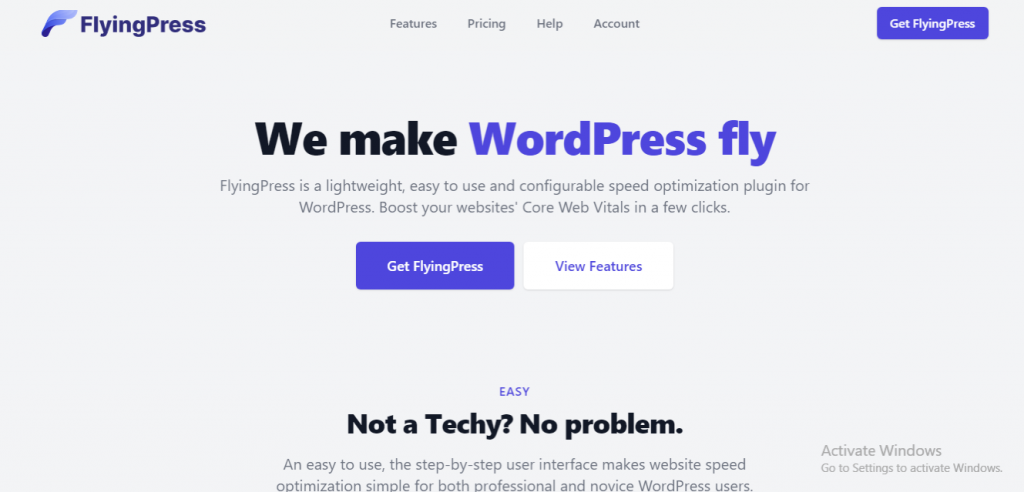 FlyingPress is designed to offer a single solution for most speed optimization issues. It handles things like image optimization, page caching, javascript minification, etc.
Main Features
One of the most powerful advantages of choosing Flyingpress over the many other options available is the incredible array of features that the plugin already has built-in.
Website speed optimization is made simple by an intuitive user interface.
Automatically finds and preloads images in the viewport.
It is quicker to host fonts locally, especially since you can preload them.
Whether you need setup assistance or technical support, you can rely on FlyingPress.
One Stop Solution. No need to set up several plugins. FlyingPress will handle every aspect.
Pricing
Four plans from FlyingPress are available with yearly billing.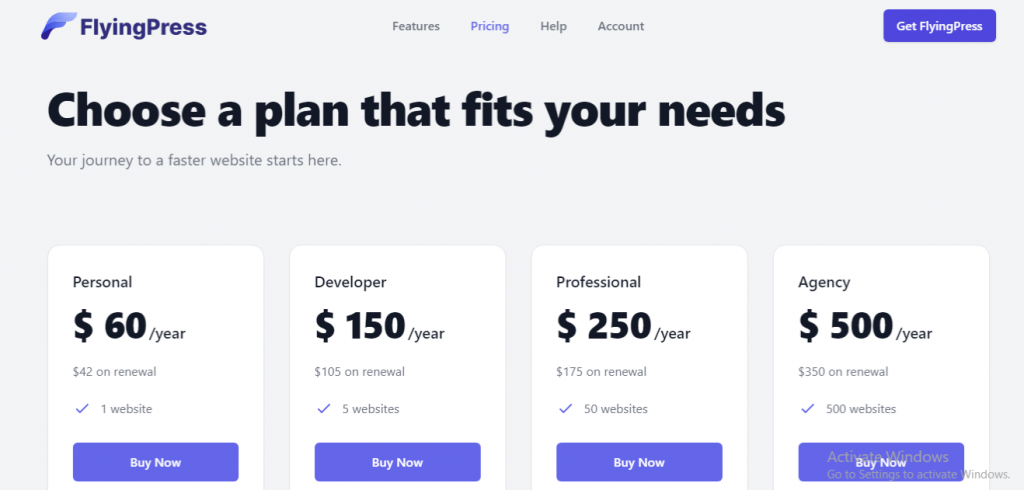 Four plans from FlyingPress are available with yearly billing:
Personal: $60/year ($42/year during renewal) for caching for one website.
Developer: $150/year ($105/year as renewal fee) for caching for five websites
Professional: $250/year ($175/year upon renewal) for caching for 50 websites
Agency: $500/year ($350/year on renewal) for 500 websites.
---

This is the most popular image speed optimization and compression plugin for WordPress-powered sites.
Positive
Provides unlimited free image optimizations each month
Ability to upload images with automatic compression
Utilizes WordPress Multisite (you can global-activate the plugin or configure it for individual site preferences)
Resize your full-size images automatically between a minimum and a maximum
Ability to view statistics for image optimization
Negatives
The Free version's maximum file size is just 1MB. This might not be sufficient for all types of websites. The Pro version, however, permits up to 32MB
Free plan does not save your original images. The feature is available in other optimization plugins
The Free version has a 50-image limit per instance
Pro Version needed to keep the Metadata
Images enhance the appeal and meaning of content. They play a crucial role in websites. But higher resolution images frequently have larger file sizes, which slows down websites.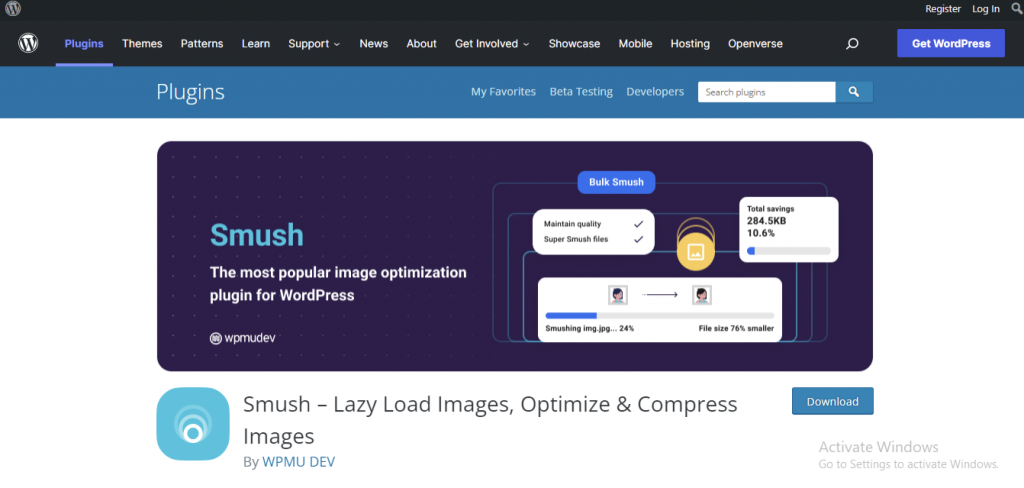 WP Smush is an award-winning image compression plugin. It aids in reducing the size of images without sacrificing their visual quality. WP Smush automatically removes extraneous data from your images, such as metadata and EXIF data (elements like focal lengths, camera settings, location, time and dates, etc).
Main Features
Includes support for all common image formats, including JPEG, PNG, and GIF
Removes unused colors and metadata from images
Enables compatibility with additional plugins and reduces the file size of each image in the directory.
It can optimize 50 images at once if multiple images are added.
Pricing
WP Smush / WPMU DEV offers membership & hosting-based packages for its products.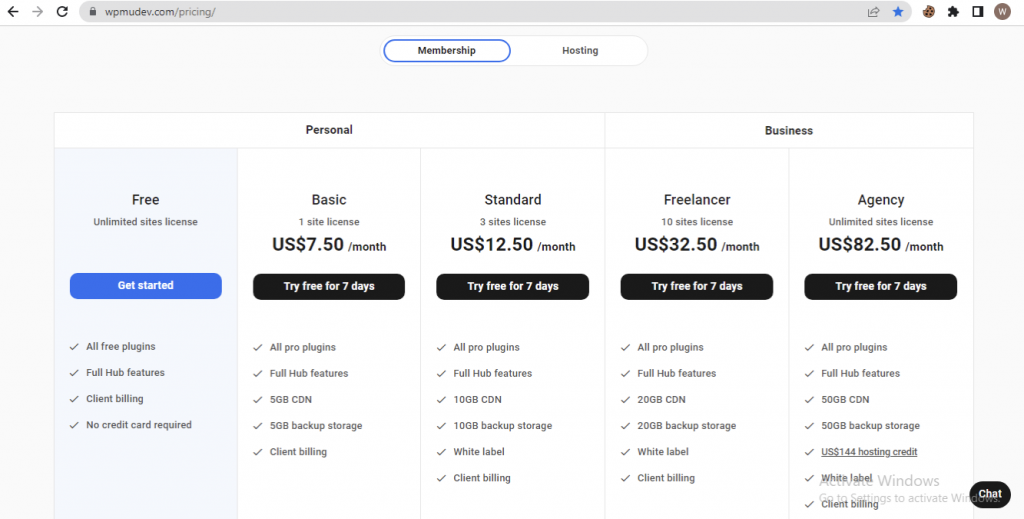 You can select two different plans (Personal and business) from membership-based packages for your websites.
There are three different packages (Lite, Essential, ad Premium) in hosting packages.
---
Conclusion
Your website's speed can be significantly enhanced by installing these speed optimization plugins. It's as simple as that: the faster your website loads, the better it is for your users. Ultimately, this can increase your subscriptions, social shares, and conversions because a satisfied user is more likely to stick around and enjoy your content.
If you have another plugin that has helped improve the load speed of your website, please share it in the comments section below!
---
More Articles on This Subject
Here below, you can find a list of articles related to speed optimization plugins, SEO and performance plugins for WordPress: