Starting your website has lots of moving bits and pieces you may not have anticipated when your business was in the conceptual state.
For those who have minimal web experience, this may include a confusing array of web hosting companies. As you search for the best option for your business, you may have come across SiteGround.
But what does SiteGround offer, and what gives it an advantage over its competitors?
What Is SiteGround?
SiteGround is a very popular hosting company that has been recommended as a WordPress hosting site. On its own front page is a banner stating they are "Officially Recommended by WordPress.org." This is a strong recommendation, especially for those new to the web scene.
But what does that mean?
This means that the hosting company membership includes options for WordPress installation, automated migrations and updates, advanced caching, and WordPress-specific support.
With the SiteGround Migrator plugin, a WordPress site can be brought over in just a few clicks, or with more premium membership, a WordPress professional can assist with the process.
SiteGround offers three packages: StartUp, GrowBig, and GoGeek.
---
StartUp
Regular 12.99 $/mo
– 1 Website
– 10 GB Web Space
– About 10,000 Monthly Visits
– Essential WordPress Features

GrowBig
REGULAR 22.99 $/MO
– Unlimited Websites
– 20 GB Web Space
– About 100,000 Monthly Visits
– Essential WordPress Features
– Premium WordPress Features

GoGeek
REGULAR 34.99 $/MO
– Unlimited Websites
– 40 GB Web Space
– About 400,000 Monthly Visits
– Essential WordPress Features
– Premium WordPress Features
– Geeky WordPress Features
---
The introductory level, StartUp, is offered for the lowest price- an introductory rate of $3.99 a month. This includes hosting for one website, 10 GB of webspace, approximately 10,000 monthly visits, and Essential WordPress features, such as install, migration, email, daily backup, and auto updates, just to name a few.
The GrowBig package has an introductory rate of $6.99 a month, and provides hosting for unlimited websites, 20 GB web space, and approximately 100,000 monthly visits. In addition to the Essential WordPress features, GrowBig includes Premium WordPress features, such as expert transfer, WordPress SuperCacher, 1-click WordPress Staging, and Advanced On Demand Backup.
The GoGeek package starts at $10.79 per month, and allows for unlimited websites, 40 GB web space, and approximately 400,000 monthly visits. The Essential and Premium WordPress features are enhanced with Geeky WordPress features, which include the highest tier of server resources, pre-installed Git for WordPress, and White-label site management.
What Are Some of the Great Things About SiteGround?
Your business needs will, of course, dictate which package is best for you. With each pacakge, however, there are certain features that are guaranteed. While "guaranteed" may seem like a very strong word to use regarding web hosting, SiteGround truly does offer a variety of guarantees regarding their product.
First, SiteGround offers optimized servers, which results in a faster loading speed for your site. Potential customers need a site that won't lag, so this is good news for those interested in website performances.
Impressively, the site maintains data centers around the globe, and allows users to choose their preferred server location during sign up. They also offer a 99.99% uptime guarantee, and if that guarantee is not kept over a calendar year, customers are compensated.
A website is absolutely useless if no one can access it, and having a web hosting service with a customer-focused attitude is helpful for every business.
SiteGround extends its customer focus through its transparency and top notch support. Users experiencing issues can contact support 24/7 via phone, chat, or by submitting a ticket. The support site even provides details on when users can expect a response via any method of support.
On the main navigation page, users can find an uptime monitor. Potential users can test speeds prior to signing up for an account, because all data center IP addresses are publicly listed on their site.
What Are Some Things To Keep In Mind about SiteGround?
SiteGround, like every web service, is not the perfect solution for every situation. There are a few things that any potential user must keep in mind before signing up.
First, there's the cost. The introductory prices are quite competitive, but remember: these are not guaranteed prices upon renewal. There may also be a monthly billing fee. While SiteGround offers a 30 day money back guarantee, make sure the investment matches the return before pouring your money into these services.
The limited disk space can also be problematic for some sites. If your business website is particularly image or video heavy, SiteGround may not be the right fit, unless you're ready to invest in one of the upper tier plans.
While the StartUp package might be a great fit for a true start up business website, your business may outgrow the configurations quickly. While success is typically a great thing, make sure this is not a hassle for your web hosting site!
Lastly, SiteGround is limited in the number of marketing swag other hosting sites offer. There are no Google Ad or Facebook Ad credits, there are no premium WordPress plugins or themes, there are no free memberships to image hosting sites.
What other people say about Siteground?
This is truly an "it is what it is" site. Granted, what it provides is extremely helpful, but make sure you have all of your ducks in a row before you click to subscribe, or you'll be scrambling for solutions to those add-on marketing services.
For the most part, however, these bonuses are just that: extra goodies. There are enough honest and thorough positive reviews for users to feel confident that they fully support the services advertised at a high professional level, regardless of the lack of a goodie bag.
As far as web hosting sites are concerned, SiteGround is definitely an option to explore for WordPress based small businesses.
Users across the internet praise the speed, support, and service. The critical acclaim is overwhelming, but there is no web hosting panacea. If your needs include simplicity and consistency, this may be your best option, with multiple data centers, uptime guarantee, and 24/7 customer support.
If you require space to grow for a large amount of data, it might be limiting for your business, unless you have the know how and cash flow to choose one of the higher tiers of service packages.
While web hosting sites can be confusing for first time and small business owners, SiteGround takes a lot of the questions out of web hosting, with full transparency and support, which can be a tremendous bonus for anyone dipping their toe in the tumultuous world of e-commerce.
Installing scripts and applications can feel like a guessing game in another language; however, there are tools available to alleviate any fears regarding installations. Softaculous is one such tool that can help an everyday business person install necessary applications and scripts using one-click technology.
Automated Installations with Softaculous
Softaculous is a tool that automatically install an open source web application or script to a website, and it can be accomplished with just one click. This software makes updating your website easier and more user friendly.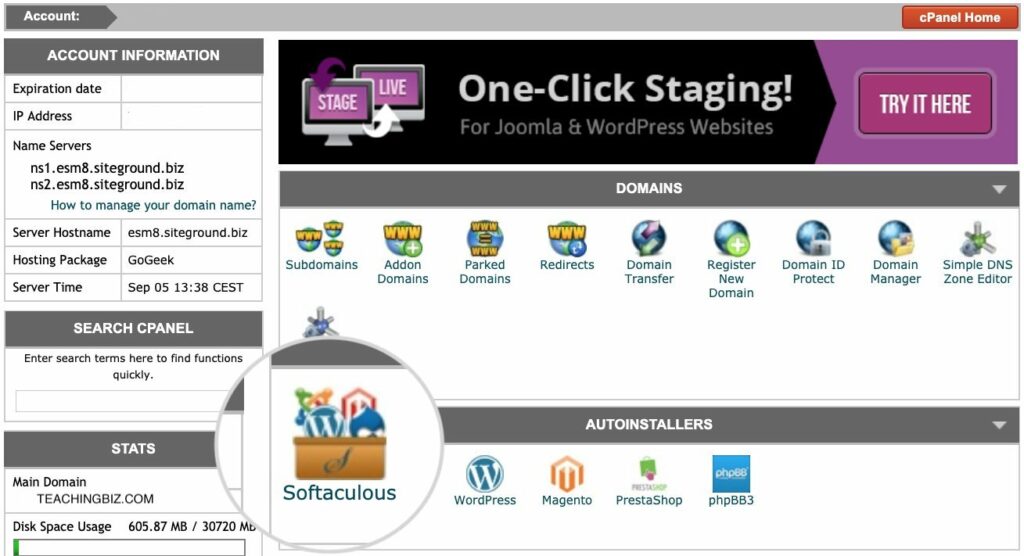 In more detail, Softaculous is available for free for Siteground customers, and it's integrated within cPanel control panel. Other hosting companies such as Siteground's competitor Namecheap, are as well offering this feature for free.
Softaculous can also run on webiste control panels like DirectAdmin, H-Sphere, Interworx, and Plesk. Using pre-defined scripts and information filled out by the user on the install tab, this tool does all the heavy lifting in the background, including database configuration, user permissions, web server files, and all of the installation tasks.
For users, this means that installation doesn't require setting up databases, aligning correct dependencies, configuration, and installation settings. In fact, many users won't know what those terms mean, and that's precisely why Softaculous exists!
What Kind of Applications Does Softaculous Include?
As of current writing, Softaculous has the ability to load up to 451 scripts with a Premium membership, but that number increases with great frequency. This installer is updated frequently, keeping its electronic finger on the pulse of the applications and scripts web users need to establish fully functioning, interactive, and helpful websites for their audiences.
Some of the one-click installs available via Softaculous include blogs, forums, content management, e-commerce, social networks, email, polls and surveys, enterprise resource planning, customer support systems, and media, such as music, videos, and RSS. Scripts like WordPress and PrestaShop are available through this tool, as well, helping first timers create the site and shop they need to get business started successfully.
P.S. Do you want to setup a blog but you don't know how to do it yet? Click here to read how to start your own blog.
How Do I Know Which Applications I Need?
Think of Softaculous as the mechanic that hands you all the tools that will bring your plans to fruition. On their website, you can review the 451 scripts that are currently available through the installation tool.
If you haven't any hosting account at Siteground yet, you can "See the Demo" to determine if the application is going to be helpful or confusing. If you're a Siteground client, you can access this tool from cPanel.
Use the search bar to search for a specific application, based on the end result you have in mind. Additionally, user ratings and reviews are posted in Softaculous website for each application. This information is not kept a secret to users.
Installing Softaculous on Your Own VPS or Dedicated Server
For those who have a dedicated server and aren't hosting their websites with Siteground or other competitors, installing Softaculous is still possible.
You can start with a free one month trial to get a feel for how it works, and if it works for you and your website. The Softaculous website offers a public forum for support and news, so browse this to gain a better understanding of how everything is set up.
From there, committed users can choose from a free license or a Premium Auto Installer.
The free option includes up to 59 scripts, and requires no renewals. This package includes one license per server, along with free upgrades to the Softaculous installer as well as the scripts. Support is available via the public forums, and tickets can be submitted for possible bugs and errors.
The Premium Auto Installer includes access to all of the applications available, which as noted, is on the rise from a current 451. As long as the license is active, upgrades for Softaculous and the scripts will be provided, along with support from site experts.
Renewal is required to maintain this license, which can be leased by the year or month, depending on your individual needs. One handy aspect for website owners is that free package users can upgrade at any time.
Indeed, if you purchase one of Sitegrounds' plans, you don't need to think about it, as it's already included in your monthly plan.
Advantages of Softaculous
When building a new website, anyone can become overwhelmed by the modifications that can be required to make all of the moving pieces fit.
Once you've determined what types of applications might be needed to make your website run as you want it to, a tool like Softaculous can help you find and automatically install those applications.
With a searchable database of included applications, and integrated one-click installation technology, an installation tool like this can easily prevent some of the headache of constructing a website from scratch.
As a result, you can dedicate more time to figuring out how you want your website to work, and less time experimenting on the back end.
Siteground is offering a discounted price for all new customers who want to purchase their WordPress plans. Go to their website to get your hosting plan and start powering your business with Siteground and Softaculous.
Do you have any more questions about Siteground? Do not hesitate to write a comment below!