The sales funnel looks deceptively simple when you draw a picture of it, but in practice, all of those little pieces must be kept moving deftly and independently. Many new business owners turn to some of the latest and greatest softwares to help them keep those delicate cogs turning, but it can become confusing to remember when to log in here, what content to put here, where each update needs to be made, and so on.
The Multi-Purpose ClickFunnels and its Alternatives
Thankfully, we live in an age in which multi-purpose marketing tools can be found under one roof. Many of us have heard of ClickFunnels, the multi-feature, all-in-one tool that reportedly can help with every facet of the sales process.
But as well-versed business people, it's important to look at all of the options that are available to us to gauge which is the best for our business and our needs. One such option is GrooveFunnels, a self-touted "complete suite of marketing tools" that can help users maintain the ideal sales funnel from every point of contact, from building a website, adding landing pages, and more.
What Is GrooveFunnels?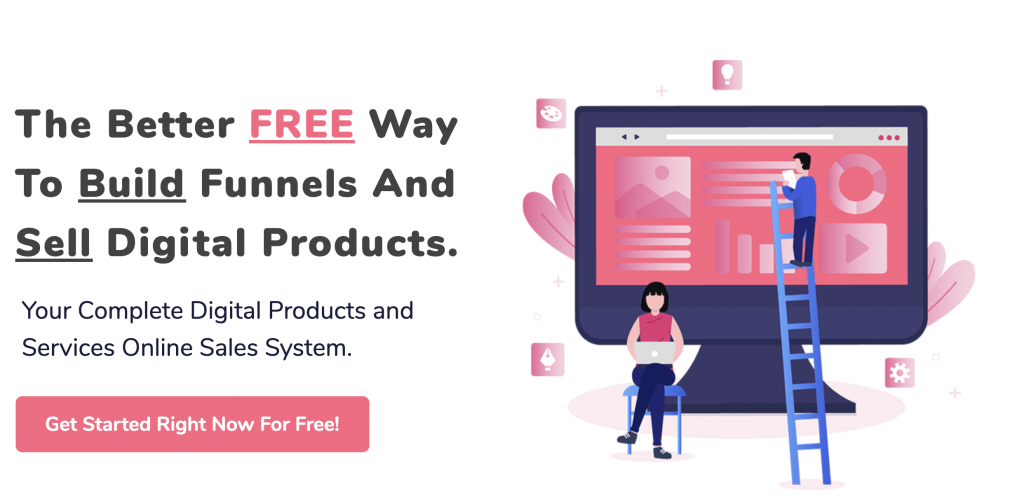 In a nutshell, GrooveFunnels takes all of the aspects of running a successful online business and puts them all neatly into one package. Designed for online marketers, content creators, sellers, buyers, promoters, online educators, membership-based programs, and even affiliates, GrooveFunnels proclaims to have everything needed to make an online business run- including some things newcomers might not even consider.
For example, let's say you start a website. Then you run some ads, so you need to create a few landing pages relevant to your ads. Throw in a few squeeze pages to collect information for new subscribers, which you'll then need to upload to your email software.
Speaking of which, don't forget to get that blog posted, which you wanted to link to in the email you have scheduled for next week… you did remember to schedule that email for next week, right?
One Centralized Solution for all Your Needs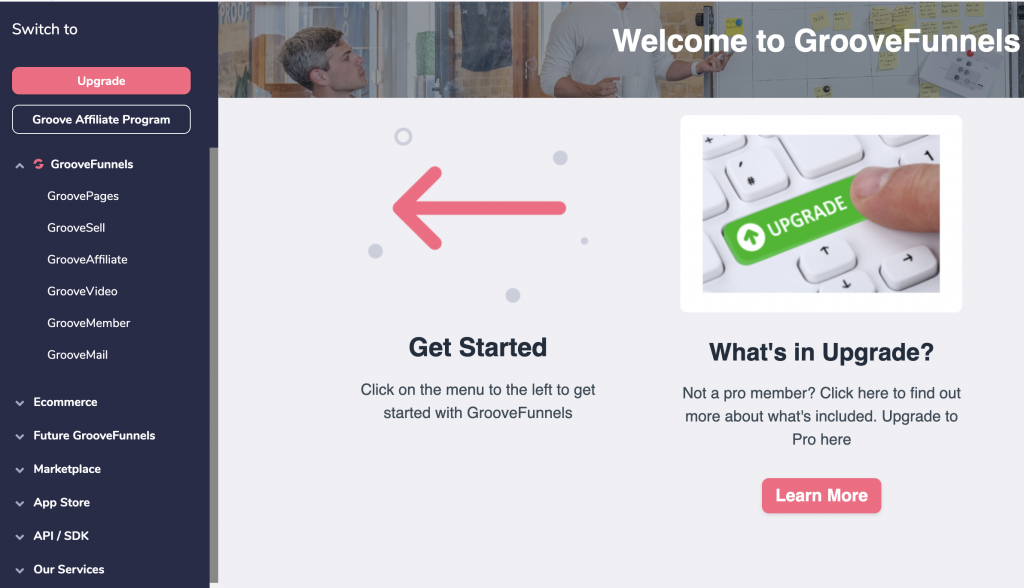 Most of the aspects of creating a comprehensive sales funnel for your online business require specialized programs to make them work. There needs to be a main website, a landing page builder, an email manager, a shopping cart platform, a blog, and occasional video content at minimum to have a full-blown functional sales site.
Many experienced marketers also like to throw in membership programs, affiliate programs, and more for an interactive edge that can truly grow their customer base. That's a lot of programs and clicks and logins and subscriptions to juggle on top of trying to make actual sales.
GrooveFunnels is the brainchild of Mike Filsaime, who has worked on many of the digital marketing programs that first arrived on the eCommerce scene.
The goal of Mr. Filsaime and his equally marketing-minded partners was to create a single platform on which a business owner to create, administer, schedule, and in every way tend to all aspects of the sales funnel, from the first inkling of an idea, to managing a full-blown affiliate marketing program and running online webinars.
Check out the Groove Official Website to discover all the features.
What Are All of the Functions within GrooveFunnels?
The full list of tools included in GrooveFunnels depends on the membership level you purchase, as with all subscription-based tools; however, there are several highlights that deserve their own spotlight.
GroovePages
The first is GroovePages. This tool within the GrooveFunnels suite allows users to create landing pages, websites, and sales funnels. It includes a wide array of themes and templates that you can choose from to start building your page. Start by choosing the template, then selecting the boxes you wish to edit, add, or remove. You can add images and text with the easy-to-use click and type editor tool.
GrooveBlog
Then there's GrooveBlog. Not only does it integrate with your existing WordPress site, but it helps you create and publish content that will catch the attention of Google's bots. After all, publishing a blog is most beneficial when people can easily find it and read it. GrooveBlog ensures your content is king with keyword assistance and editing suggestions.
GrooveVideo
Another thing digital marketers need in this day and age is videos. Consumers love videos. They're entertaining, concise, and don't require a lot of thinking. With GrooveVideo, you have all the tools in one package to embed videos into your website, add player skins and controls, add tags and call to action prompts, as well as automate shares of your videos on your social media. GrooveVideo's advanced features let users track analytics and conduct A/B testing to find the most successful use of videos, as well.
GrooveMail
GrooveMail is the tool that helps you run your email marketing campaigns. You'll be able to import all of your leads, then create emails that range from basic and informative, to lavish HTML offers. For each segment that needs to hear from you, GrooveMail can help you automate email releases, broadcast wide releases, and provide analytics to help you gauge click through rates, open rates, and overall engagement.
GrooveSell and Groove Member
GrooveSell is the shopping cart platform, as mentioned earlier. Set up your online store and sell your products, services, and courses through GrooveSell. Speaking of courses, GrooveMember is an excellent resource for hosting courses or setting up a membership content site. Create protected member-only access through this feature with free or paid access. This allows you to create onsite upsells and offerings without adding another piece of software to your stable.
GrooveAffiliate
GrooveAffiliate is exactly what you think it is- an internally-managed affiliate marketing platform. This tool allows you to recruit and manage every step taken by your exclusive team of affiliate marketers. Not only can you track the number of affiliates, but you can watch their conversion rates and pay them directly through this tool.
ClickFunnels has made a name for itself by being easy to use and having a full suite of tutorials and help guides for new users. Rest assured, GrooveFunnels includes support for users with videos, downloads, and a robust community, where you can interact with other GrooveFunnel users on private Facebook pages to gain tips and support each other.
Furthermore, this community is a fantastic place to network- especially if you're interested in starting an affiliate program of your own.
What Does Groove Cost? Get a Free Access Today
One of the things that many people find attractive about ClickFunnels is the 14 day free trial (you can check their offer at this page). GrooveFunnels has a similar offer available right now: Anyone can sign up for an unlimited free membership to GrooveSell and GroovePages LITE with no obligation to upgrade.
Signup for the Free-Plan and Get Lifetime Free Access. Limited-Time Offer.
To access the full range of GrooveFunnels products, however, you'll need a membership.
Silver Package
The Silver Package, which runs $99/month, includes GrooveSell, GrooveAffiliate, GroovePages Pro, GrooveMail, GrooveVideo and GrooveMember, along with several handy email tools to help you establish leads and reach out to those with abandoned carts.
Gold Package
The Gold Package is a pricier $199/month, but offers an even more robust package, including GrooveBlog, GrooveDesk, GrooveQuiz, GrooveSurvey, GrooveCalendar. As the names imply, these features add onto your organizational needs, and help aid with customer interaction by allowing you to create, publish, and analyze results from quizzes and surveys.
Final Considerations
Running an online business is an undertaking with many moving parts. Every part of your enterprise is a little cog in the machine that will eventually lead to your success. You must manage a fantastic website, write a meaningful blog, organize emails and subscriber lists, come up with relevant content, quality videos- not to mention make sales, deal with customer inquiries, and- oh yeah- market a product that people want to buy.
One way or another, you will need to purchase tools to manage each of these aspects of the sales funnel. While ClickFunnels has reigned supreme in previous years, the time has come for business owners to evaluate all options available. GrooveFunnels is one type of software that provides all the tools you need under one roof, making it easier than ever to access everything you need in one place, at one time.
More about the Free Limited-Time Offer, and How To Signup
GrooveFunnels is the new, better way to build funnels and sell digital products online. It's not just one or two simple tools, or solely a "funnel builder" , either.
This is your complete digital products and services online sales system. You can get instant access to practically everything you need to sell your products and services online.
And today, for a limited time only, you can get started for absolutely free. No credit card. Lifetime access. Forever.
Bonus Video: 10 Reasons why you should build your Business with Groove