It can take a little imagination to see how Twitter can be a fantastic marketing medium for your online business. There's so much you want to say about your background, your product and services, and what they can do to benefit others, and you're only allowed so many characters per entry!
Twitter has a great Potential….
But consider this: Twitter also has around 67 million active users around the globe. Limited characters or not, that's a huge reach, so perhaps it's time to incorporate the social media service in your grand marketing design. That likely raises more questions, especially if you haven't used Twitter much in the past. How do you get followers? What should you post, and how frequently? What's the magic recipe for getting the attention of those 67 million people?
Thankfully, there are tools for that!
The Best Tools for Increasing Twitter Followers
Much like any aspect of marketing, there's not just one way to increase the number of your Twitter followers. The content needs to be clear, the hashtags need to be enticing, and the posts need to appear regularly without flooding your followers' feeds. Thankfully, there are a variety of tools available that can help you hit each of those sweet spots without taking up a great deal of valuable time.
Let's take a look at a few different tools, and how they can help you gain a larger Twitter following.
TWESOCIAL

For many of us, growing a Twitter following is a daunting task. You have to figure out what to post, when to post, what hashtags to use, who to follow, who to tag… the list seems endless. If you're looking for a tool that will do the hard stuff for you, consider Twesocial. This tool helps to grow your followers with targeted hashtags, location, users, and content assistance from networking to graphics.
All you need to do is sign up for Twesocial. An account manager will reach out to you to learn more about you, your business, and your goals. From there, your account will be carefully managed to target an ideal audience, with only legitimate, active followers.
The benefit of this program is that your account manager will be on point at all times to provide coaching to ensure the number of followers for your Twitter account grows organically. That means that, in the event that you cancel the service, you retain the new followers.
The current cost for Twesocial membership is $15/week for a regular account, or $25/week for a Pro account, which doubles the level of exposure and carries priority support from the service.
HOOTSUITE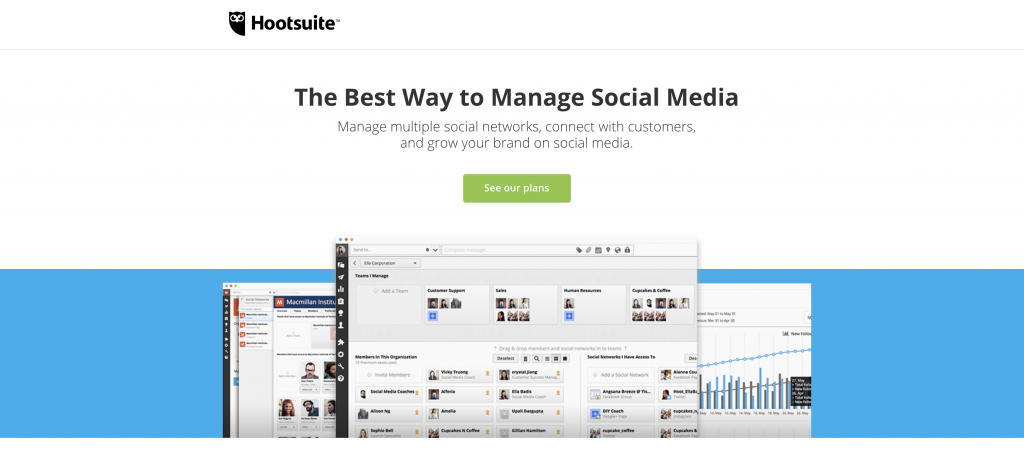 Perhaps the idea of managing an abundance of social media accounts is overwhelming in and of itself. Between Facebook, Instagram, Pinterest, and now Twitter, that's just a lot to keep track of, and you're not looking forward to it.
Hootsuite is a popular tool that assists in the organization of all social media accounts – not just Twitter. It includes a calendar feature, so that you can plan and coordinate the timing of all of your social media posts, along with a schedule that will auto-post your content at just the right moment. You can also centralize the creation of content through Hootsuite, and respond to all accounts from a single inbox.
The goal of a tool such as Hootsuite is to minimize the stress of managing multiple social media accounts by allowing you to face them all from one central hub. Additionally, the site includes a content library for harvesting ideas, as well as opportunities for training and additional certification. Instead of having to remember all of your accounts and schedules and postings, they're all right there. That way, content is always fresh and on point, which is the number one way to gain organic followers.
A Professional account from Hootsuite includes coordination for up to 10 social media profiles and one user, and costs around $29 a month. A progressive array of packages adds more users, profiles, and features for an additional fee. If you're not sure if this is a good tool for you, check out the 30 day free trial first.
BUFFER

Buffer was designed for business owners who love the idea of having a plethora of social media accounts as part of their marketing plan, but who also fret at the amount of time and energy it will take to manage, monitor, and create for all of those accounts, plus a site, plus a blog, plus….
With Buffer, you still have control over the content. You write the posts based on your current site content, and add them to Buffer. Based on the schedule you choose, these posts are then published live on your social media accounts – not just Twitter! The higher the regular exposure, the better the chances of increasing your Twitter followers (and Facebook followers, Pinterest followers, etc).
Buffer also has a separate analytical tool that keeps an eye on all of your social media accounts. This tool can help with content creation, performance analysis, and provides insights that can help you better target your campaigns.
The basic publishing package includes scheduling for up to 8 social media accounts and 100 posts, and costs $15/month. The basic analysis package is $35/month, and also covers 8 accounts, with in-depth analysis, strategy ideas, and unlimited reports. More robust packages are available for more accounts or more posts.
TWEEPI

Maybe it's not the content creation that's a problem, but knowing where to start and who to engage. After all, with millions upon millions of users, it stands to reason that while a large population will care very much about your product or services, some will only care a bit, and others might have no idea what you're talking about. How do you make sure you're using your time, energy, and money wisely?
Tweepi is a tool that uses AI to help you increase Twitter followers. While you can't possibly read an entire planet of tweets each day, Tweepi's artificial intelligence can, and it will. When you enroll, add your target hashtags, as well as a list of users who are relevant to your niche, or would be a great addition to your network.
While you focus on your content and day-to-day business strategy, Tweepi searches the entirety of Twitter to find tweets and users that you need to engage with in order to grow your followers.
The Silver package costs $129/year, and includes monitoring for up to 15 hashtags, 15 competitors, 3 languages, and provides up to 300 recommendations a day. The service also monitors mentions of your accounts, to ensure your activity is legitimate and healthy for growth.
Final Thoughts
Ultimately, you may find that a combination of tools is the best decision for your brand and strategy, as each of these assists with a different angle toward increasing Twitter followers. If you're new to Twitter, you might need all the help you can get at first, too. In the end, you'll want to make sure your content is clean, your postings are frequent, and your network robust, and these tools are a great way to get started.
More Articles on This Subject
Here below, you can find a list of articles related to Twitter and Twitter tools: