If you are looking for the best WordPress hosting, Convesio is for sure a choice you may consider. Convesio is a managed WordPress hosting platform powered by Docker. It is container-based and provides true elastic scaling for WordPress.
Positive
High Performance
Automatic Scaling
Containerized (Docker)
High Availability
Backup Management
Easy Admin Interface
No DevOps Engineers needed
Negatives
Only for WordPress
No email service available
No domain hosting service available
Pricing
Convesio is a great solution for those who have a business critical website and need to have it available and scalable, without having to hire a DevOps engineer to take care of it. Tom Fanelli, a professional product developer and marketer, is the person who created Convesio in 2018.
Today, there are numerous best WordPress hosting alternatives. Only a few, however, provide high-quality services, easy scalability, and high performance. Convesio is one such company.
In this review, we try to figure out why Convesio hosting is so popular among enterprises worldwide. We'll strive to give you a realistic picture of Convesio's features and assist you in selecting the appropriate plan for your website.
About Convesio
Designed Specifically For Auto Scaling
When it comes to choosing a hosting service for your website, scalability is one of the most crucial elements to consider. There are various hosting services available with a variety of features. Convesio gives you the ability to host high-performing and scalable WordPress websites. A database cluster, load balancer, and an expandable file system are included with every Convesio website.
Convesio is distinguished from other hosting services because of its exceptional scalability. Businesses should be very confident in proceeding without anticipating resource requirements in the event of traffic spikes. Furthermore, Docker containers provide your website with excellent stability and self-healing capabilities.
Convesio describes itself as the "world's first self-healing, autoscaling, platform-as-a-service for building and managing WordPress websites."
Its hosting services are designed to be more safe and dependable, guaranteeing that your website is accessible at all times, 7 days a week. Its robust security function also helps to keep your website safe from spammers and hackers.
Review of the main features
Why Should You Choose Convesio?
We have listed here below the features that make Convesio, in our opinion, the best hosting for WordPress.
CDN Network Scalability
Convesio uses a scalable CDN network to host WordPress site pages. The network efficiently distributes website content to multiple servers throughout the world.
Because of its scalable and distributed structure, the content is fetched at breakneck speed whenever a visitor views the site, regardless of where they are. The site also has a built-in caching system that is automatically managed by the underlying infrastructure. No additional caching plugins are required for WordPress users.
Even dynamic pages that are never preloaded and must load all material from scratch react quickly. As a result, the website's request time is significantly reduced, and users receive instant online results.
Free Website Migration
Have you ever wanted to move a website that was hosted elsewhere? Convesio hosting will assist you with a free website migration. Many things can go wrong if you are a beginner and try to move your website. Website migration is fraught with technological difficulties, and you risk losing all of your data.
From your account, you can request a site transfer. Convesio offers a team of professionals who can assist you with the migration. They take a full site backup before starting the migration. All migrations are completed in a secure environment with no interruptions. Your visitors will not notice the migration because the front end will remain unchanged.
The majority of hosting companies do not provide a free migration service. Transferring a website from one host to another might cost hundreds of dollars. A specialist will stay connected after receiving a request from a customer and complete the full migration procedure. While the process is running, you may simply sit back and relax.
Security
Security monitoring, protection, and scanning are all included in Convesio's hosting services. Every minute, the service monitors websites. The Convesio team promises to take care of any issues right away. Your sites can also be monitored at the application level. Before modifications are applied, you can approve them. Each domain also receives a free LetsEncrypt SSL certificate that renews automatically.
You may also set a schedule for backups to be created every 24 hours to 180 days and indefinite backup retention time. You can also use a backup to construct a staging site.
Self -Healing
One of the most time-consuming and risky tasks is restoring a web-hosted database. The tone-restoration data point from Convesio guards against such issues. If your website goes down, it retains a backup of your data and restores it.
High Availability
Load-balanced containers enable you to run many instances of a service on different machines simultaneously, ensuring that if one system fails for any reason, another one may take over and continue working usually. Load balancing also reduces downtime, resulting in increased user satisfaction.
Version Backups
Anyone with account access can retrieve lost data using Git-style versioned backups without impacting previous performance.
Moneyback Guarantee
Convesio is one of the most reputable and affordable web hosting businesses on the market today. It provides a free one-month trial with no credit card details required. As a result, you won't have to worry about signing up for an expensive plan if it doesn't work out.
Responsive Customer Service
Convesio as a managed WordPress hosting provider, does not disappoint when it comes to customer service. The site provides amazing customer service. The staff responds to inquiries quickly and is available around the clock.
Quick Tour
A Guided Tour To The Convesio Hosting Platform
Let's now have a guided tour on the Convesio interface to understand the features and how to properly configure your WordPress Docker containers.
Signup and Convesio Dashboard
The first thing to do is to sign up to Convesio. Then, we will create a new Site and browse through each section in the dashboard and activate the features that have been offered.
To sign up to Convesio, we click this link that brings us to their homepage.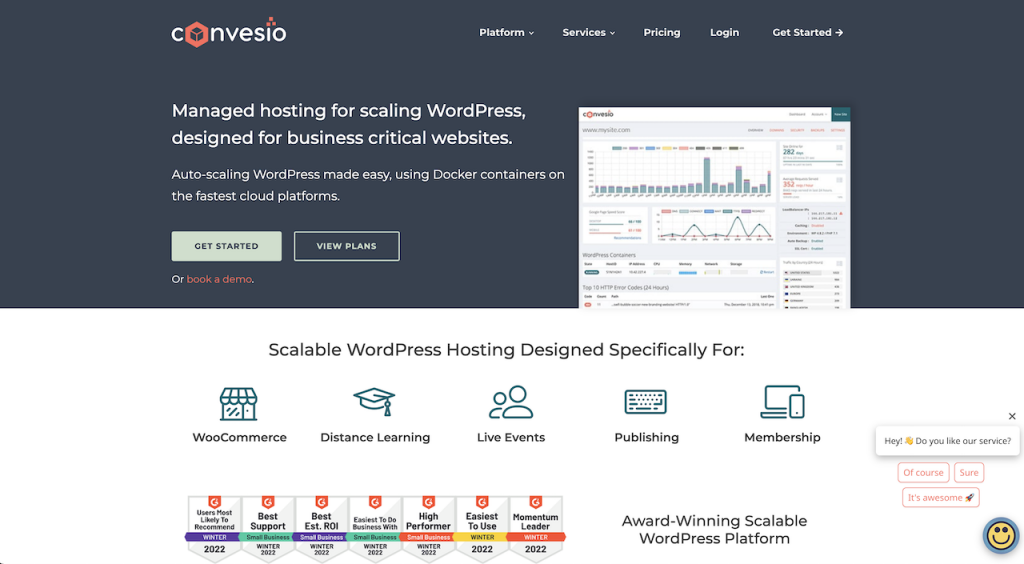 In the Homepage, we click the "Get Started" button and fill-out all the required information such as name, email and telephone number.
Once we complete the sign up process and get access to the Convesio Dashboard. It is empty because we have no websites yet, but we have these three options to choose:
Create a new site
Get help migrating an existing site (Free migration)
Get access to support and documentation
If we choose the first option, we launch the website creation. We will explore this choice together in the next paragraphs.
The second option opens the Convesio Support Center: a form will guide us to request a free migration service, in case the website we want to use on Convesio is already hosted with another hosting provider. Convesio support staff typically completes simple migrations the same business day, while more complex migrations may take up to 48 hours.
Clicking the third option we get access to their ticketing system, as well as some online documentation.
New Site Creation
A new website is composed of a Load Balancer, a Docker container, in which WordPress is installed, and a Database. At the time of creation of a new site, only one WordPress container is created, but you can scale it, and create automated rules for scaling, as soon as your site is up and running.
To create a new site, we need to click "New Site" from the Convesio Dashboard.

A new window appears, in which we need to choose the Container Type we want to deploy. A container type corresponds to the Plan type:
Starter
Business
Enterprise
After selecting the Container Type, we can choose which WordPress version, PHP version, WebServer type and Database type we want to install. To do so, we need to click the "Set Advanced Options" button, as shown in the picture below.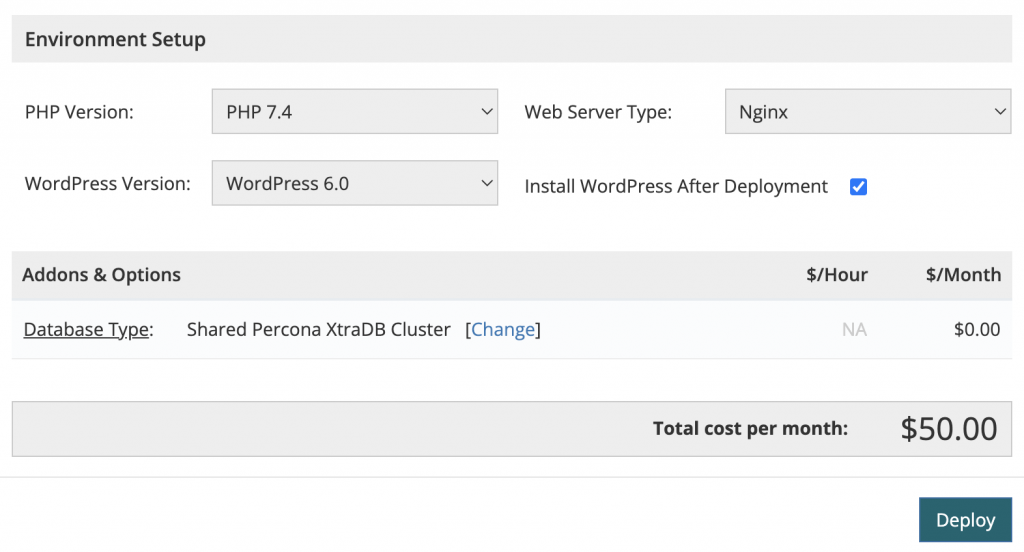 Additionally, we can choose the data center location. At the moment of writing, three options are available:
United States
Europe
Australia
Once we are ready, we click the "Deploy" button to start the website creation.
A popup window will open and show the status of the installation. Once the installation is completed, we will get a similar message:
2022-05-27 5:32:05 pm: WordPress Credentials
2022-05-27 5:32:05 pm: -----------------------------------------------------------
2022-05-27 5:32:06 pm: username: <username>
2022-05-27 5:32:06 pm: password: <password>
2022-05-27 5:32:06 pm: -----------------------------------------------------------
2022-05-27 5:32:06 pm: WordPress installation successfully completed
2022-05-27 5:32:06 pm: https://<url> now online! :)
2022-05-27 5:32:13 pm: Job Completed
Managing Sites From the Convesio Dashboard
Once the installation is completed successfully, we see the site, or sites, created in our Convesio Dashboard, as shown in the picture below.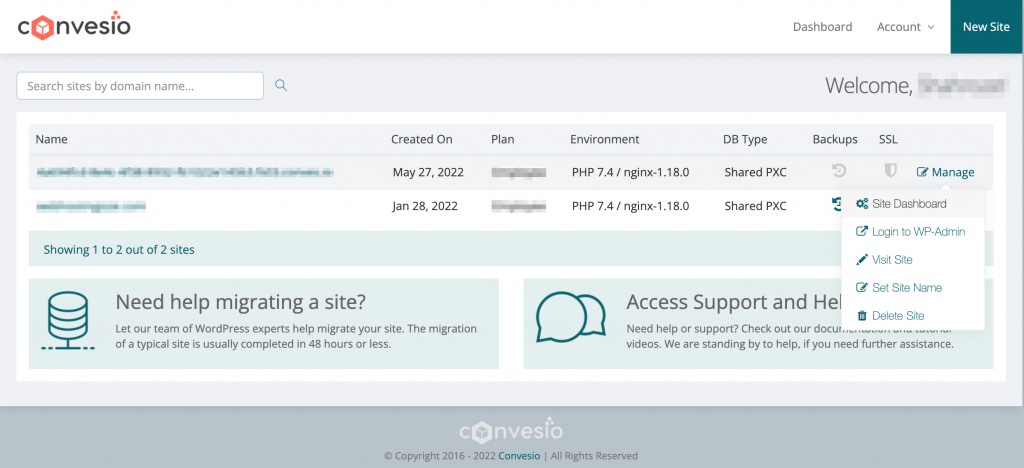 Each line corresponds to a site. In this case, we have two sites.
The next step is to access the Site Dashboard to manage the site itself. To do so, we need to click the "Manage" link available next to our site information, and then click "Site Dashboard".
As you can see from the picture above, the "Manage" link will also give access to the following:
Login to Wp-Admin (the WordPress admin interface)
Visit Site (The WordPress site)
Set Site Name
Delete Site
Let's login to the Site Dashboard and start describing the first page we see as soon as we click "Site Dashboard" link.
Site Dashboard – Overview (Homepage)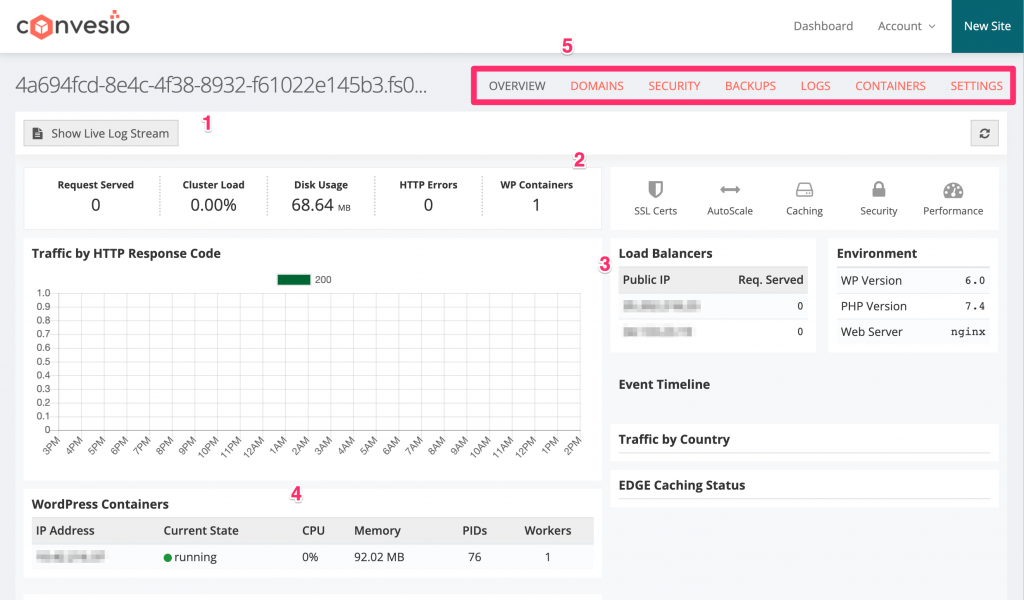 The Overview is the main page of your Site Dashboard. It shows all the most important information at a glance.
A button at the top of the page (1) will open a popup where we can read the live log stream.
Underneath this button we can read the most important performance metrics (2), like disk usage, load, number of requests, and traffic.
Close to these statistics, we have all the information about the environment (3), such as WordPress version, PHP version, web server version, and IP addresses. We also have other kinds of information concerning the traffic, but as the container has just been created, we haven't any information there.
Under the traffic chart (4), we have the number of containers running your WordPress instance, as well as their IP addresses and current status.
Below this information, we have additional information about:
Top 5 most visited pages
Top 5 slowest page load
Top 5 HTTP error codes
Let's now have a look at all the sections of the Top Menu (5), and their purpose.
Domains
In this section we can add and map our domains by clicking the "Add Domain" button.

At this stage, we already need to have an existing domain purchased with a third-party provider, such as Namecheap, because it is not possible to purchase and host a domain name within the Convesio interface.
To connect a domain, the DNS "A" record needs to be pointed to all the load balancer IP addresses. We can retrieve this information either from the Domain Mapping page, or in the Dashboard Homepage (called Overview).
It is important to note that to achieve zero downtime, it is crucial that all the IPs are added as a A record in the DNS server.
Convesio customer support will help you to set everything up, in case you need any help.
Security
In the Security section, we can do several kind of configurations.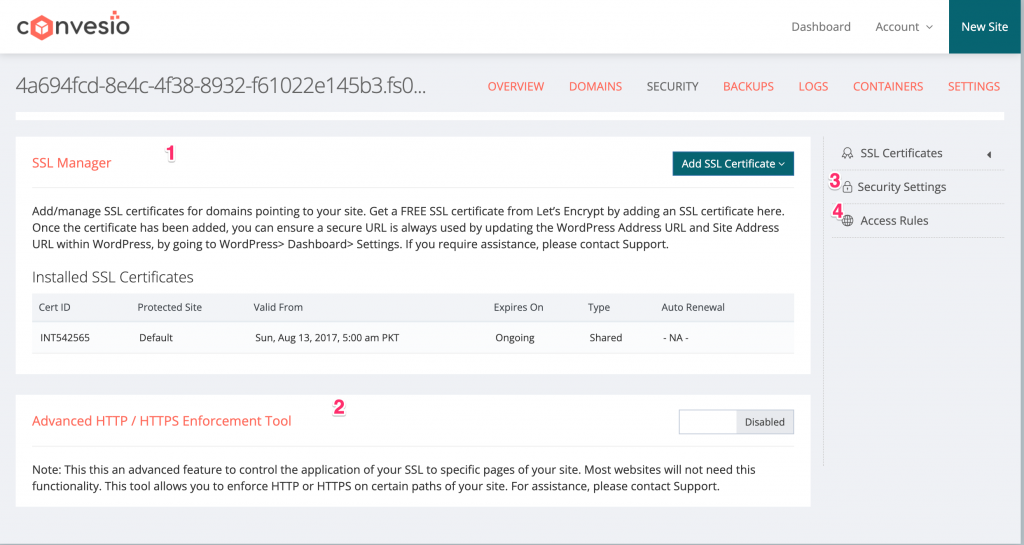 The first one is the SSL Manager (1): here we can get a FREE SSL certificate from Let's Encrypt for our domain.
The next option is the Advanced HTTP / HTTPS Enforcement Tool (2): enforce HTTP or HTTPS on certain paths of the site.
We can also tweak some Security Settings (3) and define the security protocols and policies of this site, like X-Frame-Options, X-XSS-Protection, X-Content-Type-Options,Referrer-Policy, Content-Security-Policy, and Strict-Transport-Security.
Lastly, we can play over the Access Rules (4) via a web-based interface, where it is possible to configure our web application firewall (WAF) and its rules to accept or deny traffic to the site.
Backups
This section is probably the most important one. Here we can launch on-demand manual backups (snapshots), or schedule an automatic backup.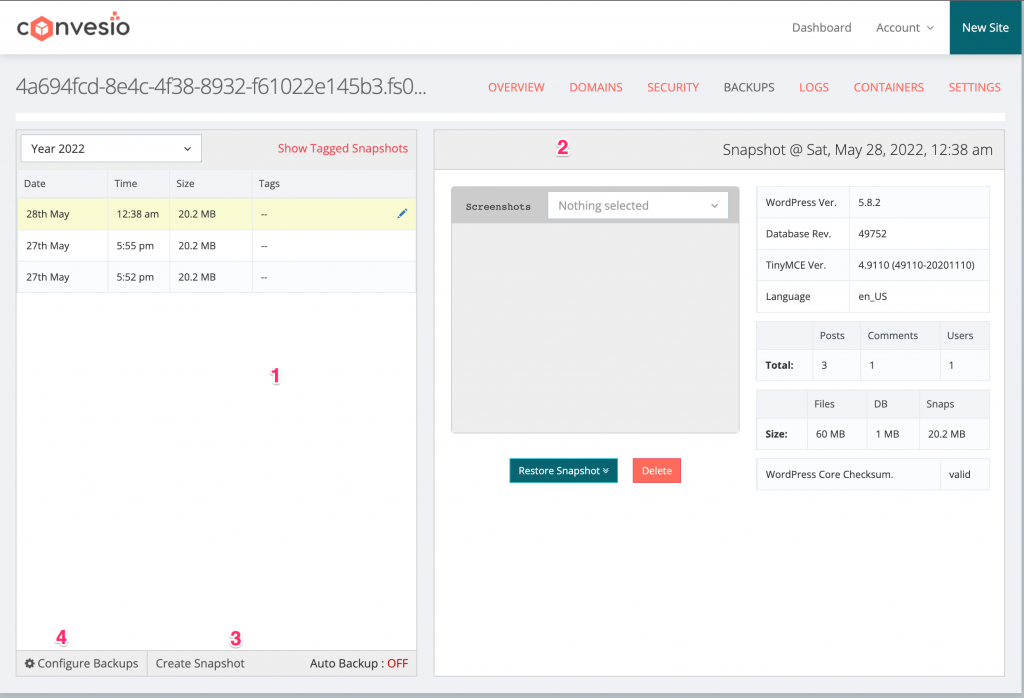 In the left side of the page (1), there is a list of backups ordered by date. Next to the date, there's the backup size and the tag. Tagging allows us to categorize snapshots and make them more searchable.
Backups can be filtered by date.
In the right side of the page (2), there are all the information related to the backup. It is possible to perform a restore, or delete it.
To launch a manual backup, it is enough to click the "Create Snapshot" (3) link.
To setup automatic backups, we need to click the "Configure Backups" (4) link.
Once we click on it, a popup window shows up, and we can select to enable the automatic backups. Automated backups are used for a periodic snapshot of your site.
When enabling this option, we have to configure the following:
Backup name: whatever the name we want to give to the backup (ie. daily backup)
Backup interval: 24 hours to 180 days
Backup retention: 24 hours to Forever

Logs
The logs section allows us to check the logs of the Load Balancer and the WordPress instances, either runtime, or by downloading the log file.

This section is important when we need to troubleshoot an issue, or analyze what's going on in our production environment, at any given time of the day.
Containers
The Containers section list our running WordPress Docker containers.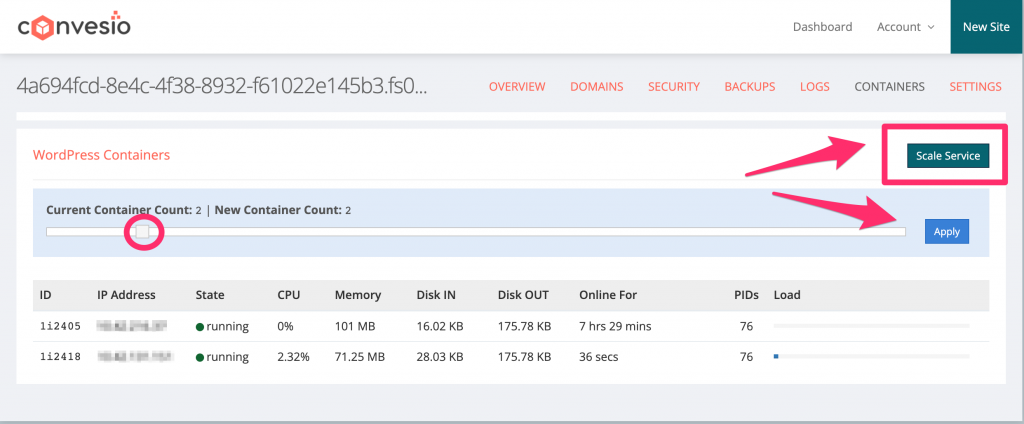 It gives us the following information:
Container ID
IP Address
State
CPU
Memory
Disk IN / Disk OUT
Online for
PIDs
Load status
This page is important to understand the health of our Docker containers and have an idea of the resources we are using. This is also useful if we need to do some capacity planning, or to determine if we need to adapt our scaling settings.
Only if the Auto Scaling is disabled, we can manually scale the Docker WordPress containers by clicking the "Scale Service" button, adjusting the number of containers needed, and then click "Apply".
In the pictures above, you can see how easy it is to add or remove containers with the manual scaling. In the next paragraph, well have a look how to activate Convesio Auto Scaling.
Settings
This is the section where the magic happens! Let's have a quick look at the available settings.
In the System Settings main page we can change the PHP version to a newer or older version. As you may already be aware, switching between PHP versions will restart the WordPress containers, and may result in minimal downtime
The "Manage Application Status" allows us to restart or stop a site.
The SFTP Access allows us to enable or disable SFTP access, and manage a user that has access to the site through this protocol.
In the PHP Settings sub-section we can update the contents of the site's PHP.INI file. This can be quite dangerous, as an Incorrect configuration can bring down the site.
In the Auto Scaling section, we can enable or disable the Auto Scaling feature, manually scale our containers, or set up auto scaling rules in the "Advanced Settings".
Based on the load on the site, the Convesio Auto Scaling feature will add or remove containers in your cluster, when auto-scaling is enabled. We can set the minimum and maximum number of containers.
The Cache Settings section allows us to cache all contents, which includes both static and dynamic content. Currently cache is kept up to the TTL specified, or can be manually purged.
We can change the Default Cached Content's TTL, which is 30 days by default. In this section we can also add exceptions to the Caching rules, and manually purge the cache.

Lastly, in the Database Settings, we can have a look at the DB information, such as database name, user, and password. And we can launch PhpMyAdmin for easier administration.
Pricing: Available Plans
How Much Convesio Hosting Plans Cost?
Convesio offers seven different plans to its customers, separated into three categories:
Starter for individuals and startups
Business for expanding companies
Enterprise for large-scale corporations
| PLAN | PRICING |
| --- | --- |
| Starter Plan – Level 1 | $50/month |
| Business Plan – Level 2 | $150/month |
| Business Plan – Level 3 | $300/month |
| Business Plan – Level 4 | $600/month |
| Enterprise Plan – Level 5 | $1,000/month |
| Enterprise Plan – Level 6 | $1,600/month |
| Enterprise Plan – Level 7 | $2,400/month |
About the Plans
Only one Starter Plan is available, and it costs $50 a month. This plan includes:
1 install
50GB of bandwidth
5GB of disk space
512MB of RAM
Manual Scaling
There are three options for business plans, but the most significant variations are in vCPUs, RAM, workers, and bandwidth. Likewise, there are three options for Enterprise Plans, and Disk space, vCPUs, RAM, and bandwidth are the primary distinctions.
Business and Enterprise plans come with Auto Scaling.
Opinion
Is It Worth The Price?
What We Like
The main reason we like Convesio, is that there is no need to hire a DevOps engineer to maintain and support the components of your high scalable website
One of the most typical reasons clients switch web hosting companies is server downtime. Convesio 100 percent Uptime ensures that customers' websites are always up and running, with no fear of lost traffic.
Rapid acceleration. Convesio offers fast surfing across various devices, with the database cluster ensuring a great user experience.
Using Docker Cloud, you may run numerous containers with few resources.
There are detailed YouTube videos available to help you get started with WordPress hosting Convesio style.
In-built caching is available.
Outstanding customer service.
Provides scalable WordPress hosting.
Free domain registration is included in the bundle.
It's simple to set up a new WordPress installation.
What We Do Not Like
Convesio is a little expensive compared to its rivals, given its qualities and features.
Convesio hosting plans enable only one WordPress website to be hosted.
The starter plan could also be problematic in terms of performance, if you have a resource-consuming website.
Conclusion
Final Thoughts, Score and Signup Link
Convesio is one of the most well-known managed WordPress hosting companies on the market. It should be at the top of your list if you want to ensure that your online presence is always available. Convesio has risen to the top of the managed WordPress food chain thanks to highly effective strategies for maintaining site activity and traffic.
Awesome
A complete solution for those who have some budget for Hosting, and need to have a high-available, high-scalable solution for their high-critical business.
Recommended? Yes.
More Articles on This Subject


Best WordPress Hosting: Convesio Review, Pricing & Rating