Landing pages. We all know we need them, and that they can be a huge asset to a sales funnel, but creating them is generally not on everyone's list of fun tasks. They must be attractive, concise, direct, and somehow incorporate fantastic content – all without going overboard or losing your message.
A while ago I was struggling to find an affordable and effective tool for my landing pages, and I finally found a solution. Curious to learn more? Then let's get started!
The Solution
Instapage (this is their official website) is one available online subscription tool that allows users to, in the words of the developers, create personalized post-click experiences in minutes. But what does Instapage do, and what kind of investment does it require? Let's take a look at the tool in more detail, to see how choosing Instapage for your landing pages may benefit your online business.
What Is Instapage?
Instapage is an online tool that allows users to instantly create a variety of landing pages. With over 200 templates for a variety of scenarios, Instapage helps you turn your visions into reality, while helping you convert clicks into purchases.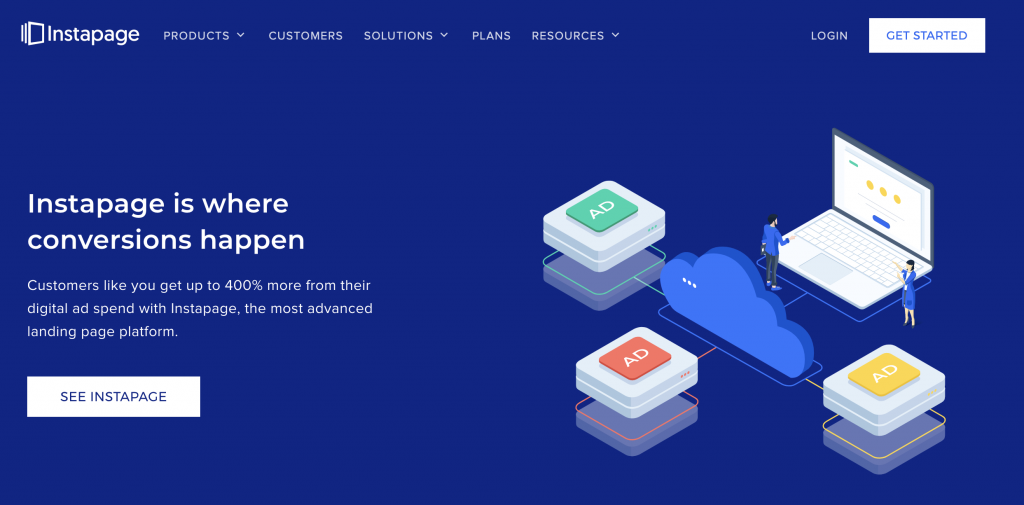 Each of the templates is highly customizable, too, allowing you to have complete creative control, while still utilizing forms that have been specifically designed for conversion optimization. The design experts have created the ideal templates, but you have control over fonts, images, colors, and placement.
Whether you're creating a call-to-action form, displaying a range of testimonials to back up your product, sharing how your product can solve the readers' problems, or generating interest in a specific event, Instapage can help you create the ideal landing page for that.
How Does Instapage Work?
Once you've signed up for Instapage, you'll have immediate access to all of the landing page building goodies contained within the site.
One important thing to remember is that Instapage is strictly dedicated to creating landing pages, so if you're looking for a web builder, or an all-in-one tool, this is not the option for you.
However, if you're looking for loads of landing pages that can be easily created with drag-and-drop editing, can be integrated into your generic website, WordPress website email, and marketing tools, and offers detailed analytics for each landing page you create, then this may be an ideal option for you.
To get started, you'll choose one of the templates. You can filter the templates based on their purpose to help you get started, which is always a benefit when you're trying to create a quality page quickly. Select from page goals like lead generation, click-through pages, webinar pages, thank you pages, and more. You can even select mobile app-ready pages right off the bat for exclusive mobile campaigns.
Some Cool Features
From there, you can tinker with the widgets, which allow you to add images, videos, forms, shapes, and buttons to your landing page to help your audience glean the information they need from your page without having to crawl around your site. The editing format is "Pixel Perfect", which means that instead of trying to work within pre-defined gridlines, you can place each element of your page exactly where you want it to be.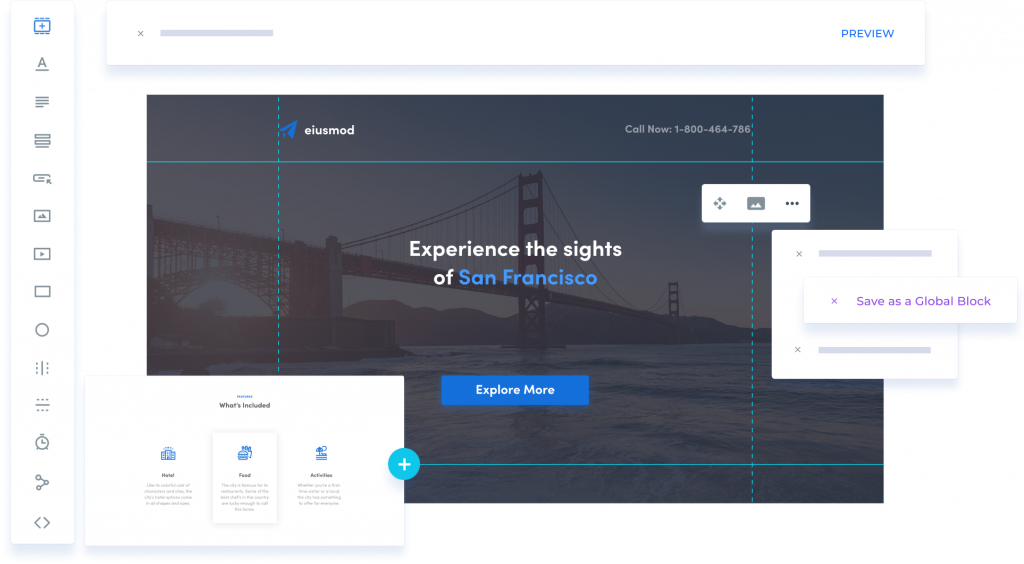 Even better, Instapage helpfully displays guidelines that help you gauge whether your buttons are exactly where you want them to be, or if you need to move that line of text ever so slightly to the left for maximum effect.
You can also switch between desktop and mobile view, which helps you ensure that your landing page will look accurate when launched on a device. You can even edit when you're in the mobile view, a feature some tools overlook.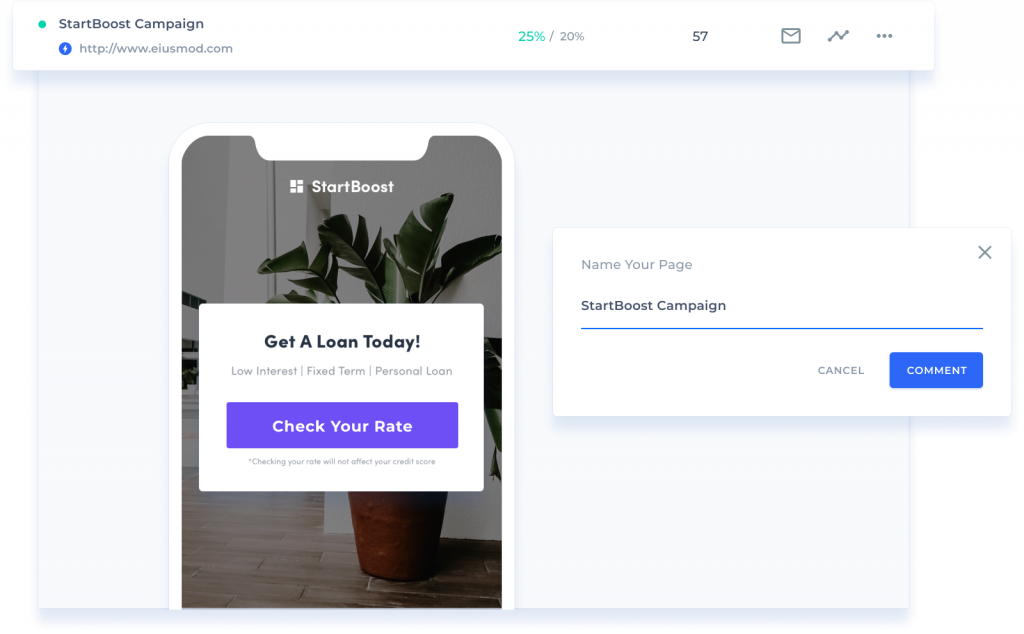 If you're creating a mobile-only campaign, this can give you a serious leg up on the competition by allowing you to fine tune for phone view only.
Another key feature of Instapage is Instablocks. In a nutshell, this gives users the option to save page elements so that they can rapidly create multiple landing pages with an identical style. This means you can focus on updating content only, allowing you to launch these pages quickly while maintaining your brand focus.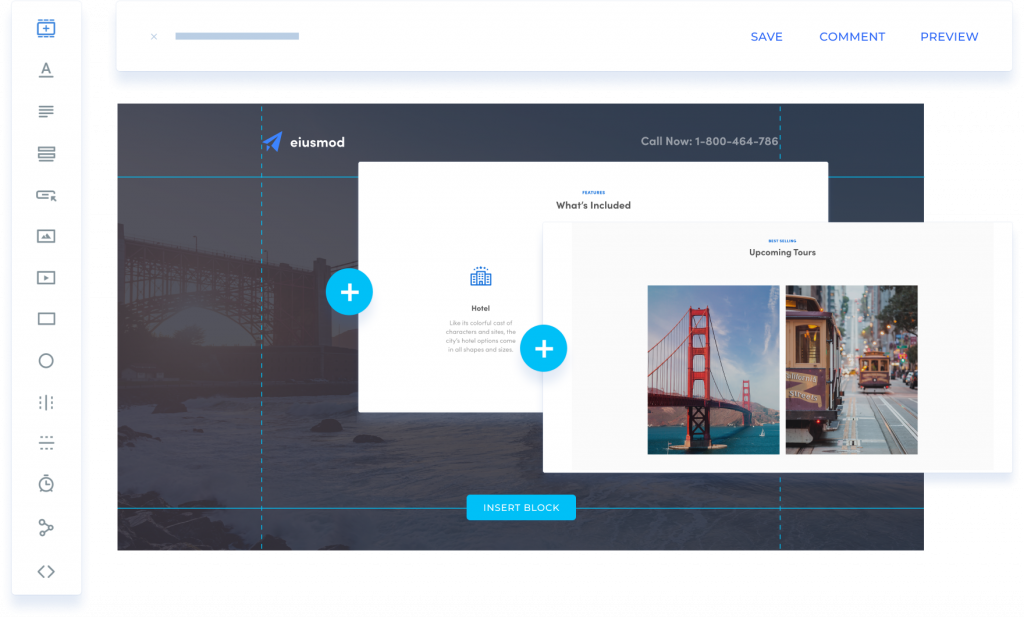 Once your landing pages are complete, you can publish them using your own domain, via Drupal websites, or via WordPress. A free plugin is required for WordPress sites, but can be easily downloaded and installed.
Split Testing Made Easy
Next, you have the ability to watch your landing pages perform through Instapage's built-in analytics tools. You can add your own Google Analytics or Facebook Pixel information (along with other conversion trackers), but also check out Instapages Heatmaps. This tool, which is only available with the Optimizer plan, can track mouse movement on your landing pages, along with clicks, scrolls, and time spent on various areas of the page. You can also implement A/B testing easily by duplicating your page in order to create an alternate page.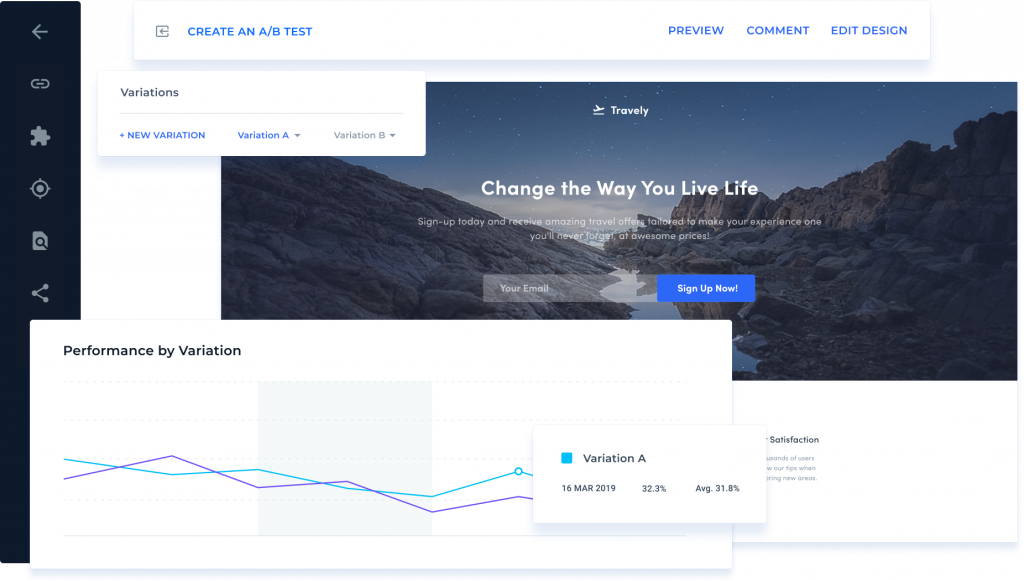 By launching both pages simultaneously, you'll be able to watch each page perform through analytics, and gauge which version of the page performs to your expectations.
How Much Does Instapage Cost?
Like most online marketing tools, Instapage offers different tiers for various audiences. The basic plan is known as the Core tier, and includes Instablocks and mobile-friendly page building capabilities. The Optimizer level is more comprehensive, and includes unlimited A/B testing, conversion goal tracking, heatmaps, and more. For those who are looking for a plan that the entire team can use, the Team & Agency plan provides 15 private accounts for a group of users, branded leads, and notifications based on brand.
Instapage offers a free 14 day test trial for users to try out the various options. After that, the Core tier costs $69.99 per month, the Optimizer runs $99 a month, and the Team & Agency level starts at $179 per month (as of this publishing). Discounted rates are available for those who pay for a full year rather than by the month.
If you're looking for a way to quickly and accurately create visually compelling, conversion-driving landing pages, Instapage may be the tool for you. Taking out all of the guesswork, while still allowing creative control, this tool provides plenty of customizable templates, along with the ability to integrate your favorite tracking tools to the included analytic options.
You'll be able to publish to various sites, and integrate with email and other marketing tools to ensure your message gets exactly where it needs to go to be seen by the right audience. Instapage won't guarantee you conversions, but it will certainly make the process of creating landing pages that lead to those conversions much easier.
Get started today and activate your Free Trial.