Many people assume that working from home is going to be a lot like working in the office. You sit down with your laptop and your phone, open all of the programs you need, and ta-da! It's business as usual.
Working From Home Can be Distracting
In theory, working from home shouldn't be a challenge, and for some people, it's just as expected. But for the rest of us, working from home can be confusing, disorienting, and chock-full of distractions.
How can you get past all of these concerns so that you can be the diligent worker you know you are? Here are some top productivity tips for those who are new to working from home.
TIP 1: Stick to Your Schedule
A lot of us have some pretty bad habits when it comes to our routine. We tend to sleep in until the last possible moment, rush through getting ready for the day, and arrive at the office just in time to get to our first meeting or call of the day.
When you work from home, you might be tempted to extend that sleeping time, and skip the whole "getting ready" part altogether. As long as you get the work done, what does it matter, right?
It turns out that keeping yourself on a schedule similar to that which you had in the office might increase your productivity.
Rolling out of bed to take your first call in your jammies may feel luxurious, but it doesn't really give you time to get your head in the game and feel fully prepared to start the day.
Instead, keep your morning routine. Get up, exercise, brush your teeth, shower, even throw on some non-pajama clothes before fixing your hair and having a nice breakfast.
If you continue to follow your morning routine, you won't feel rushed, and there's far less chance of getting blindsided by a sudden business development that may have occurred while you were enjoying those extra minutes of sleep.
Do Not Forget to Keep Things Balanced…
The flip side of this is true, too: keep your end-of-work time consistent, as well. While you may be tempted to continue working until you're done, a healthy work-life balance is important to maintaining a high level of productivity.
Don't let yourself become burnt out by working too many hours or obsessing over a project and neglecting self-care.
Instead, step away from the computer at the time you'd normally leave the office. Doing this will help you avoid procrastination, or waiting until later to complete a task, just because you have round-the-clock access to your work.
Set business hours, and make sure your tasks are all done during those hours.
TIP 2: Take Breaks As Needed
Most people aren't very good at taking breaks during the work day, especially when faced with online tasks and a schedule full of meetings. But, stepping away from the computer and taking the time to enjoy a few moments to yourself can help you feel recharged and ready to go for the next round of deadlines and due dates.
You may be tempted to spend your break time seated at your computer or staring at your phone, but try to use this time for something that will get your brain and body re-stimulated.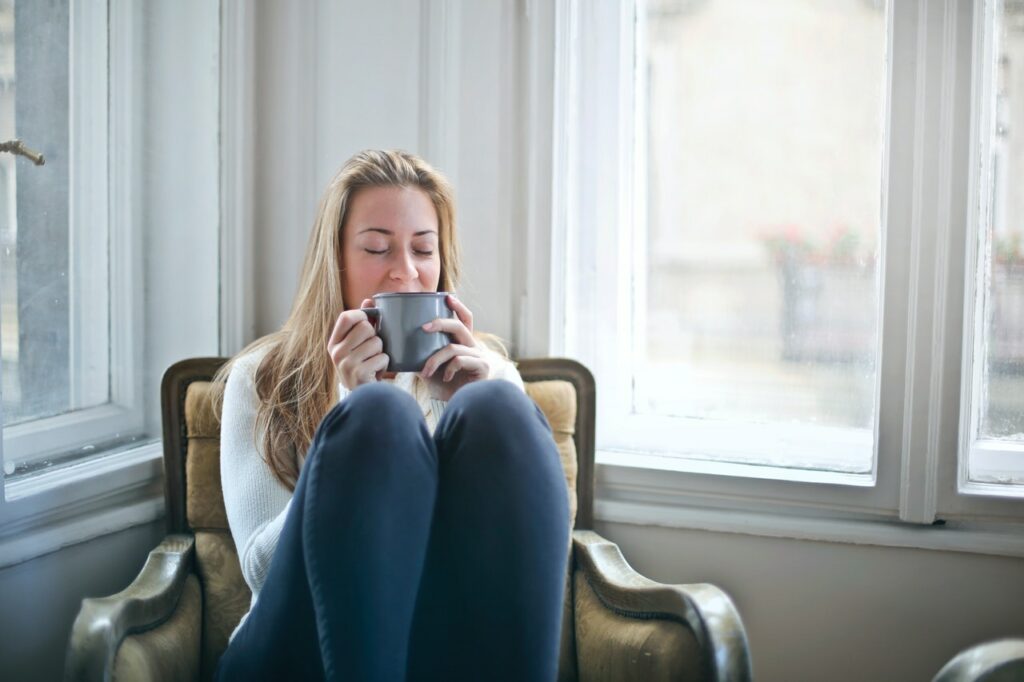 You might take a walk around your house, listen to some music, make a cup of tea, or do some quick yoga. You might take the opportunity to close your eyes and relax or meditate for a few moments.
Our brains and bodies are not designed to do the same thing for hours upon hours, so if you find your attention drifting, or you're getting that sore, locked up feeling in your neck and body, take a break!
Read also: Healthy Eating While Working From Home
TIP 3: Get Control Over Distractions
This one can be a little tricky, especially if you have pets or children who also require your attention throughout the day.
Interruptions are inevitable when you're working from home, from children fighting over a toy, to a call from the dentist reminding you to make an appointment. There will be days when you'll feel like you may never get to work.
There are a few things you can do to limit these distractions.
First
First, be sure your children and pets have enough activities and snacks to get them through a reasonable amount of time. If you know you're going to be in a two-hour meeting, for example, make sure you've prepared your family members- even the four-legged ones.
It may sound funny to think about your pets, until you have a lonely dog howling over a presentation to a major prospective client!
Second
You may need to work in an isolated part of your home in order to stave off major distractions, especially if there are other people working in your home.
Find an "office area" that blocks out any major noise distractions, such as outside traffic or your howling dog, as well as movement distractions, like children or roommates coming and going throughout the day.
Ask that everyone keep their television, laptop, or music volume to a reasonable level, too.
Get Yourself Comfortable
Pay attention to how you react to these distractions, as well. If you find yourself drifting off completely on a regular basis, you may need to make adjustments in your environment.
For example, if you're squirming a lot and walking around often, you might need a different chair or work surface.
If you find yourself paying more attention to the music in your headphones than the emails on your screen, you might want to change up your tunes to something that inspires more work.
And while the temptation may be very strong to watch TV along with your children or roommates, try not to give in. In the battle for your attention, the program they're watching will win over your dull work tasks nearly every time.
Remaining productive while working from home might feel like a constant battle, but there are a few things you can do to keep yourself on task.
If you find yourself struggling with the same problems repeatedly, it might be time to reach out for help from a coworker or manager.
Many people find that working from home is very different from working in the office, and it can require an adjustment period before it feels comfortable and familiar.