If you're new to affiliate marketing, you might be vaguely familiar with the term "affiliate network". In fact, you've probably seen references to ClickBank here and there. But what do these networks, including ClickBank, and should you investigate this site further?
As a first step of the process, you may find interesting to follow our free course "Online Business from Scratch" to learn more about affiliate marketing and affiliate marketing networks.
A few words about Affiliate Marketing and Affiliate Neteworks
Affiliate marketing, as you know, is the business model in which you, the affiliate, provide marketing for a vendor (or a merchant), who creates and sells a product or service. You'll make money through commissions from sales generated through your individual marketing efforts, usually tracked with a specific link.
Affiliate networks basically act as middle man between the vendors and the affiliates, connecting those doing the marketing with thousands of products that are just waiting to be sold. ClickBank is one such network, with a vast network of vendors active in their marketplace. Let's take a closer look at how this site works, and how you might be able to incorporate ClickBank into your strategy.
How Does ClickBank Work?
The process is easy enough: simply sign up to create a ClickBank affiliate account. From there, you'll be able to peruse their marketplace, which is chock-full of various types of products from vendors in pretty much every niche you can imagine.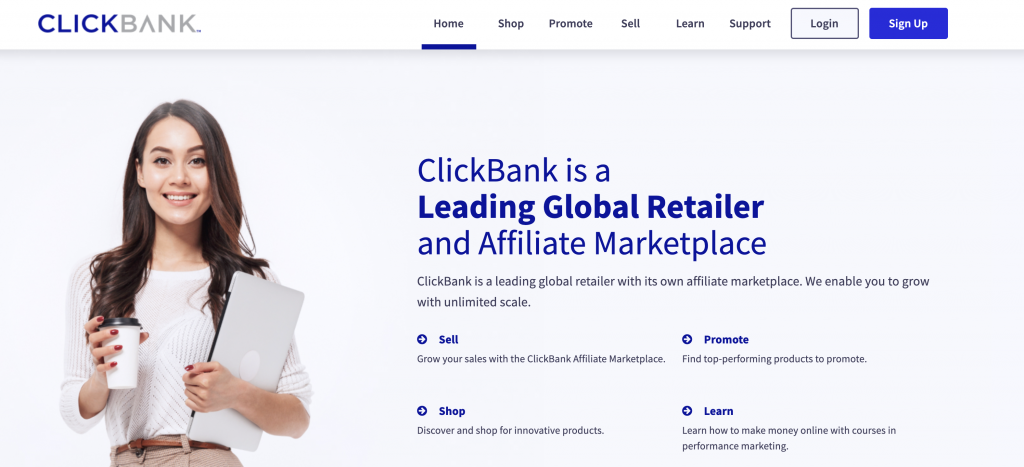 Once you select the product you'd like to start marketing, you'll receive your affiliate link directly from ClickBank. That link specifies all sales generated from your affiliate account to the vendor's site. Therefore, all you need to do is post that link in your marketing efforts, and you'll receive credit (and thus commission) from purchases made via that link.
Your commissions, therefore, are paid through ClickBank, rather than directly from each vendor. Everything is tracked via your link, which takes the guesswork out of working with a vendor. With over 20 years in the business, and stats that include 200 million plus customers and tens of thousands of products, ClickBank is a network that has a significant amount of experience in successfully connecting affiliates and vendors.
Why Would I Want to Work with an Affiliate Network?
While some affiliate marketers prefer to work one-on-one with their vendors, there are a few advantages to working with a network like ClickBank.
First, there are quite a few vendors who work exclusively through affiliate networks. Networks allow vendors to focus on creating their products and maintaining their own sites and business, while the network takes care of the business side of marketing.
The network provides tracking of sales, analytics to the marketers, and sends regular payments. Vendors can enjoy the added traction of affiliate marketers spreading the word about their products without having to field questions, track payments, or deal with the minute details of establishing an affiliate relationship.
ClickBank Commissions
Another bonus to using a network, as an affiliate, is that you'll know when and how to expect payment. Since you're being paid through ClickBank, instead of through the vendor, you can anticipate regular payments for commissions earned up to 60 days after you post a link. That means no manual tracking on your behalf, no potential disagreements or audits with a vendor, and no need to keep up with various contracts.
In fact, ClickBank offers many products with recurring commissions. This means that as long as the vendor continues their subscription with the network, you can continue to market for and receive money for sales related to your link with that vendor.
Your ClickBank account includes access to advanced reporting analytics, which can help you track how your links and efforts are performing without having to subscribe to extra analytic tools. An affiliate network provides consolidation of all of your links, allowing you to see performance across all aspects of the process.
You can also use the site to form partnerships with other affiliates to increase your influence and expand your network. There are tools available to help you form payment contracts so there are no questions about "who made what" at the end of the day.
How Do I Decide What ClickBank Products to Choose?
Well, that's actually a bit of a loaded question, because there are, quite literally, tens of thousands of opportunities on ClickBank, and that's just one of the many affiliate networks out there!
There are a few things to keep in mind, though. First, consider your niche. If you are an established affiliate marketer, head directly to the category that best aligns with your niche. There are two dozen main categories on the ClickBank marketplace, from "Arts & Entertainment" to "Health & Fitness" to "Travel", and each category offers multiple sub-categories to choose from. This gives you the opportunity to browse your niche as well as any related areas to find the perfect product for your endeavor.
Searching the Products to promote
The search results in ClickBank present much like Google search results: you'll see the product name, a brief description, and the affiliate resource website. You'll also see some stats: these demonstrate the average money made per sale, average percentage per sale, and the overall Gravity of each product. In ClickBank terms, "Gravity" refers to how well a product sells within a niche.
You'll also be able to narrow down your search, based on sales metrics, language used (very important for international marketing!), and product types. This allows you to custom-tailor your search to products that you will be most likely to market successfully.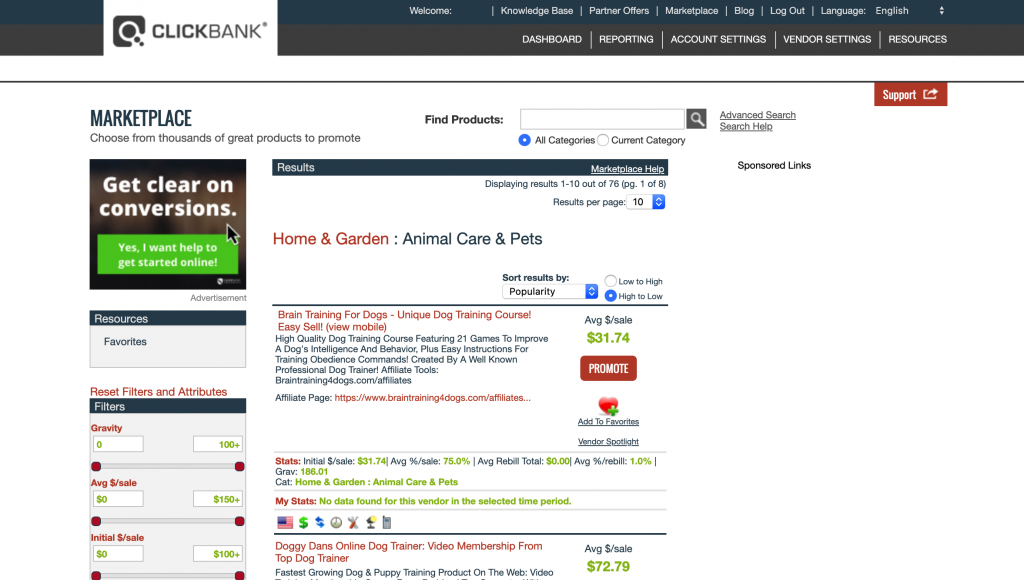 If you're new to affiliate marketing, the steps will be the same, of course, but if you don't have a niche, this search tool will help you discover options that excite you. "Finding Your Niche" is a topic we cover in more detail in our online class, but if you are still in the process of trying to choose between a few interesting areas, perhaps the sales details of a few offerings on ClickBank will help you make up your mind.
Read also: the importance of selecting the right niche.
Additionally, those who are new to affiliate marketing can search for vendors who offer affiliate tools. This means that those particular vendors offer assistance to get you started pitching their product, with ad copy, content suggestions, templates, and even testimonials you can use on your own site to encourage others to purchase the product you're marketing.
Conclusion
While you'll still need to take your time in selecting the products and vendors for whom you provide affiliate marketing, network sites such as ClickBank make the process a bit easier.
With a large marketplace of options to choose from, and consolidated analytics of various sales metrics all on one site, you'll have the ability to check out performance and new products through one direct site. You'll also have the peace of mind of receiving your distinct link and payment directly from ClickBank.
For many affiliate marketers – especially those new to the experience – these features make working with networks like ClickBank very attractive.