Much as philosophers have been arguing about "the chicken and the egg" forever, marketers have been holding a similar discussion about what is more important: Design, or content?
The importance of a good Design
We've mentioned the importance of content a lot, and how the elements of design can drive your overall user experience. It's obvious both of these factors figure highly into the success of your website.
But this is not so much a philosophical blog. Instead, the goal is to provide readers with helpful tools, ideas, and suggestions, so we'll leave the arguing to the philosophers, and instead look at a helpful tool that can assist with the design element of your business' website.
When it comes to big projects, you might wish to hire a professional to help you with elements that aren't naturally in your wheelhouse. You might hire a freelancer for huge copy jobs, a social media expert for managing all of your accounts, and a web designer to create your website. But what about those smaller tasks: tasks that you should be able to knock out in minutes, if you knew what you were doing.
Canva is a tool for exactly this situation. Professional designers receive years of training to do what they do. But if you need a quick, easy design for a smaller project, Canva is an option that can handle the task quickly from anywhere.
What Is Canva?
Canva's slogan is "Design Anything", and they really mean that. A quick review of their online template listing reveals several close to 100 potential categories, from posters, presentations, and videos, to social media postings, menus, web banners, and ads.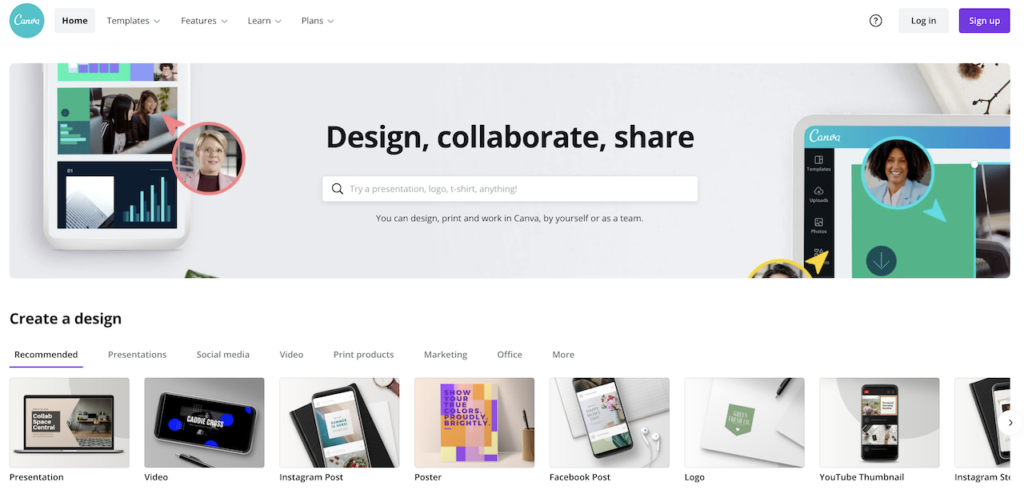 Even better for the small business owner is the line "made for non-designers". Canva uses drag and drop technology to help you build your projects, and offers handy previews and slide tools to help you find just the right level of "zhuzh" for your design.
Follow this link to open a free Canva Account.
You don't necessarily need to have all the right images downloaded on your computer to start, either. While Canva allows you to upload your own photos, you can also choose from over a million images, including stock photos, vectors, and illustrations.
From there, you can make the necessary adjustments with the filter presets or advanced editing tools. You can add icons, shapes, and other design elements, along with hundreds of fonts. The result? A design that expresses all of your ideas without requiring a vast wealth of design knowledge.
How Does Canva Work?
Canva understands that millions of choices can be overwhelming, especially when you might not fully know what you're looking for. Canva makes it easy to get started with a sign up process that requires only an email address. You can also choose whether to signup with your Facebook, Apple or Google account.
From there, processes are outlined via breadcrumbs to take you one step at a time through the design process. In fact, there are plenty of tutorials and videos in the Design Center to help you work through a new design.
The process of designing a logo, for example, requires just a few basic steps. First, log into Canva. Then select a blank page or logo template to get started. There are many professionally-designed templates ready to be personalized for a variety of categories, like sports, automotive, and restaurants.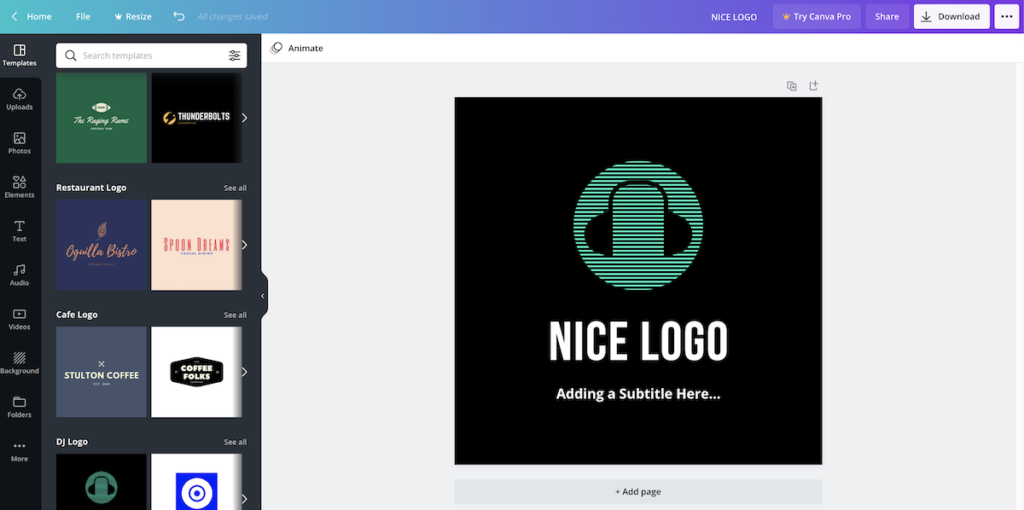 Once you've selected a template, you'll have the ability to make all the adjustments you desire. From fonts, to colors, text content and images, you have the design control you crave, with drag-and-drop simplicity. What you don't like can be undone and redone in seconds.
After your logo has reached the point of perfection, you can download it, share it or save it in JPEG, PNG, or PDF format.
How Much Does It Cost?
Like many handy web-based tools, Canva understands that not every individual has the same usage needs, and they have tailored their plans accordingly.
Free Plan
A Free plan is available, which includes limited access to templates and designs, but "limited" still means 250,000+ templates and 100+ designs. This plan also includes free photos and images, with the option to purchase additional images a la carte. You'll also be able to add team members to your Canva account, where they can help with real-time comments and updates. You can enjoy up to 5GB of cloud storage for your projects, as well.
Pro Account
For those who have more robust design needs, the Pro account takes things up to the next level. That includes unlimited access to all of Canva's tools and content, which includes 420,000 templates and 75+ million free images, videos, and audio samples. You'll also have access to one-click Magic Resize, a 1 Brand Kit, which allows you to update your existing fonts and logos to help you personalize documents, and social media scheduling for up to 7 platforms. You'll also have 100GB of cloud storage for ideas, drafts, and designs you may choose to reuse as team templates.
Enterprise Account
And if you still need a bit more, the Enterprise level is intended for just that. This plan is intended for teams who will be working on a lot of simultaneous design projects, and includes access control for team members, as well as built-in workflows to ensure everyone is aware of the right steps for each project. This plan also comes with unlimited storage and 24/7 support.
Final Thoughts and Signup Link
As business owners, we know that just the right image will help our marketing plans gain traction, so using a professional design tool will help take your email newsletters, social media posts, and even a simple brochure PDF to email to a client to a new, more exciting dimension.
While Canva won't solve the dilemma of which is more important: the design or the content, it will let you take charge of your design concept, and allow you to jazz up your content with all the right elements to get your brand noticed.
If you need a complicated web design, it's best to contact a professional, but if you're looking to create a buzz with some fine-tuned graphics, perfectly filtered images, and fonts that stand out in a crowd, canva.com is a tool to check out. You can signup for a free account by following this link.