There are a lot of tools available online to help digital marketers find success. You may think you've got all the tools you need to help you send email, organize your accounts, create landing pages, and do all of the things that help draw customers into the sales funnel. But one area in which many marketers find themselves floundering a bit is tracking the performance of their ads.
Are you properly tracking all your clicks?
If you are one of those who's doesn't pay too much attention to your external or affiliate links, you should definitely take action and use a tool which help you to determine the effectiveness of your marketing efforts, as well as the ROI on your advertising campaigns.
One of the best choices in the market is ClickMagick, a tool dedicated to helping users track, optimize, and scale all of their marketing endeavors. There are over 120 separate functions and settings available through ClickMagick to help you place your investments and ads in more intelligent places to increase that ROI and make some real profit.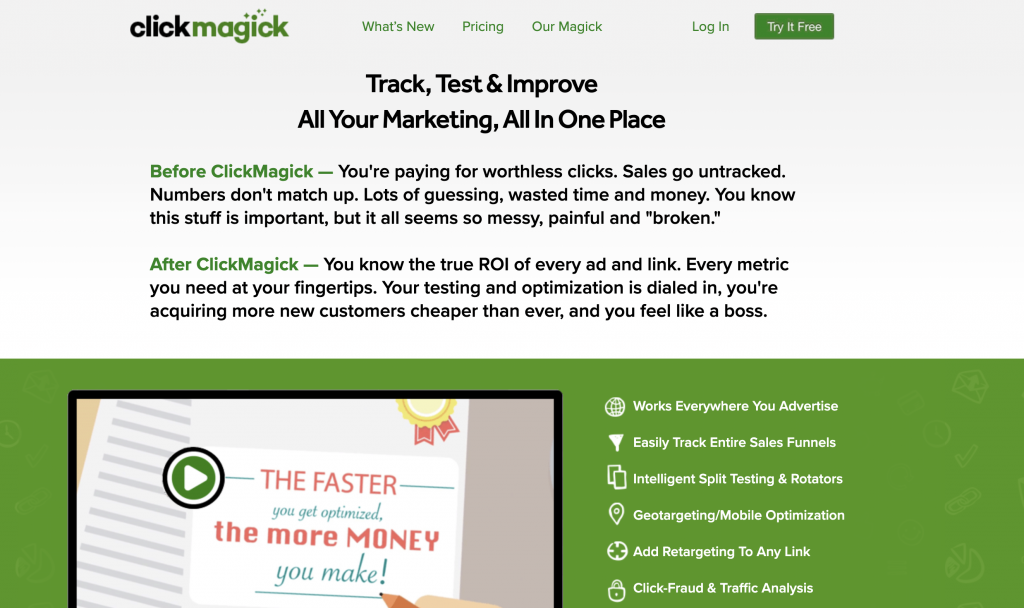 Let's take a closer look at some of the functions of ClickMagick to determine how this program can help you make better marketing decisions.
The Powerful ClickMagick Tracking Links
The first and foremost feature of ClickMagick is link tracking. "Link tracking", or "tracking links" are one of the most popular solutions to invisibly monitor your entire sales funnel. Tracking links are able to provide detailed insights about who clicks where on your pages, including where they're located, whether they're using a laptop or a mobile device, what browser they're using, and much more.
Knowing who your audience is and how they interact with your site can help you more specifically target certain types or groups of visitors. The more you know about your audience, the easier it will be to tap into their wants and needs, helping to drive smoother, more robust conversions, and gain lifelong customers. And we're all interested in more conversions and lifelong customers, right?
ClickMagick allows users to create individual tracking links or blocks of links for every offer or page you might have active at any given time. Using industry standard UTMs and first party cookies, your users will have a seamless experience, while details are collected and reported back to your ClickMagick dashboard.

In fact, the Click Shield intelligent software allows you to monitor your clicks and block unwanted bot clicks, which can drive up the cost of your ad without providing any type of revenue for you.
Link Rotators
You'll also have the ability to utilize link rotators to distribute traffic to different landing pages. Using the Rotator feature, you can set up rules that will send your link traffic to a variety of landing pages.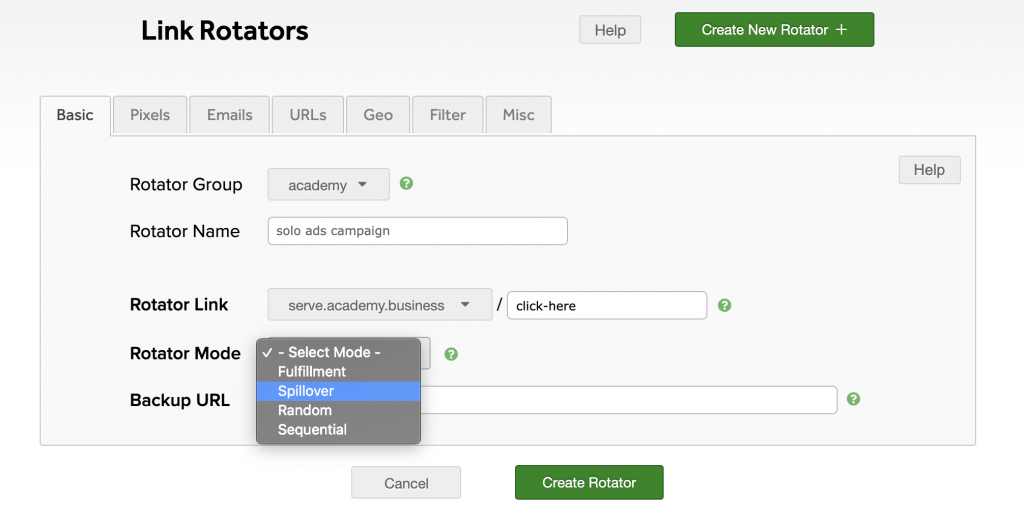 These rules include location, type of device, and even send any bots and other low-quality traffic to their very own special place.
Rotators are often used by those marketers who want to try out different affiliate offers and see which one converts better, or they are also used by solo ads vendors to alternate their clients links.
Other ClickMagick features
ClickMagick also offers cross-device tracking to help you understand the online behavior of your visitors. Instead of counting one click from a device, one from a phone, and one from a laptop, cross-device tracking helps you understand which clicks belong to which visitors, providing more accurate data about your audience.
Automated and Intelligent Split Testing is a feature that will help ease the process of A/B testing for anyone wanting to try out different options, including alerts that let you know the winner. In fact, you can even set ClickMagick to automatically direct traffic to the winner of A/B testing, once the stats have been calculated.
Is ClickMagick Easy to Use?
With so many standard features, it stands to reason that not every action is going to be intuitive to every user. That's why ClickMagick provides plenty of support and assistance for its users. There's a searchable knowledge base that provides step-by-step screenshots with detailed instructions for every function.
You can access the knowledge base at any time by clicking the "Learn" button at the top of your ClickMagick screen.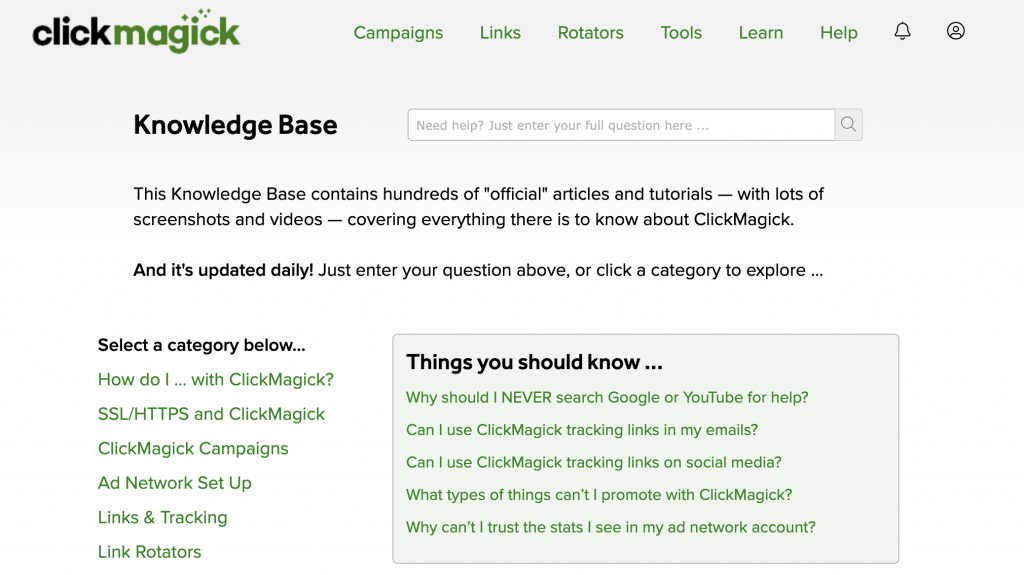 In the event that the knowledge base doesn't give you quite the answer you're looking for, contacting the Helpdesk is also a cinch. A live chat is available, as well as email support. Don't fear the dreaded email response lag time, either.
ClickMagick prides itself on rapid resolution of email issues. In fact, they even post the current email response time and resolved ticket status on their Help screen.
Once you've gotten your account fully set up, you'll easily be able to track the results of your efforts with automated notifications, which can be sent to your email or phone. This means you can have the benefit of real-time alerts when your landing page conversion rates drop, or in the event your average customer value changes.
Set your notification triggers to let you know when a particular function is performing poorly, and you'll be able to instantly log in to correct the issue: whether that's sending traffic to another page, scrapping an offer, or making a tweak to UI/UX details.
How Much Does ClickMagick Cost?
As with many tools, ClickMagick is available in a variety of access tiers, which allow users to choose exactly the plant that fits their needs.
The Core features of ClickMagick are available with all plans, and includes (per ClickMagick's site) the following features and capabilities:
Easily track entire sales funnels
Intelligent Split Testing & Rotators
"Linkless" Tracking w/ No Redirects
Add Retargeting Pixels to Any Link
Geotargeting & Mobile Optimization
Flag/Block Bots & Non-Human Clicks
Click-Fraud & Link Monitoring
Track Unlimited Opt-Ins, Goals & Sales
Custom Tracking Domains
Mobile/SMS Notifications & Alerts
Unlimited Postbacks/Webhooks
Lightning-Fast Redirects
Affiliate Marketing Tools
Real-Time Stats
The Starter Plan
This plan costs $27 per month, and includes a sampling of the most utilized features. You'll have access to up to 10,000 Clicks per month with unlimited conversions, two custom tracking domains, tracking for one funnel, six month data retention, and limited helpdesk support.
The Standard Plan
This plan steps up from the Starter, and costs $67 per month. For the increased price, you'll have more robust access to ClickMagick, including up to 100,000 clicks per month, cross-device and phone sales tracking, tracking for up to five funnels, and full support, including one hour turn around on email tickets, live chat, Zoom calls, and one-on-one onboarding with the support team.
The Pro Plan
The Pro Plan is for serious marketing gurus, and includes up to one million clicks per month, unlimited funnel tracking and custom domains, and two year data retention. This plan runs $97 per month.
Conclusion
When it comes to choosing your online marketing tools, it's important to choose wisely to avoid paying for multiple solutions to the same problem.
Tools like ClickMagick are invaluable to business owners and online marketers, due to their ability to help you not only create the tracking solutions you need, but then allows you to monitor your campaigns closely.
The result? While no software can guarantee results, there are a few things that can be directly related to a well-targeted campaign, including higher ROI, more intelligent ad investment, and of course, more satisfied customers.
Track and optimize all your marketing, all in one place, so you can get more leads, conversions and revenues.