When the term "entrepreneur" comes to mind, you might think of someone who owns a every part of a business. They create the products, they market the products, they take orders, and they fulfill all of those orders personally.
This is a great model, but for many new business owners, it's a lot to handle all at once. In fact, there are two additional business models that use a form of outsourcing to assist with all of the moving pieces of business ownership: Dropshipping and Affiliate Marketing. But how does each process work, and what are some of the benefits and downsides of each?
How Does Dropshipping Work?
Dropshipping is a business model in which you have the opportunity to concentrate on your marketing and sales skills without fussing over inventory levels or coordinating shipping.

In this business model, the entrepreneur creates a website. The products advertised on this site are not the entrepreneur's own, but products they can order from other sites. When a customer places an order on the entrepreneur's site, the entrepreneur then orders the product from their supplier. The supplier then packages the product and ships it to the customer.
Example of a Dropshipping Business
So: Mr Doe has a website that sells workout equipment. When a customer orders from Mr Doe's website, Mr Doe orders that piece of equipment from AllWorkout Enterprise. AllWorkout Enterprise then directly ships the equipment to the customer.
At first glance, this may not seem like a business that would make any profit. This is where the entrepreneur has to do some legwork before setting up their site.
Mr Doe may sell a piece of equipment for $20, but when he orders this item from AllWorkout, he pays $10. So, while Mr Does doesn't have to maintain inventory or ship anything, he makes $10 from making sure the customer to his site gets exactly what they want.
Learn More about Dropshipping: Free Webinar
How Does Affiliate Marketing Differ?
Affiliate marketing is quite similar, in that individuals do not manage inventory or shipping. However, in affiliate marketing, the entrepreneur is 100% transparent that the products come from another source.

While the droppshipping model requires the seller to maintain a website that lists products and prices in order to make profit, affiliate marketing simply requires the entrepreneur to promote a product. They take care of marketing a product or a business as a whole, and the receive a portion of the profit as a result.
Example of an Affiliate Marketing Business
Using the example with Mr Doe above, affiliate marketing will look slightly different:
Mr Doe is a huge fan of working out. He maintains a very popular blog about exercise and maintaining a healthy lifestyle. He creates a series of posts on his various social media outlets that educate his followers on his preference for AllWorkout Enterprise's equipment. He provides positive reviews, and encourages his followers to check out AllWorkout Enterprise's website, which he links to directly.
At no time does he claim to represent AllWorkout Enterprise. However, because he is an affiliate marketer, when his followers click on the link he provides to AllWorkout, he receives a commission for that sale.
Affiliate Marketing vs Dropshipping: Which Is Better?
There's really no easy answer to that question. Each business model requires an investment of time, as well as a certain amount of marketing know-how.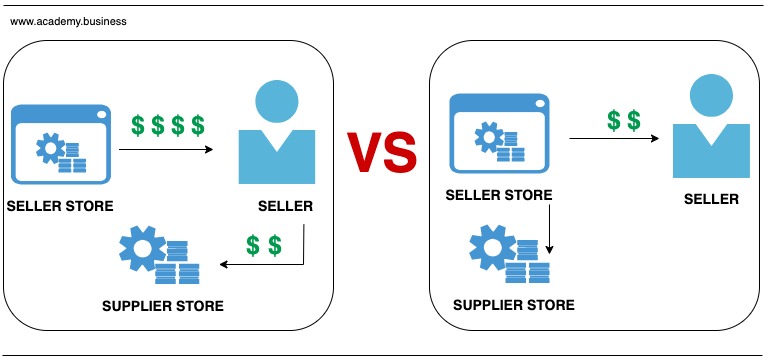 You will need to know how to establish a rapport with your audience. You will need to know how to draw attention to ads, and even create those ads. You will be best served if you have a mailing list or a strong list of followers. Your content will have to be spot on. In essence, you will need to market with the same amount of care and effort as you would a product created by your own hands.
At the same time, both are low-risk models, overall, since you're not spending a significant amount of time and money trying to move inventory. If you're seeing very little interest in a specific item, a dropshipping business owner can simply remove it from their site, while an affiliate marketer can focus on another product from the same sponsor company (depending on their contract).
You never have to worry about a storage unit full of product you can't move. You won't have to agonize over deciding which shipping method is best, or making sure you get product bagged and ready for shipping quickly. The good thing is: you can actually focus all of your time and energy on the marketing process.
The Pros and the Cons of the Two Methods
As with every business model, however, there are pros and cons to each.
With the dropshipping model, you do have great control over your profit. This works in a variety of ways. First, you are building your own brand. Your website features your business name and is updated by you. You will need to generate your own leads. Every aspect of your site, from content and copy to the checkout process will include your branding and be at your discretion.
However, that means that you are responsible for the customer experience. If a customer receives a product that doesn't live up to expectations, they will contact you, not the manufacturer or wholesaler. You will need to coordinate any refunds or resolutions. These interactions will also be reflective of your brand and your business, too.
Dropshippers do have the advantage when it comes to getting paid, because they are able to set their own prices, and the profit from customer purchases come through their accounts. That being said, they need to be savvy. Customers will be unwilling to pay more than the perceived value of the products offered, so dropshippers will need to be sure that they are able to find the sweet spot between profit and a fair price.
In contrast, affiliate marketers have no control over the pricing, product, or service received by customers.
In many ways, this can be a positive thing. Rather than having to coordinate refunds and exchanges, affiliate marketers are able to concentrate 100% of their efforts on simply endorsing and spreading the word of the company with which they are affiliated. Since any sales are made directly through the merchant, it is the merchant's responsibility to handle the customer experience.
There can be some downsides to this, however. Affiliate marketers have no control over anything that happens on the merchant's side. They can only hope that the merchant fulfills their part of the contract. This includes making sure items deliver on expectations, are high-quality, and perform as well as the affiliate marketer claims they do.
If a merchant provides terrible customer service, for example, this can cause customers who purchased through the affiliate marketers to see both the merchant and marketer in a negative light.
Additionally, affiliate marketers do not have control over how much and when they are paid. Though these terms will be outlined in the contract between them and the merchant, they will typically make a smaller percentage that is only paid per a certain number of clicks or conversions (depending on the contract). They might spend a significant amount of money placing ads, and writing and finding ways to promote copy, only to make a small fraction of that investment back due to poor sales.
Using these models in your Business
For those who are not quite ready to manufacture or source their own product, business models such as dropshipping and affiliate marketing can be very attractive.
Both are relatively low-risk methods of interacting with potential customers, gaining leads, and earning profit from sales. There are, of course, high and low points to each model, so be sure you're well aware of the risks and benefits equally before making the full investment of your time, money, and potential branding.