A smart marketer hopes to reach as many prospective customers as possible with their ads. However, a smart marketer owner also knows that ads can get very expensive, very quickly. While you have to spend money to make money, as the saying goes, you also want to be a savvy consumer yourself, putting your hard earned profit into ads that will gain you even more profit.
Alternatives to Google Ads
Many of us have taken the leap to Google Ads, and are familiar with the cost-per-click business model. We all also grimace at the costs of keywords, and the seemingly endless competition for some of the more popular keywords.
You may have heard of Bing Ads as an alternative to Google Ads, and wondered if you should pursue this opportunity. On one hand, it can never hurt to try out a few new advertising and marketing options. On the other hand, well, no one wants to just throw money away.
Let's look at Bing Ads, and why you should consider trying this route for your own business.
About Bing
First things first, Bing is very much still "a thing". In fact, it's a very big "thing". Bing is owned by Microsoft, and operates across three major search engines: Bing, Yahoo, and AOL. The phrase "Bing Ad" is therefore somewhat of a misnomer, since your ads will be seen on all three platforms.
In fact, a quick glance at the Microsoft Search Network data on the topic reveals that over 130 million people actively use the Bing Network. Around 34% of desktop searches within the United States are conducted via Bing for a total of 5.4 billion monthly searches.
Furthermore, drilling down into those statistics, Microsoft has discovered that over half of the Bing network users are over 34 years of age, and make over $40,000 per year. In fact, more than one third of the folks searching through the Bing network are earning more than $100,000 per year.
Those are not tiny numbers.
The first point to consider then, when deciding whether to try Bing Ads, would be whether that demographic might have an interest in your business. That's a large segment of the population, but if your business caters to a specific population or age group, you might be fine with your current strategy. Otherwise, read on.
How Does Bing Ads Work?
The operational side of Bing Ads isn't too dissimilar to Google Ads. In fact, when you sign up for a Bing Ads account, you have the opportunity to import your Google Ads settings to your new account.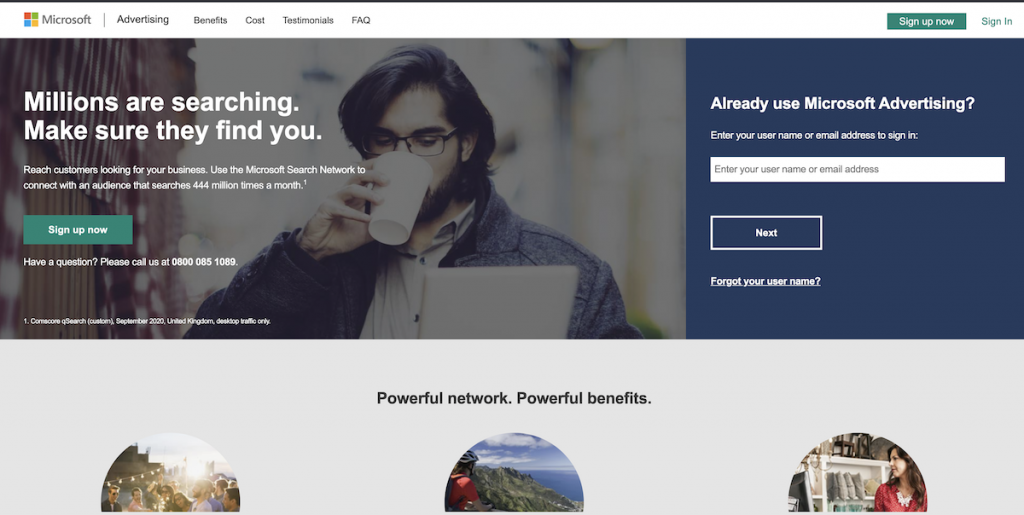 However, Bing offers a lot more customization at the ad group level. Those familiar with the Google Ads format are aware that business owners can modify several different settings at the Campaign level, including network, location, language, scheduling, and rotation of multiple ads.
Bing ads brings these types of customizations to the ad group level, as well, including the exclusive ability to assign a specific ad campaign to a specific time zone, which can be incredibly helpful for targeting ads accurately around the globe.
Bing also provides insight into traffic, including transparency regarding its search partners. Users will know exactly how their traffic got to their site, with detailed reports that outline each partner's impressions, conversions, and more.
How Do I Know If Bing Ads Is Right for Me?
Before you make the big jump and plunge your hard-earned money into an ad campaign, check it out yourself! The Bing Ad Preview Tool makes it easy to see how your keywords perform.
In addition to letting you play with different keywords to preview a variety of searches, which can be customized based on location, language, and the Bing platform for the area you're targeting, this site will provide you with additional information and tutorials on how the process works.
From helping you troubleshoot solutions for gaining a specific type of traffic, to demonstrating the volume of trending searches and keywords, Microsoft's Advertising center is incredibly helpful for those just getting started with placing ads on the Bing network.
About the Certification Program
Users also have the opportunity to complete a Microsoft Advertising certification. The courses and exam are free, and once you've passed the exam with at least an 80%, you'll have a badge that can be displayed on your site (or on your business cards, resume, and other places where having more certifications will gain clout!).
You'll open the door to creating automated responsive ads, dynamic search ads, and perhaps most notably, take advantage of less keyword competition, which for many advertisers using Bing Ads results in a higher click through rate and a lower cost per click.
These results, of course, are not guaranteed. Your niche might happen to be extremely popular or perform less positively on Bing. For example, the stats indicate that those who use Bing searches really enjoy robust images, so those with minimal graphics might have a tighter race than someone running a photography business.
Conclusion
In the end, only you can decide whether Bing Ads is right for your business. You may wish to do some early reconnaissance work through the Ad Preview Tool, or spend some time becoming more familiar with the Bing Network and its audience.
You'll also want to pay close attention to your budgetary needs and concerns. Signing up for a Microsoft account is simple, and you do have the opportunity to evaluate your ad program through Bing Ads before going live.
This can help you determine whether an experiment or two will benefit you, or whether you should wait for a more lucrative time, perhaps during a holiday rush, or when you're offering a key special.
In the world of advertising and marketing, there are no guarantees, but it's also important not to leave any cards on the table. And with a potential audience of millions of individual searchers making billions of unique searches, it's never a bad idea to consider Bing Ads as a potential option for your business.
Get Real People Straight to Your Offer! 🎯
Receive a $5 Signup Bonus
Are you on a limited budget? Would you like to test out a new offer and send it to thousands of real people on the market? Click the button below and get in contact with hundreds of solo ads sellers. Prices start from $0.40 per visitor. Free to join, no hidden costs!