Whether or not the name rings any bells off the bat, nearly everyone who uses a computer is familiar with "Software as a Service" or SaaS.
A Word from the Past…
Remember the Dark Ages of the internet, circa 1998? In those days, we had to purchase software, usually in a box at a specialty computer store. Inside was a floppy disk or CD-ROM that we'd dutifully load into the correct drive of our bulky computer tower.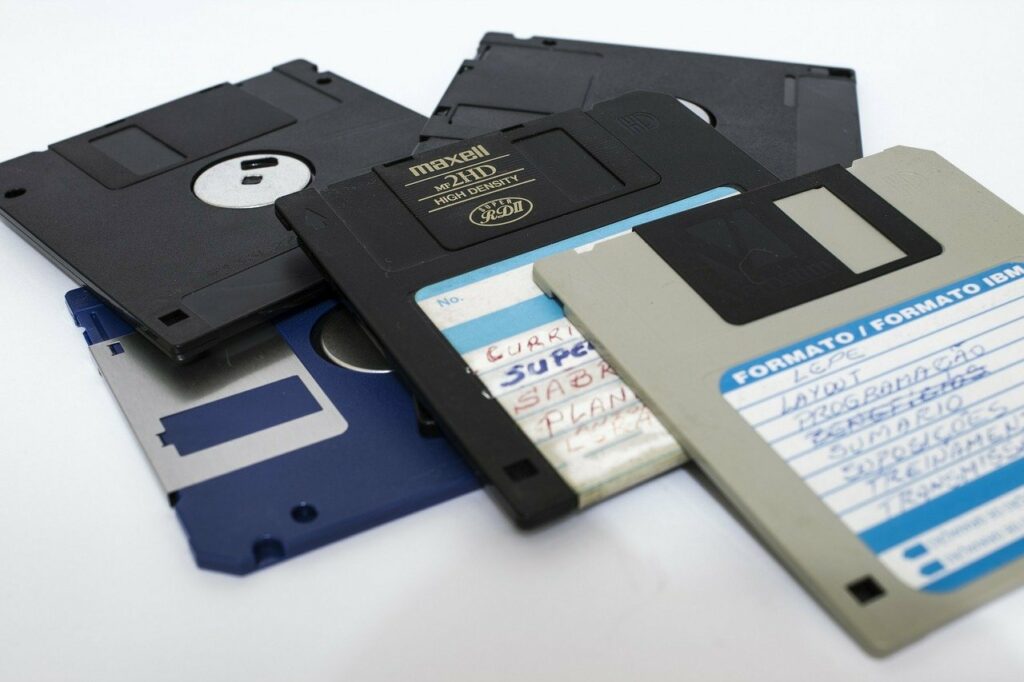 If we were lucky, there was an "Install Wizard," but typically, we had to manually navigate through various prompts and menus before giving the computer several hours to "boot up" the software.
For those who weren't there, this may sound like an utter nightmare, but it was the very real process anyone followed for installing important software, like Microsoft Works, AOL, Adobe, and more.
Therefore, it would seem that the cloud-based software of the modern era would practically sell itself. While it's clearly far more desirable than the discs of days gone by, its popularity means that the teams tasked with selling it have developed a keen sense for sales.
The software as a service sales model has been refined for the product it sells, but includes many key points any sales specialist might benefit from.
What Is Software as a Service (SaaS)?
As a business owner, you likely enjoy many products from the SaaS model today. This type of software is accessed online, and is hosted and managed by a single provider, who also provides a secure online user environment, as well as customer service and support for its product.
The idea of the SaaS dates all the way back to the 1960s, with IBM mainframes that provided storage and computing power to larger businesses.
In the 1990s, while plastic disks were still king, the idea of the application service providers, or ASP, began to catch on, with applications becoming available over a local area network, or LAN. While ASP was more centralized on hosting third-party apps, Software as a Service models include development, management, and centralized hosting, all under one service.
For the user, that means a more simplified approach to having the technology you need. Upgrades and updates can be handled virtually, rather than having to go to the store to buy the newest version, or waiting for the developer to mail you the new material on a disc.
Instead of outdating themselves quickly, SaaS must keep ahead of the trends to be successful. This also means increased usability, with help just a live chat or FAQ away.
What Are Some Special Considerations of the SaaS Sales Model?
The main challenge to launching a successful business selling Software as a Service is competition. For every innovative idea, there will be dozens of similar or near-identical options.
This, in turn, impacts the sales efforts in two ways. First, the sales approach needs to demonstrate distinct knowledge of the product.
What does it do? What does it not do? What problems does it solve? At which tasks does it excel? How does it compare to the competition's offerings?
The second major consideration driving sales tactics is knowing the technology behind the SaaS. Some technology integrates well, with plugins, compatibility updates, and shared uploads. Other technology interacts poorly, or not at all.
Sales discussions involving SaaS should not only acknowledge existing technology, but be upfront as to whether the product being represented will play nicely with the programs the potential client is already using.
If a client needs to make major renovations to their current operating systems, they're definitely not going to purchase a new product, due to the expense and time requirements.
Therefore, the Software as a Service sales model needs to incorporate significantly more detail than your average sales campaign.
Customers aren't just looking at one specific type of software. They're looking at a myriad of very similar types of software, and they need to be able to use it Day One, with their current systems and technology. They want to know that they can click, purchase, and use immediately without compatibility issues or system delays.
As a result, many customers take their time shopping for new software, which means asking a lot of questions and doing a significant amount of research. The sales technique used should reflect these customer needs.
Examples of Sales Methods for Software as a Service
The three most common sales strategies for SaaS are:
Customer Self Service
Transactional sales
Enterprise sales
Let's analyze these three strategies:
Customer Self Service
Customer Self Service models are seen frequently for public-use SaaS types. You have likely encountered a few of these sites as you worked to build your own business.
Typically, customers visit the website of these programs, read all of the key features, perhaps watch a demo and explore the frequently asked questions, and check out pleased customer testimonials.
Once they're satisfied that the product meets their needs, they click on the button next to the service they want to purchase, and are led through the automated installation process.
This type of sales model has many benefits, such as little to no need for sales professionals, which means keeping costs down. On the other hand, it means you have one big chance to impress the customer before they click over to the next link that appeared on the search engine.
You've got one shot to provide all of the information customers need to be certain this is the right purchase.
Transactional Sales
Transactional sales are the more traditional sales model. Inside sales reps contact qualified leads to coach them through the sales funnel in a direct, personal method.
A relationship is established between the sales rep and the purchaser, in which questions are asked, feedback is shared, ideas are bounced off of each other. The person making the sale should establish themselves as a trusted expert, while the person in charge of making the final purchase should feel confident in the information provided.
This type of sales model can be somewhat expensive and time consuming, as it requires a substantial amount of training and development for the sales staff, as well as lead generation and tracking.
On the other hand, the rewards can be significant, as the sales rep guides the client through all of their questions and concerns, and can demonstrate the value of purchasing any upgrades or upsells. Additionally, the customer now has a personal contact, so in the event of confusion once the purchase has been made, they'll feel the added value of your support.
Enterprise Sales
Enterprise sales are generally B2B, or Business to Business sales. While the other two sales models encourage customers to purchase standard offerings of a SaaS, Enterprise sales go a bit further.
For software companies who can custom-tune their product for each customer's individual needs, this can be an ideal sales model.
Meeting with customers directly allows the sales rep to demonstrate return on investment, project roadmaps to demonstrate how their product will increase in value over time, and full-length demonstrations using real customer data.
This type of sales model is very high-touch, often with customers having a personalized team to support their needs throughout the lifetime of use, due to the intricacy of the individualized software.
A Few Final Considerations…
Software as a Service Model is our current process for adding new software to our systems. But with this new process come new sales models and techniques to maximize profits and customer understanding.
Regardless of the sales model chosen, companies who provide SaaS must provide a new level of information about their products, and cleverly coax customers through the sales funnel with a very thorough demonstration of the products' capabilities.
Get Real People Straight to Your Offer! 🎯
Receive a $5 Signup Bonus
Are you on a limited budget? Would you like to test out a new offer and send it to thousands of real people on the market? Click the button below and get in contact with hundreds of solo ads sellers. Prices start from $0.40 per visitor. Free to join, no hidden costs!