In the world of marketing, there are a few principles that simply never change. One of the key ingredients for any successful business is to know your audience. That means keeping in touch with your demographics and psychographics to know what your customers like and don't like.
We also know that having content that informs, entertains, and advises audiences is also extremely important. Therefore, marketing is creating exactly the content your ideal audience wants to see. Everything from the images used, to the color of the fonts must align perfectly to draw in your target customers and make those purchases happen.
Sounds impossible, right? But what if I told you that you could boost your sales by letting your users generate your content? You might be rolling your eyes now, but read on to learn how to use user-generated content to drive more sales.
What Is User-Generated Content?
The term means exactly what it sounds like: your content, on your website, only the content itself is written by your customers, not you.
If the first thing that comes to mind is letting your customers take over your blog and product descriptions, relax. There's more to content than the long-form stuff you create to establish your role as the trusted expert.
User-generated content comes from the users directly, but that doesn't mean a total mutiny. Instead, it means that you, as the business owner, allow customers to drive your content.
When we work on content, we cannot help but approach it from the angle of someone who is actively marketing these products or services (more here). The content is a sales pitch, in which you look to highlight the best aspects of what you're selling. Over time, you can start to develop a blind spot for how your products actually perform in the wild, or some of the areas in your services that could use a little extra development.
But your users don't lose sight of why they're there: they have a big decision to make when it comes to spending money on your site. They're looking for all of the information in order to make a choice confidently, and they are often willing to provide accurate feedback as a user, as well. What better way to think like a customer, than to involve the customers themselves?
Read also: Learn This To Develop the Skill to Ask Effectively
Types of User-Generated Content
There are many areas in which you can incorporate user-generated content in your site and marketing.
Reviews
First, consider product reviews and user feedback. Some websites have reviews incorporated into each product description: Amazon is perhaps one of the more famous businesses to include this feature for each individual product. When you click on a product to learn more, you can see actual verbatim feedback from users.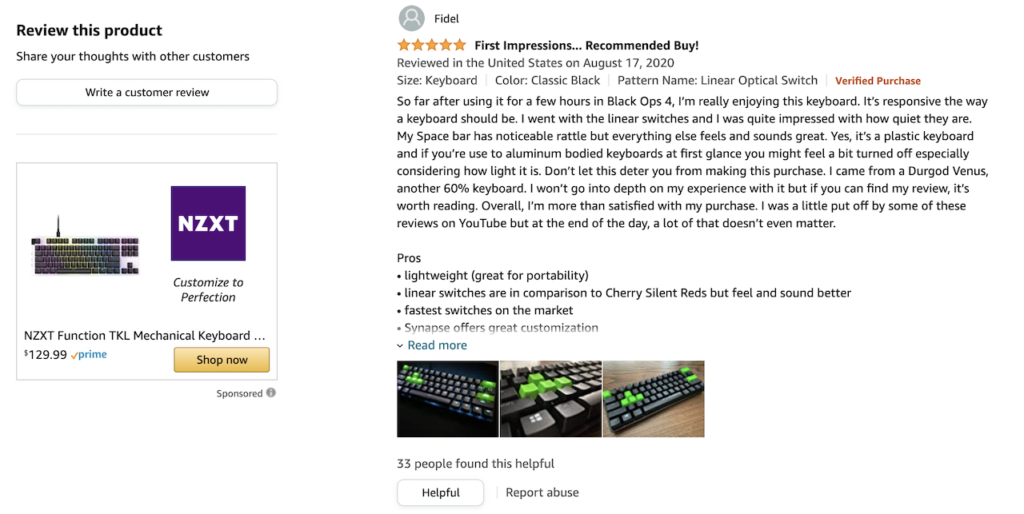 Prospective customers love the reassurance that past purchaser reviews can bring. A majority of highly positive reviews means that product is a good investment, according to peer reviews. If the reviews are overwhelmingly negative, it's time to search elsewhere. And if the reviews are all over the place, then it's "buyer beware".
Historically, business owners incorporated reviews so they'd know what people thought about what they were selling. That's still very true, but when you share that "real people" perspective with prospective customers, it can definitely boost their initiative to buy.
But what if your reviews are bad? That means it's time for you to make some big decisions about what you're selling and how you're marketing your product.
You'll also have to determine if it makes sense to address your negative feedback publicly. After all, no one satisfies 100% of their customers 100% of the time. Acknowledging challenges can actually endear you to future users, as this demonstrates you are listening and taking action to make things right. Customers love honesty and dedication to good service.
FAQs
Another great place to incorporate user-generated content is in your FAQs. They're called "FAQs" because they're supposed to be Frequently Asked Questions. However, in more recent years, this section has morphed into a list of "Questions Our Marketing Team Anticipates People Might Ask". 
Obviously, you're not going to know what types of questions people will ask until they actually ask them. But when they do, make sure you publish the question and answer! This is an instance in which the user is giving you clear direction about what content to include, so be sure to listen to what they're saying. If the FAQs address real questions or issues, users will have a greater level of trust in the brand and the product or service.
When to Let Users Take Charge
There are also instances in which publishing actual user content can be a great way to get publicity with very little investment.
Consider the hashtag. With social media marketing a requirement in this day and age, hashtags help us find very specific content. Encouraging your users to use a specific hashtag will make it easier to find your content, as well as actively engage more users. 
Contests that use a hashtag are a great way to get people more involved in your brand.
While they don't necessarily need to make a purchase, contests incorporate elements of creativity and competition that many users can't resist, especially if the prize is substantial. The flood of entries will give you an SEO boost all while taking content creation out of your hands. Users submitting photos, editorials, videos, and more will provide plenty of content through the run of your contest, and users will tune in frequently to see how the competition is going.
A note of caution, however: Creating a hashtag means that everything tagged with that particular term will be associated with your brand forever. Consider your tag carefully and research existing hashtags that might be similar. Additionally, bear in mind that people who have had an unpleasant experience with your brand will have just as much access to that hashtag as the people you are looking to attract.
Prepare yourself for these situations ahead of time to avoid being blindsided by a negative response.
Final Notes
Including user-generated content on your site is easier than you might think, and it can go a long way towards driving more sales. Your users are looking for a seller they can trust. Hearing what they need to know about your products and services directly from those who have actually purchased from you will lend a strong sense of authenticity and honesty to your site.
Additionally, including users in your brand and content creation will help these individuals feel more involved. This can help create life-long customers who feel like their voices are heard and that they can interact with your brand. Though you'll want to be prepared to deal with negative feedback, using user-generated content can really help give your brand a solid voice in your niche– the voice of the people.