The very term "eCommerce" indicates the process of buying and selling goods online. But in order to sell, your business needs a way to process payments.
In this article, you'll discover how to easily process payments in your website. You'll learn what is Stripe is, and why it is important to implement it on your eCommerce website.
Why You Need Stripe
You may not have thought about this step when first sketching out your business plan. Website design, sure, but doesn't WordPress already have some kind of… function, or whatever, that does that?
Well yes, but probably not in the context you think. Regardless of where you build and store your website, you will need to include a plug-in, integration, or app that allows your site to process payments from your customers. 
One very popular payment service provider is Stripe. But what is Stripe, and how can you use it in your business? Read on to decide whether Stripe is a good option for your online business.
Read also: How to accept payments on WordPress
What Is Stripe?
Stripe is a payment processor. A payment processor is an integral part of your eCommerce site, as it allows visitors to pay for the goods and services you offer.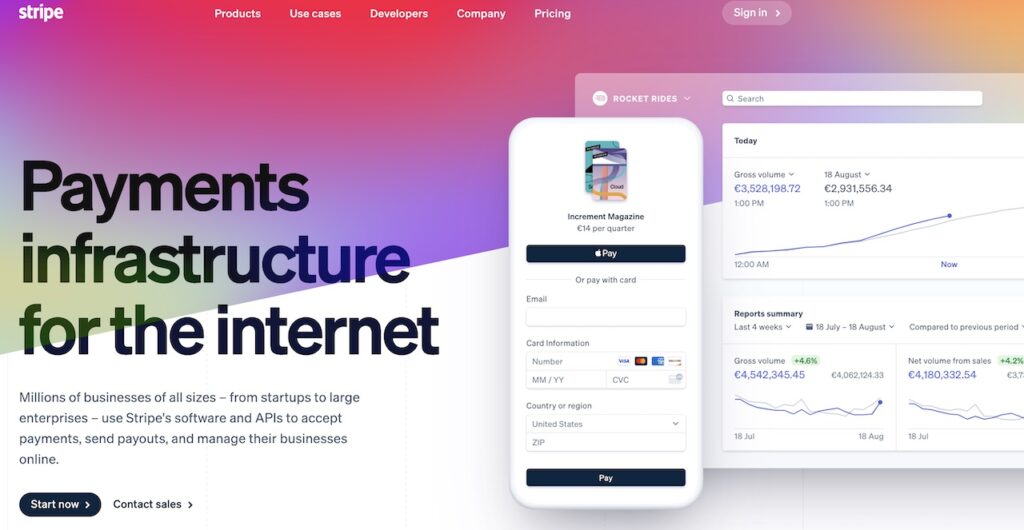 Click the link to visit their official website.
There are many advantages to Stripe, including its ability to process payments from credit and debit cards, as well as online wallets (such as Google Pay or Apple Pay) and a variety of buy now/pay later types of services, such as Affirm, Afterpay, and Klarna. Stripe can also convert various types of currency, allowing your business to become available to consumers around the world.
Essentially, services like Stripe make it easy for the casual visitor to your website to walk away a happy customer.
Stripe is secure, too, which is why online businesses such as Amazon, Instacart, and Shopify rely on it. Stripe is certified as a PCI Level 1 service provider, which means their encryption and decryption are top notch, and all transactions take place on a highly guarded HTTPS site.
Furthermore, it's easy for business owners to get started. You'll simply create an account, add your personal and banking information, and Stripe will be ready to integrate into your business.
Putting It All Together
Stripe can be easily integrated into your WordPress eCommerce shop via a variety of plug-ins. WooCommerce and Easy Digital Downloads are two very popular plug-ins that can help turn your WordPress site into a thriving business, and it happens to integrate seamlessly with both. 
Let's take a closer look.
Stripe and WooCommerce
WooCommerce is most commonly used by businesses that sell physical products, though as time goes by, the plug-in has been growing to provide a platform for buying and selling a variety of digital products, as well.
Activating Stripe in conjunction with WooCommerce is actually pretty simple, and involves making updates on your Stripe Dashboard and WooCommerce Checkout settings. This combination is already optimized for both desktop and mobile use, too, which means you won't have to take extra steps for mobile visitors to enjoy the same smooth checkout process.
Stripe offers built-in reporting and fraud detection features as well, so you can monitor transactions with a fine-tooth comb to ensure your business is protected from online treachery.
Stripe and Easy Digital Downloads (EDD)
For those selling digital products, such as online courses, software access, media files, or service modules, Easy Digital Downloads and Stripe are very commonly used together.
One fantastic feature of the EDD integration is subscriptions. This allows users to set up repeating payment plans, so they can be charged as services renew or are updated within a specific period of time.
Customers are also able to store and manage a variety of payment methods on this integration, which makes checking out in the future lightning fast. This is especially helpful if you have an online service in which customers only want to pay for what they use, or if they have the opportunity to continue to scale their purchases, such as with an online course.
Pros And Cons of Using Stripe in Your Business
Stripe is not a free resource; there is a per-transaction fee for successful charges, which gives users the convenience of a "pay as you go" or "pay as you need it" model. Larger businesses can also build custom packages to handle higher volume or non-traditional sales models, as well.
Though there is a price for services, Stripe has a lot to offer. It can be used to coordinate billing statements and offers real-time transaction reporting, which means you are always aware of what's happening behind the scenes with your profit. 
Payouts are not immediate, meaning you may have to wait a few days for a transaction to clear before you can pull a payment into your business's bank account; however, you have control over what goes where, along with clear data on where your money is coming from and going.
Dispute handling is also made easier with Stripe, as it provides evidence for investigations and detailed financial reporting to help determine what happened. Stripe Radar also has the ability to learn how to pick out fraudulent activity, to help block unwanted false purchases.
Other important business needs, such as taxation and revenue reporting, can also be built into your Stripe functionality.
Final Thoughts
Of course, these features are just the tip of the iceberg when it comes to the capabilities Stripe has to offer, which is what makes it a valuable resource for up-and-coming online businesses. If you are looking for a payment processing service that can grow with your business and handle a myriad of ideas all at once, Stripe is an incredibly flexible and easily-integrated resource.
Your WordPress website is a great start to your foray into eCommerce. Now take it a little bit further with a shopping plug-in like WooCommerce or Easy Digital Downloads, depending on what type of product or services you intend to sell. Then complete the package by integrating Stripe, and you're ready to process a variety of customer payments from around the world.