Choosing the best free hosting company is one of the first challenges you'll face while building your WordPress site. Who wants another bill when your site is performing well, and you want the setup to be as simple as possible?
You may get started right away without spending a thing with the aid of a free WordPress hosting service. We've gathered the top free WordPress hosting companies in this collection to assist you in getting your new site up and running if you wish to start it on a free hosting plan.
Free WordPress Hosting Providers
In the following paragraphs, you will find the best free WordPress hosting platforms that we have personally tested and reviewed.
1. WordPress

WordPress.com, which is sometimes mistaken for the free WordPress software, is a commercial version of the free software available at WordPress.org.
By allowing you to create your site by only signing up for a WordPress.com account, WordPress.com streamlines the process of developing a WordPress website. However, it also restricts your ability to use the entire WordPress platform, limiting what you can do.
Key Features of WordPress.com
Simple and intuitive setup procedure
Customized dashboard
Unlimited capacity
Create a unique website design by selecting from hundreds of free WordPress themes
3 GB of available storage
No cost SSL certificate
Pros
No WordPress installation is necessary; all you have to do is create an account.
Your website will load swiftly and consistently.
For administering your website, you have access to a personalized WordPress dashboard.
Cons
On the free plan, you are unable to add your own plugins or themes.
You are only permitted to use a WordPress.com subdomain; using a custom domain name requires payment.
No direct server access; you cannot administer your database or connect through FTP.
---
2. InfinityFree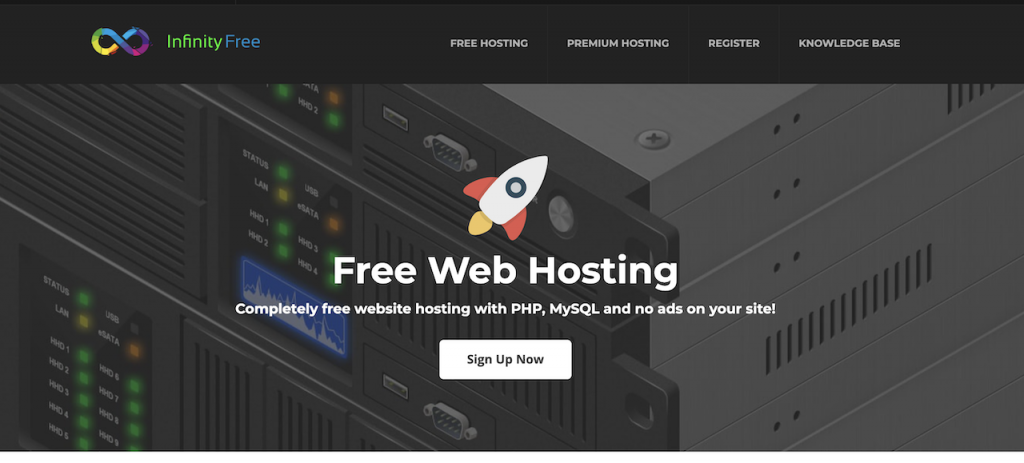 For more than nine years, InfinityFree has offered no-cost hosting services. It's one of the top free hosting options for WordPress, with 400,000 active users. Additionally, InfinityFree provides limitless hosting, so you are free to host as many WordPress websites as you wish. You can also select a free subdomain from more than 25 domain extensions or use your domain name.
You will receive 5 GB of disc space, 400 MySQL databases, limitless bandwidth, free SSL on all of your domains, and free DNS service if you choose InfinityFree.
Key Features of InfinityFree
No advertisements on your website.
Free subdomains
Supports MySQL 5.7 and PHP 7.4
Full support for .htaccess
Pros
99.99 percent uptime
Always up to date
Cons
No phone support or live chat
Limited disk space
---
3. 000webhost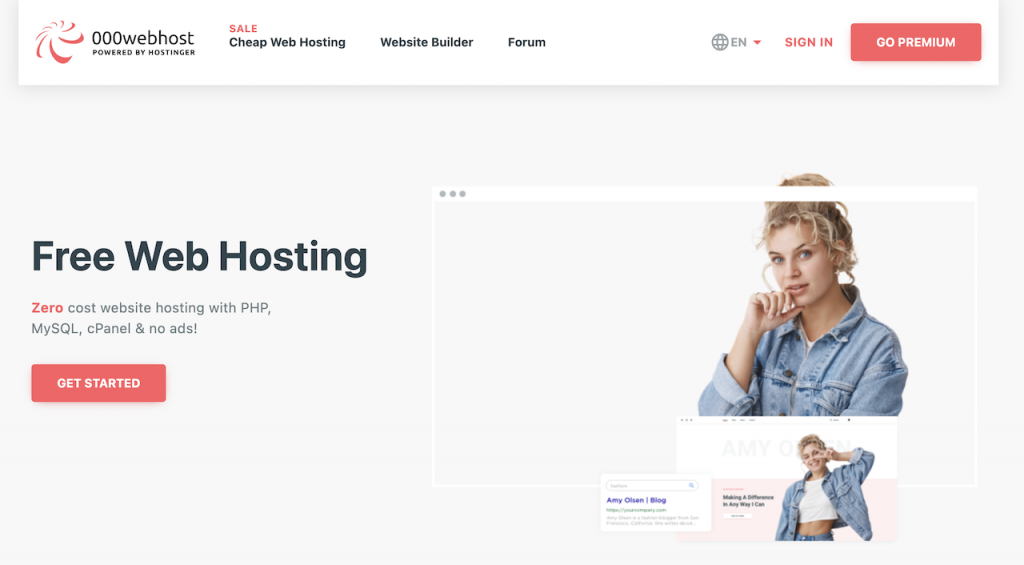 Free unlimited web hosting is available for life with no restrictions from 000 WebHost. It's an excellent alternative for hosting your first free, professionally-looking WordPress site and is not a demo or trial edition.
Key Features
You have access to industry-recognized database management tools.
Hosting service handles databases well.
In contrast to some other free WordPress service providers, the hosting service's uptime is more excellent than 99 percent.
Signing up is simple.
Pros
Excellent Response Time
WordPress Auto-Install
No Annoying Ads on Your Website
Cons
If more than 20 to 30 users attempt to access your free website at once, it will load slowly.
The free account doesn't come with an email service.
Lack of customer service
The free edition doesn't offer any backups.
---
4. ByetHost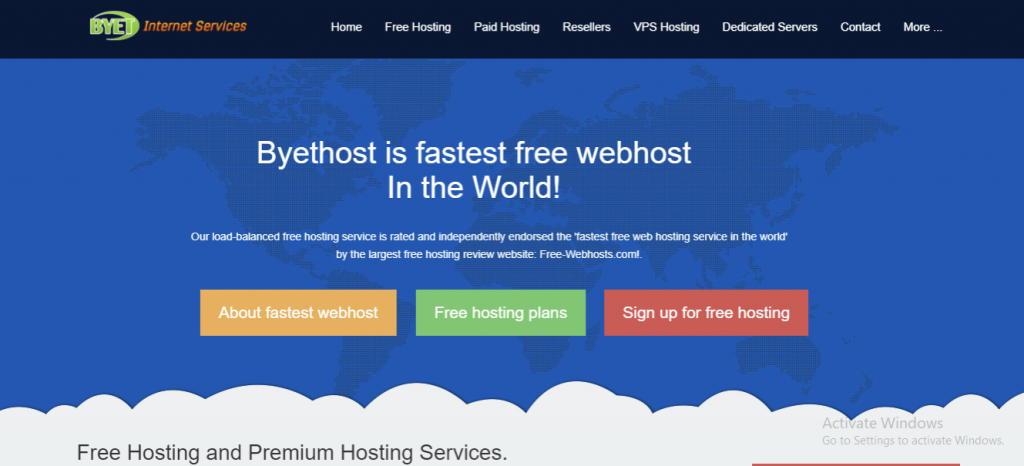 ByetHost is an iFastNet firm that offers various web hosting services.ByetHost offers effective support for its free plan. A ticketing system is also accessible, along with a self-service knowledge base and video lessons.
You will also obtain utilization data such as daily hits, bandwidth usage, and storage space. You can find this information in VistaPanel, the free hosting control panel provided by ByetHost, and you may use it to plan your resource allocation.
Key Features
subdomain has 5 GB of disk space.
Unrestricted capacity
24/7 assistance via ticket system and knowledge base for one MySQL database
Pros
Free domain with premium plans
SSD-powered servers
Quick ticket assistance
Free Let's Encrypt SSL certificate with premium plans
Cons
Empty knowledgebase
No money-back guarantee
---
5. Cloud Access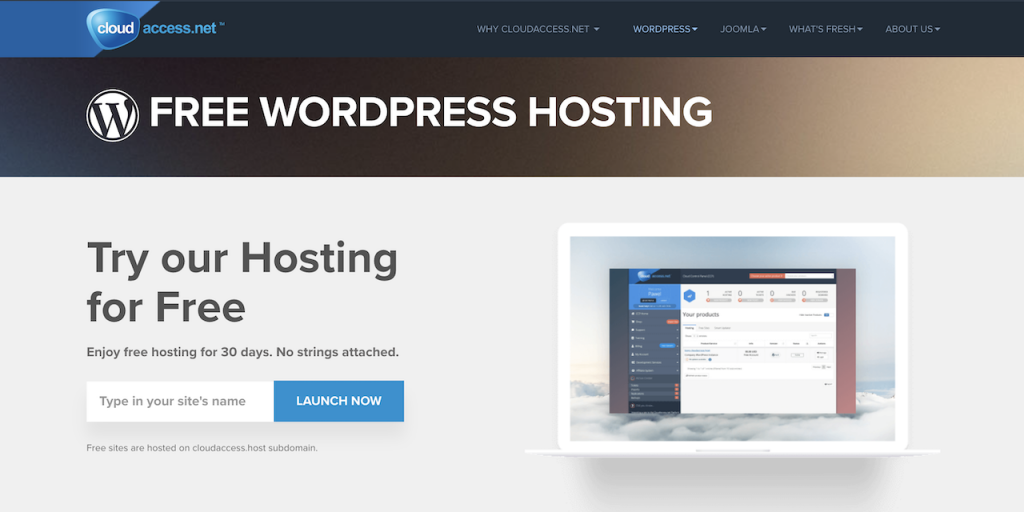 Cloud Access offers hosting services for WordPress and Joomla. You can rapidly launch your website with its assistance. Both applications can access free services. The free plan offered a simple cloud control panel and constrained hosting support.
Features
The fundamental Cloud Control Panel comes with One-Click Login, Snapshot Manager, PHPMyAdmin, and Reset App.
The daily offsite backup facility is accessible. However, restorations will cost you $30.
Free migrations, free SSLs, free training, and free CDN are all offered.
It offers a free subdomain.
Pros
Open Source values hosting.
Awesome tools in CCP.
Free tutorials and training.
Daily backups
Cons
Limited to sub-domains
Need to access CCP once every month
If you break their conditions, they may remove your site anytime.
---
6. Freehostia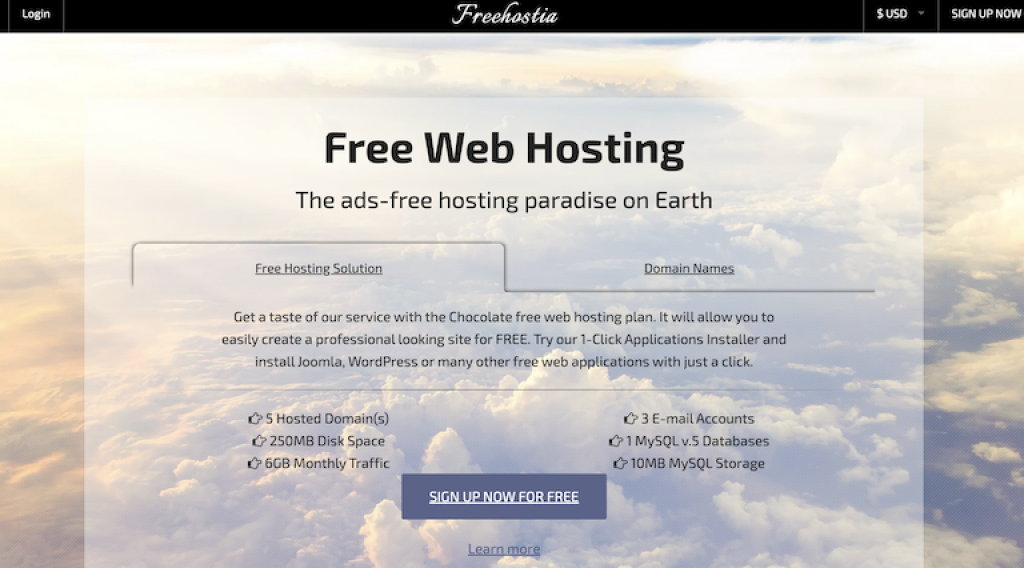 A free web hosting package from Freehostia comes with five hosted domains, three email accounts, and one MySQL database. 10 MB of MySQL storage is available. WordPress, Joomla, and PrestaShop will all be supported by all web hosting services. Also available for free are more than 50 applications.
Key Features
It offers client support around-the-clock.
It offers an installer for free web applications.
It offers server information, traffic, CPU, and other statistics.
It has a Control Panel that supports multiple languages.
It offers directories that require a password.
Pros
No Ads
It offers over 50 free programs that can be downloaded and installed in a single step.
Cons
Only premium plans come with free domain names
---
7. AwardSpace

AwardSpace provides free WordPress hosting in addition to a variety of price options. You can host up to 4 websites with AwardSpace, get one free domain (dx.am), and take advantage of free 24/7 assistance. There won't be any adverts, and you may install WordPress with just one click. 5GB of bandwidth and 1GB of disc space are available for up to three subdomains.
Key Features
1000 MB of storage space
The ability to use the same fast network as AwardSpace's paying customers.
Easy uploads with a web-based file manager.
You may create a website without knowing any code with AwardSpace's Zacky Website Builder.
Access to the unique hosting control panel from AwardSpace.
Pros
Free domain name
Support for MySQL databases.
Zacky Installer with one click
No advertising.
24/7 client assistance.
Cons
Even if you buy AwardSpace's domain renewal service, there is no guarantee that you will be able to renew your domain successfully.
You are in charge of maintaining a backup of your data.
There is a 15MB upload file restriction, and some file types, such as MP3, .exe, Torrent, ZIP, .gz, and.tgz, are not supported.
Your account will be flagged as inactive and can even be removed if your website goes without visitors for an entire year.
---
Final Words
That concludes our discussion of the top free WordPress hosting options. Consequently, you may develop and set up your WordPress website quickly and easily using these Free WordPress hosting services, especially if you have a limited budget or are just starting out.
---
More Articles on This Subject
Here below, you can find a list of articles related to WordPress hosting and domain names: