Entrepreneurs and marketing professionals alike need to know how to do many different tasks to attract and retain lifelong customers, starting with lead generation.
Lead generation is a topic we've covered in a few articles (get started here), so if you'd like more ideas on generating leads and finding more customers in the wild, please feel free to pause and add those suggestions to your marketing toolbox.
Today we're going to add a few more tools to your collection as we review how to do lead generation in WordPress.
How Do I Get More Leads in WordPress?
If you've spent a significant amount of time shopping online, you're aware that nearly every site you visit will, at some point, encourage you to sign up for their email list. Sites do this in many different ways, from providing extraordinary benefits to sharing your email address, to simply asking you to type it in a provided field.
There is no one way to generate leads, and there's no guarantee that all customers will respond with equal enthusiasm to each of these options. However, each of the options we'll discuss is a low-cost, effective method of lead generation in WordPress.
Getting Started with Lead Generation
The ideal time to start generating leads is the moment you have created your WordPress site.
This may sound a little over-eager, but it can be very helpful to have a little excitement stirred up about your business before you even have a fully developed site.
Once you've decided upon your product, concept, and brand, you'll want to secure your domain name, and web hosting service, and get started on crafting your WordPress website. If this sounds like a lot to worry about, don't worry– we've got your back with some earlier articles that can help you get started.
Read also: What is Lead Generation in simple words?
Am I Going to Need to Get a Bunch of Plug-Ins for Lead Generation?
We like WordPress as a website builder because you can add as much as you want or as little as you care to try at any given point. We get it: having too many new tools in your collection at the same time can get a little overwhelming, especially if you're trying to teach yourself how to use them all.
Therefore, let's start with a list of the tools we're going to mention in this article. If you already have some of these, great! If you don't, there's no time like the present to take a look at each individually.
Lead Generation Tools for WordPress Include:
Now, if you're familiar with any of these tools, you might have a sneaking suspicion as to how these tools can be put together and arranged with your current web content to help you generate a bunch of new leads.
However, let's take a look at a variety of lead generation opportunities first, then apply our tools to each to get the attention of our ideal business market.
How to Generate Leads Before Your Site Launches
If your website is new and have no content, you can still generate leads for your future business.
Creating a "Coming Soon" or "Sneak Peek" of your website is a great way to kick off your new business. Using your brand-new WordPress site as the framework, you can create a page that assures visitors that your business will be up and running shortly. You can simultaneously establish social media accounts to assist in building up the hype.
Leadpages is a WordPress plugin that allows you to create specific landing pages for specific situations. We have written an in-depth review here. In the same article, we offer a special link to subscribe to a 14-day free trial.
If you choose not to use Leadpages for designing your landing pages, you can also take advantage of Aweber's landing page feature to help you build unique landing pages for a variety of reasons.
We like AWeber because you can use it to collect, store, and organize email addresses for your future marketing campaigns, as well as for designing landing pages. The good news is, you can get started for free.
A landing page allows you to tease your upcoming shop, and collect contact information at the same time. You could potentially have an impressive list of email addresses before you even officially launch your site.
From the Visitors Point of View
When visitors drop in on your landing page and decide to sign up, the autoresponder you have set up with AWeber can automatically email those individuals. If you want to learn more about what an autoresponder is, check this link.
Let's walk through how this process would work from the perspective lead's point of view:
Step 1: The lead sees a compelling post on social media, and they decide to click the link to your business.

Step 2: They see a landing page. "Coming Soon! Sign up here for exclusive offers and behind-the-scenes details about our grand opening!"

Step 3: They enter their email address and click to submit it.

Step 4: They receive an autoresponder email from your business, welcoming them to your brand, and sharing information about your brand and what to expect.

Step 5: As you count down towards your grand opening, your autoresponder schedule sends customers emails reminding them of your opening date, providing them with exclusive, exciting content, and even previews and pre-orders of your products.

From Your Point of View: The Process
Now let's look at the same process from the point of you, the business owner or marketing professional:
Step 1: Start your WordPress Site

Step 2: Build a "Coming Soon!" landing page for your site with AWeber or Leadpages.

Step 3: Select the settings in AWeber that ensure early subscribers are being saved as their own segment.

Step 4: Write the autoresponder content and adjust the settings to send each email out automatically on a certain number of days following sign-up.

Step 5: Busy yourself with all of the tasks of starting a business. Check-in on your AWeber analytics from time to time to see how things are going.

As you can see, this process allows you to set up a lead generation before you make your first sale.
Now that we've taken a look at what it takes to get started with lead generation in WordPress, join us for some more advanced tips, where we look at additional options, including the types of forms and popups you can add to your marketing toolbox to add more email addresses to your inbox.
How Do I Generate Leads in WordPress If My Business Isn't New?
If your business is more "Open Now" than "Coming Soon," the tools suggested in the previous paragraphs are still very effective. You can leverage Leadpages or AWeber to create landing pages that redirect to your products or services, or to offer a freebie following the information described here, for example.
Then, you'll setup your autoresponder with AWeber to send periodic emails to those leads. You can propose more free stuff, or put them in front of your special offers.
In fact, it's a good idea to have lead generating processes in place at all times. Experience and statistics tell us that business is never constant, and your customer base will wax and wane over time.
In the coming paragraphs, we will describe some more advanced tools you can use in your established business.
Forms and popups are tools that will help you gain more leads. They are easy to create and use, if you have the right tools.
Using Forms to Generate Leads
If you want to gather more information than an email address, we recommend you to use an advanced plugin for creating forms.
Gravity Forms (download link here) is our choice for a form building WordPress plugin. Why? Because this tool is simple, intuitive, and offers significant flexibility for what your new leads can submit to you.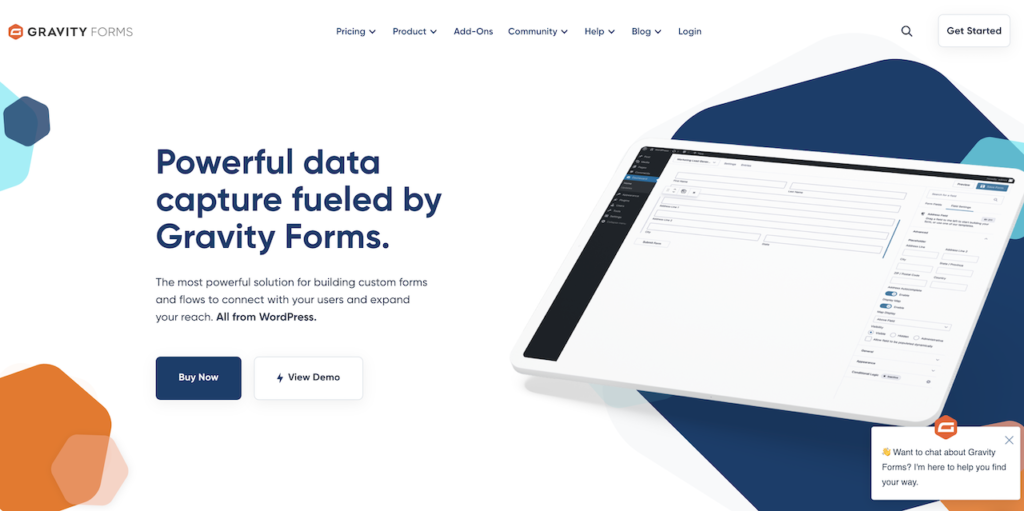 Form and Function
You might be thinking that you really just want email addresses, so how much effort can that require? If you really only want to capture a first name and email address, you'll be able to create a simple form using AWeber and integrate it into our WordPress landing page.
But what if you want more information? What if you could get your potential leads to share more information with you?
There are ways to do this, such as creating a form that allows users to comment or share feedback. Gravity Forms allows you to include conditional fields that appear and hide depending on logic you control.
You can also include a file upload feature via Gravity Forms. Want to provide your leads with a custom quote on a project? This option allows them to upload specifications to get an accurate response.
Different Forms for Different Folks
Not all forms are the same, nor should they be.
Let's say you would really like to increase the number of newsletter subscribers. In that case, you can create a "Sign Up for Our Newsletter!" form that specifically categorizes these leads through workflow automation.
In fact, you can add fields that allow users to select what type of mail they receive, thus allowing them a completely custom experience.
Using Popups and Opt-Ins to Generate Leads
Many of us are very familiar with popups. As you arrive at a website, a screen suddenly interrupts you, asking you to please enter your email.
What if, instead of having one major popup appear before your visitor has even had a chance to look around, you were able to create popups that would respond to their browsing behavior. It's the online equivalent to having a kindly sales person gently ask if you need assistance in a brick-and-mortar shop.
The Right Place at the Right Time
OptinMonster (get started here) is a highly-regarded tool that allows marketing professionals and entrepreneurs the opportunity to share popups in a more organic manner.
Users have the opportunity to create popups based on:
The visitor's location
The link they followed to get to your page
Whether they've visited your site before
The specific page they're looking at
When their cursor indicates they're about to leave your site
These popups are designed to appear at exactly the moment the visitor might be compelled to learn more.
The Perfect Popup
Another cool thing about OptinMonster is the variety of popup types and styles they offer. Whether you want to allow users to scroll through a list, play a game for prizes, or include a countup or countdown timer to entice visitors to share their contact information, you can use one of the site's templates to design your ideal popup box.
The content you include can then be custom-tailored to each situation. It's almost as though your site can read your visitors' minds! This more personal timing and content helps visitors feel a greater connection to your site, instead of feeling like they were interrupted or disturbed.
This tool is also great if you want to include gamification in your business.
Opt-Ins and Premium Content
Popups are commonly used as "gatekeepers" for premium content. If creating entertaining, informative content is one of your strong points as a marketing professional, you might consider "locking" some of your content for subscribers only.
You can choose to make your subscription free or paid: in fact, Gravity Forms can help you create a secure payment form for your leads to fill out in order to unlock that extra-special content.
The incentive doesn't have to be content, either. You can encourage visitors to subscribe to your site for exclusive discounts, too. Just make sure you have a way to share and track the discount codes you use.
Getting Started with Lead Generation in WordPress
Lead generation is crucial for every business, but it doesn't have to take up a lot of time, energy, and money.
With these plugins, you have the tools to create a stronger lead generation program for your site. Ideally, you'll use more than one option to give you a greater chance of connecting with your visitors in a meaningful way.
Remember that even your landing page and popup content needs to be high quality and reflect your brand identity. Keep your call to action prominent and the directions easy to follow. Make sure visitors have a clear way to opt-out, as well.
Before your site launches, you can start lead generation. But for those businesses who have been around awhile and are looking to gain more quality leads, there are still many options.