Running a business is essentially impossible if you don't have a supply chain you can trust. Unless you control every aspect of production for the goods or services you sell via your website, you must find a solid, reliable provider.
If dropshipping is your primary method of delivering products to your customers, finding a reliable supplier can make or break your business. If your customers don't receive exactly what they expect in a reasonable timeframe, they'll vent their frustration to you, not the anonymous dropshipper. So how do you find a new dropshipping supplier? And how do you rate how reliable they are?
A Quick Refresher About Dropshipping
We've discussed dropshipping in the past as a method for providing your customers with products, but it is a relatively new concept, and one that could benefit a variety of businesses.
In a dropshipping business model, you, as the business owner, never actually interact with the product you are selling. Instead, you work with suppliers who ship items directly to customers as they are ordered. You are responsible for advertising your business, and the customers place orders through your site, but it is your supplier who actually puts the product in a box and ships it to the customer.
Benefits of Dropshipping
There are plenty of benefits to this method. You don't have to store infinite quantities of products. You don't have to determine which shipping method will be best, or pay huge shipping fees each time you have an order.
On the other hand, customers will come to you with concerns, especially if their order disappears, or if the product doesn't live up to expectations. That's why it's so important to find a dropshipping supplier that will send quality products, accurately and in a timely fashion. If this becomes a consistent issue, then you'll need to know how to find new dropshipping suppliers, and fast.
The Right Suppliers
One of the methods to find quality suppliers, is to rely on professional supplier directories. A network that is gaining in popularity is Salehoo. This company has been around since 2005, and serves as a marketplace for over 8,000 suppliers for businesses like yours that rely on dropshipping. In the picture below, you can see a screenshot of the site dashboard: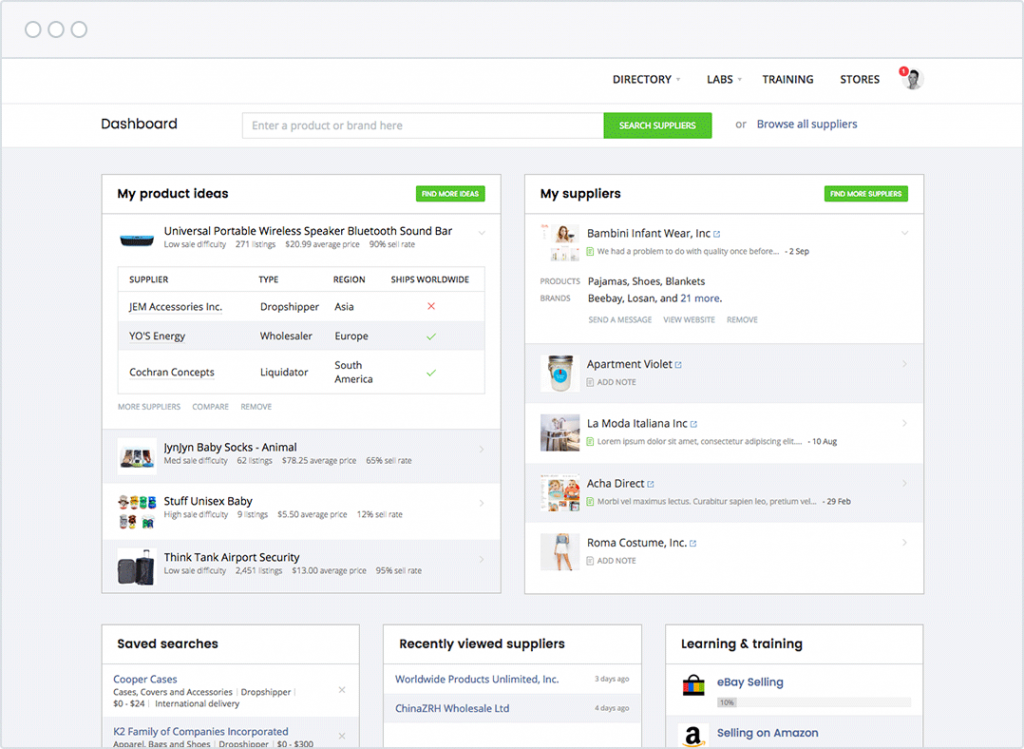 Just as a business that relies on dropshipping does not stock products, Salehoo is not a vast warehouse filled with anything you can imagine. Instead, they are a service that connects sellers and suppliers.
In addition to their immense – and growing – directory of suppliers, Salehoo also provides tools to help those who are new to business or the dropshipping method to learn more and gain insight into the market. Salehoo encourages research and education, and features:
Tutorials
Videos
Step-by-step training
Selling guides
To help those who are new to business find the right fit for their company, budget, and expected outcome.
Each supplier in the directory is carefully vetted to ensure they aren't running a scam or sending customers counterfeit goods. Better Business Bureau ratings are also posted within the directory, which allows sellers to vet overall experience and authenticity before agreeing to a partnership with a particular vendor.
Follow this link to get access to the Directory.
How Does Salehoo Work?

Signing up for Salehoo access is a very simple process that requires the payment of the $67 annual fee, or $127 lifetime fee. But before you get that far, it's not a bad idea to do a little legwork on your own, especially if you are a new business owner.
Within the Salehoo directory, you'll be able to browse different niches and millions of products. This can be incredibly overwhelming if you don't have a plan going in. Much in the way preparing a grocery list can alleviate a lot of stress at the supermarket, it's best to approach an incredibly vast network such as Salehoo with a vision or plan in mind.
Some Helpful Features
Salehoo allows you to browse products based on potential profit margins or sell – through rates. You can discover brand new trends, and things that consistently sell well by exploring the various sales stats from different suppliers.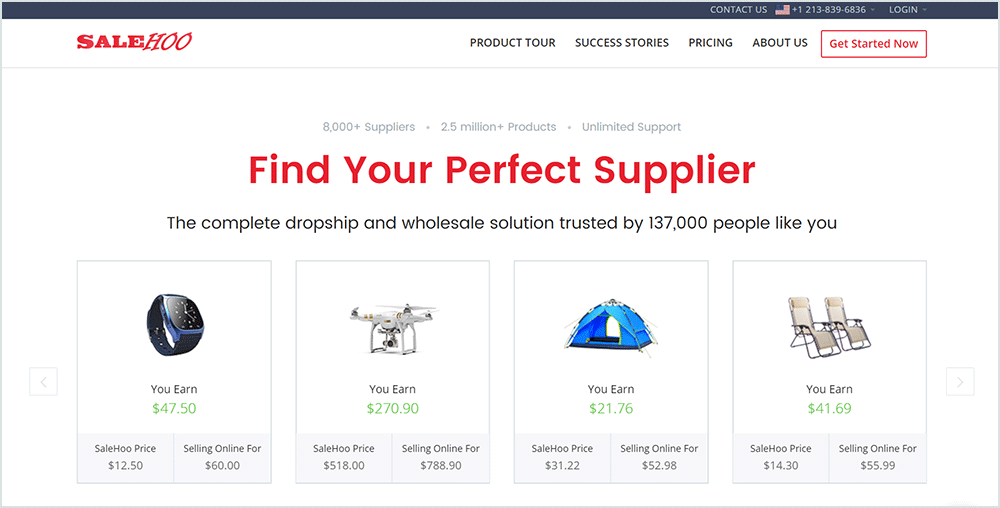 But remember: the act of the sale comes down to you and your marketing efforts. Just because an item is extremely popular right now doesn't mean you'll make millions of dollars right away just because you sell that item through your site. The sales funnel and your outreach strategy do not disappear just because you're on top of the hottest trends.
Think about what you can reasonably sell within your niche, and the appetite of your audience. Then head to the Salehoo directory, and start refining your search. Yes, the trends and sell-through rates are very important, and finding a supplier with the lowest cost can help you gain the greatest profit margin, but profit can only occur when a sale is made.
Once you're armed with a plan, Salehoo will seem far less intimidating and much more fascinating. You'll be able to refine the products you search for, and you may gain some great ideas from cruising different suppliers' profiles. Take your time on this site, because all suppliers are not created equally.
Follow this link to get access to the Directory.
The Powerful Search Functions
The Salehoo search functions allow you to refine features, such as how much you wish to spend on a product, minimum orders, average sales price, global versus domestic shipping, competition levels, and more. From there, you can save and compare various suppliers to see which has the overall better deal.
Your ideas can be saved on Salehoo's dashboard, along with any contact you choose to make with various suppliers. All of your ideas, connections, and message are centralized on this dashboard, eliminating the need to constantly shuffle through email to find that one thing that one supplier said.
Final Words
While contracting with a provider for your products still requires analysis, contact, and even a bit of negotiating, services such as Salehoo make it easier to find new dropshipping suppliers by centralizing them all in a marketplace setting and streamlining communication.
Instead of sweating through Excel spreadsheets and fretting about any small print you might have missed, Salehoo allows you to search and save options for thorough analysis. Additionally, you'll have the peace of mind that each supplier has been fully vetted by the company, which means less worry about what your customers will receive, and more energy put into growing a successful business.
I'm personally using Salehoo for my dropshipping Business. This year, the directory has helped me to find a couple of crazy products (a Pancake maker and a Beer holder) that I sold with a high profit margin to my hungry audience.
Find high-profit products and low-cost suppliers
So you can make big money selling online!
Break the secrets of the most successful eBay and Amazon sellers: get access to over 8,000 low-cost verified dropshipping suppliers to maximize your revenues.